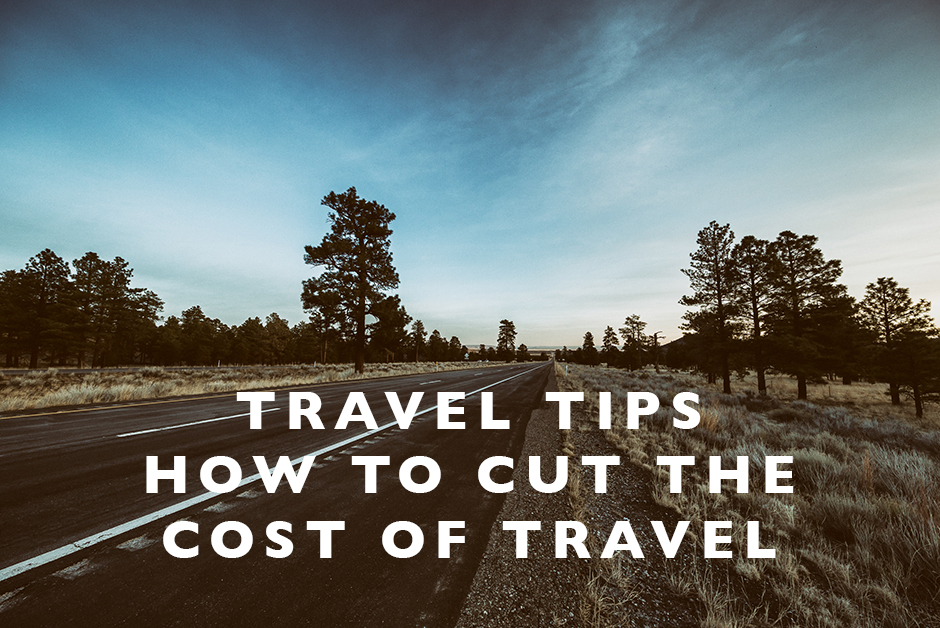 This year with the launch of my new business, I'll admit, my income greatly dropped from previous years and along with putting a lot of money into our 1925 Dutch Colonial house renovation, our travel budget went down a lot from what we we became accustomed to spending in the past several years.  So when it came time for us to start talking about our Spring 2020 travel destination, our first instinct was to go abroad for a week as that's been our usual for our Spring trip for the last several years.  However, after looking at the costs and figuring it would cost us at least $3,000 for the trips we were interested in doing, I stopped in my tracks and took a good long look how to cut the cost of travel.  I've always been a strict advocate for travel, but only when you can truly afford it.  I don't believe you should ever go in to debt to travel and in all honesty, at the moment, we have a lot of other things that we are spending money on and $3,000 just wasn't going to work for us for a Spring trip.
I spent a couple weeks thinking about it and because our trips really are necessary for a break from our crazy life, I wanted to figure out a way to make a trip work next Spring that a) didn't cost much more than $1,500 and b) would still feel like a trip and a break from our routine.  In the end, we came up with a trip that will fulfill what we wanted to fulfill with our Spring vacation as well as how to cut the cost of travel in half of what a trip abroad would be.  Our final decision: a road trip through Idaho, Nevada, Utah, Arizona, and California to see some of the National Parks that we've long wanted to such as Zion, Bryce Canyon, Monument Valley and Death Valley.  We'll also drive through Yosemite on the way back and make a stop back at Antelope Canyon which we loved the first time around.  And in the end, we are so excited for this trip!  It's a bunch of places in the US that we've had on our list forever and I'm so excited with the prospect of seeing such incredible landscapes as well as getting a real break from routine and the best part?  It will cost less than $1,500 for 10 days.  So if you still want to travel but you need to cut the cost of travel, here's how we ended up booking an incredible trip for half the cost of what a trip abroad would have been!
Look Closer to Home
When I first started looking into this trip for Spring 2020, our initial location ideas were Jordan, Malta or Morocco.  And while I still want to get to all of those places at some point, when we really looked at the numbers, the costs were just adding up to way more than we realistically wanted to spend on just one trip.  So I went back to the drawing board and looked at the list we keep of places that are on mine and Nick's radar.  What kept popping up on both of ours were the National Parks of the American South West like Zion, Monument Valley and for me, Death Valley.  We also have really been wanting to get back to Antelope Canyon in Northern Arizona and loved that area so much on our last trip.  And then it suddenly hit me, we could stay closer to home in our own country and see just as much or more as we could somewhere else and save a ton of money at the same time.  Plus, we'll get to see some of the places that have been long at the top of our US list.  Win win.
Wherever you live, there are a lot of places closer to home that will be just as incredible as a big trip abroad and will help you cut the cost of travel exponentially.
Drive instead of Flying
When I started looking into this idea for our Spring trip for the American South West, my first thought was to fly and then rent a car.  But upon further inspection, I found there were actually a lot of places in Idaho and Nevada that would be interesting to drive through as well and we could actually just leave from Oregon and drive the whole way in our own car.  That alone would save us hundreds of dollars, maybe thousands.  If you can drive your own car and only have to pay for gas along the way, that will always be way cheaper than flying and the cost of a rental car.
We'll drive from Portland through Idaho, down into Utah through Salt Lake and into the National Parks in the Southern part of the state, then loop down into Northern Arizona and circle back though Nevada and California.  Driving our own car from and then back to Portland will allow us to see so much more and save a ton of money.
Utilize 3 Star Hotels
I'm all for splurging on great hotels when we travel but when you're traveling in the US, you can actually save a ton of money by utilizing 3 star hotels or hotels in that range.  I'm partial to Marriott and love their Springhill Suites line of hotels which are usually new or updated and are found in pretty much every US town or city across the country.  If there isn't a Marriott, I also love Hyatt Place and Best Western Plus hotels in the US.  All of these hotel chains will offer a nice and comfortable place to stay with prices in the $120-$150 range usually.  Especially on a road trip, you don't need an incredible hotel at the end of the day since you're probably not spending a lot of time there and utilizing 3 star hotels from the chains I mentioned above can end up saving you a ton of money versus boutique hotels and higher end places to stay.
Do Your Research
The one thing that's super important to save you the most money and to make sure your trip is amazing is to do your research well ahead of time.  When we decided on this trip, I dove in with planning.  You'll want to figure out which is the best route to take, the best cities to stay in and when certain destinations might be cheaper than others.  For example, would it be cheaper to stay right in Zion National Park on a weekday or a weekend?  And will I have my Hotels.com free hotel night in time to use it for a swanky resort at the end of the trip in Death Valley?  Ask yourself questions to see if you can rearrange any part of your trip to save even more money and that can only be done sometimes at the beginning of the research and planning process.  You'd be shocked at how much you might save by changing the night you stay somewhere so be flexible and do your research well ahead of time.