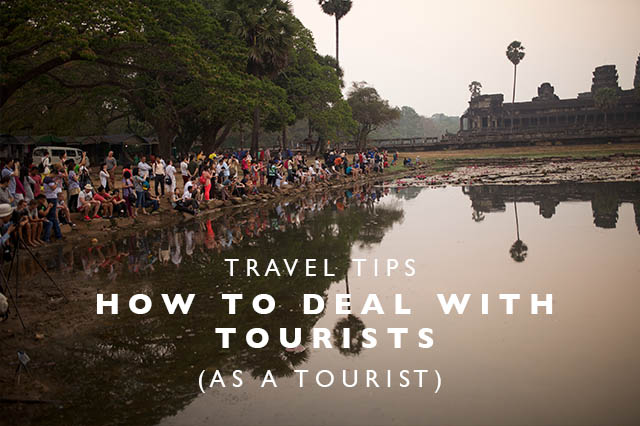 Even though I travel to places all the time where I am a tourist, I try to not stand out as such.  And as a traveler, there are certain places when you travel that even as a tourist, we get really annoyed with the other tourists around us for whatever reason.  Whether they are loud and obnoxious, cutting in lines, or just blatantly annoying, tourists can be hard to be around.  So if you're one of those tourists who doesn't like dealing wth the other tourists around in places when you travel, here's how to deal with tourists (as a tourist yourself.)
Go to the tourist attractions early in the morning before the crowds.
One thing that Nick and I do often and seems to help a bit instead of getting bombarded with thousands of tourists at once is to go early.  We try to visit tourist attractions in cities when they open, that way we miss all the bus tours and groups later on.
Read info on the tourist spots online before you go and learn the tips of the insiders.
I always try to do some research on spots I know will be tourist-heavy before we travel so that I have some insider information.  Sometimes there are entirely different entrances you can use that everyone else doesn't know about in certain tourist spots around the world.  Or maybe you can buy your tickets in advance so you don't wait in line, so do your research and you won't have to deal with the hoards of tourists.
Don't dress like a tourist, you'll be perceived as a local.
One thing we do with almost every trip we take, we try to dress more like locals than tourists.  Try to blend in, that way the other groups of obvious tourists will perceive you as a local which often gets you more access to certain spots or at least a pathway through certain places.
Pick more local spots to see at the destination.
If you're headed to a tourist-heavy destination, we often will try to steer away from the tourist spots and pick more local spots to see instead.  That way you're getting more of a real feel of the place and a local perspective instead of fighting against the crowds.
Book private drivers or tours.
When we do travel to places that we know will be tourist hubs and we still want to see those famous sites, we've started booking private drivers or tours in order to get a quieter visit and a more personal feel.  We did this at the Taj Mahal and we'll be doing it for the Great Wall of China later this year.  It really helps to get a quieter experience in some of the world's greatest treasures.