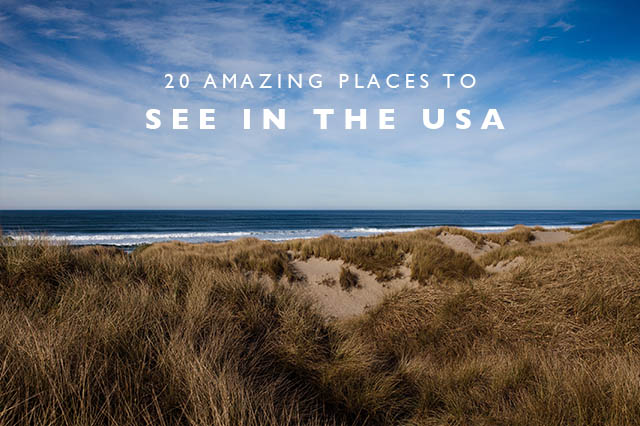 Even though most of the time when we think about travel, we envision far off places with foreign languages and a world completely different than our own, a lot of the time, we forget about all the places that are so incredible right in our own country.  In the last few years, Nick and I have tried to explore more of our own country to see more of this country we call home.  And in our explorations of the USA, we've traveled to some pretty amazing places to see in the United States.  So today, even though I know I have so much more to see, here are 20 amazing places to see in the USA.
My home city can't be missed when talking about amazing places in the USA.  Portland is a special place, and even though I'm biased, a lot of people agree with me… just look at the evidence: we were the top city last year in the USA that people from out of state moved to.  What used to be a best kept secret is out and blossoming.  Our food scene is top notch, our open mindedness is refreshing and our city is gorgeous rain or shine.
I still dream about our too short time in Newport, Rhode Island during our New England road trip a few years ago.  One of the most beautiful spots in New England along with ocean views, a gorgeous little town and some of the best seafood around, Newport isn't to be missed.
Of course this list wouldn't be complete with New York City.  Maybe our most famous city in the US, New York is one of a kind with its energy, its size and its unique charm.
A gem in the Southern California area, even if you don't like Southern California (like me).  Santa Barbara is a breath of fresh air in California with its Spanish architecture, amazing food and incredible ocean views.
Hawaii doesn't always feel like it's part of the US, even though they speak English and are a full state.  Often times, you're transported to another place and time in Hawaii but it's an experience that shouldn't be missed.  Head to the Islands for the aloha spirit and experience.
Our nation's capitol is not only a lovely city in its own right but with so much history, this is a must see in the US.  The feel in DC is definitely different than other US cities but it's an experience that you'll never forget.
While not my best travel experience in the US, New Orleans is still a worthy spot to visit.  With its French vibe, Southern drawl and beignets, NOLA is a must see.
This little town in the middle of nowhere was another experience that wasn't entirely great for me when we visited, but the scenery in this part of the country is why it makes it on this list.  The Grand Tetons seem to come out of nowhere and look fake, making this spot a must see if only just for the natural scenery.
For an entirely different California feel, Napa is a must see in the USA.  From the rolling hills of vineyards to the incredible food and wine, to the laid back feel, Napa is a lovely spot to explore.
In my opinion, one of the most breathtaking coastlines in the US, the Southern Oregon Coast near Bandon is pretty incredible.  From rock formations to stunning cliffs, this part of the country is not well known but an incredible hidden gem.
Once you get up North in Arizona to areas like Page and Antelope Canyon, a whole world opens before you.  This section of the country is sure to become more and more crowded soon, so go now.  Northern Arizona is one of the most beautiful and unique spots in the US I have found so far!
For red rocks, amazing food and an eclectic vibe, Sedona is a gem to be sure.  When in the American SouthWest, Sedona is not to be missed.
Boston is one of those American cities everyone knows but that has a unique vibe all to itself.  A lovely city in New England, Boston is entirely different than our other major cities but such a worthy spot to visit.
For a truly unique landscape, Eastern Washington State is very unknown but totally worthwhile to be on this list.  From high desert to rolling hills, this part of Washington State is beyond gorgeous.
The Native American culture is vital to the US and no other place perhaps exudes this as in Santa Fe, New Mexico where it abounds.  The charm in Santa Fe is undeniable and such a treat to experience.
While Vegas is an acquired taste for most and it doesn't at all represent the ideals of the rest of the country, it still is definitely worthy to be on this list.  After more visits than I can count now, I've finally found that everyone enjoys Vegas differently.  For me, I love the food scene, the beautiful hotels and a tiny bit of Blackjack.  It takes some figuring out what you like Vegas for personally but it's definitely an experience!
While not a favorite of mine, San Francisco is one of those classically American cities to experience.  From the Golden Gate Bridge to famous tourist attractions, San Fran is for sure unique.
For some of the most beautiful coastlines in the country, amazing seafood and a small town sort of vibe, Maine is a state not to be missed in the USA.
I've never been a huge fan of LA, but in the USA, it's for sure a city to at least experience.  From Hollywood to Santa Monica, LA is famous for a reason.
20. San Juan Islands, Washington State
Rounding out the list of the spots I've been able to experience in the US so far are the incredibly beautiful San Jan Islands in Washington State.  While these are still somewhat of a local attraction for those of us in the Pacific NW, I have no doubt, if more people knew about them, they'd be coming far and wide for them.  Some of the most stunning spots I've ever seen are located on these islands in the Pacific Ocean where you can watch Orcas in the wild and enjoy the scenic Pacific NW.