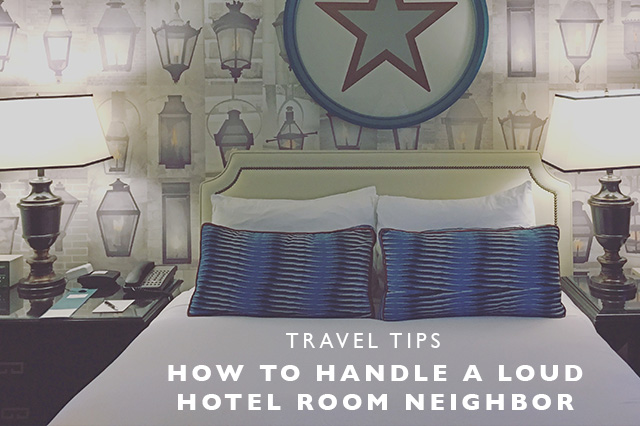 We recently had an unfortunate incident at our hotel in Alexandria (The Alexandrian) on our recent trip to the DC area and while we've stayed in hundreds of hotels around the world, this issue was our first of the kind.  Long story short, we arrived back at the hotel around 7pm from our day around DC and realized that our neighbors had about 4-6 people in their room and seemed to be drinking and talking really loud (like we could hear every word loud).  We figured they would calm down so we watched some TV and then proceeded to get ready to go to bed since we had be on the road early in the morning to head to a family wedding.  Around 9pm, they still hadn't quieted down so I called the front desk who sent someone up to the room and asked them to quiet down.  After that, our neighbors proceeded to get louder and make comments like "our a**-hole neighbors are calling the front desk on us…"  So we dropped it and hoped they would quiet down.  In the next 5-6 hours they never stopped and after another phone call to the front desk at 3am where they were still going strong, where nothing happened, we resorted to a horrible night sleep.  The following morning I complained again upon check out and they did take our parking charge off and then followed up by email with extra Marriott points which was nice, but in my opinion not enough.  Upon further research, if this happens to you, you actually have more leverage than you think with hotels, so after going through this, here's what I would suggest for how to handle a loud hotel room neighbor.
Call the Front Desk Multiple Times
I called twice, but in retrospect, I should have kept calling until someone did something about the situation.  A front desk person knocking on their door and asking them nicely to quiet down wasn't doing anything so they should have resorted to calling security or doing more about the situation.  If they don't do enough, keep calling.  This is also a good timeline and record for you the following day when you complain to say that you had to call down numerous times.
Don't Approach the Neighbor Yourself
I read a lot on the internet about situations like this afterwards and everyone of them said not to approach your neighbor yourself.  Whether they might be drunk or rude or physically abusive, it's better to let trained hotel staff handle the situation.
Ask to Move Rooms if they Don't Offer
No one I spoke to in the two times I called the front desk offered to move our room and they should have.  In retrospect, I wish I would have asked to move rooms immediately upon the first call at 9pm and we would have had a good night's sleep.  If they don't offer, ask to move rooms and push them to do it.
Request Compensation if they Don't Offer
When we checked out the following day, the chipper girl at the counter beamed "how was your stay?" I replied with honesty, "actually last night was horrible."  Upon that, I explained what happened and that we basically spent $200 something for a hotel for the night where we didn't even get to sleep.  When they didn't offer anything other than an "I'm sorry to hear that" I immediately asked for compensation of some kind.  She did take off our $80 parking tab for 2 nights, but to be honest in my opinion for something that was more in their control they should have done more.
After we left, I also tweeted Marriott and expressed my discontent about the situation and the manager of the hotel reached out via email and offered me 5,000 Marriott points which was a nice touch after the fact, though I wish the hotel would have done more to make us a priority during the situation itself.