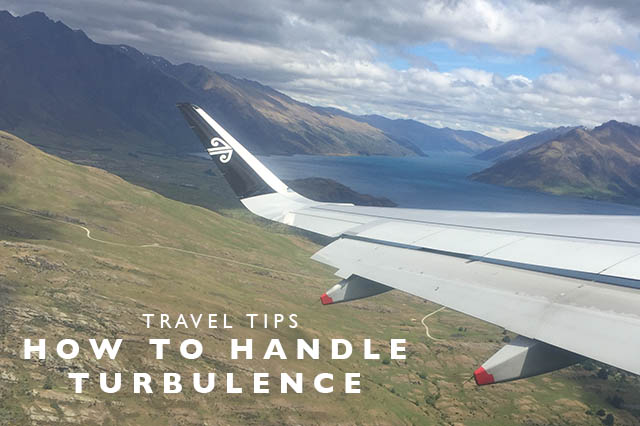 In the past year, I've noticed turbulence getting worse when flying or at least occurring more often.  And then I started looking into the issue and found out that it's actually true, and with global warming and climate change, turbulence is more frequent and might be worse that in previous decades.  It's never really bothered me or made me overly terrified, until our flight out of Queenstown, New Zealand which I was sure we were about to plummet to our death.  Now after that flight, I get a little nervous every time we travel and get a bout of turbulence.  So if your one that it makes you nervous to sit through a bumpy section of a flight, here's a few ways to handle turbulence and keep yourself calm throughout. (Also if you're interested, this is a really interesting article on the whole subject of turbulence.)
Close your eyes.
I find that when I sit and watch the plane moving around and people swaying back and forth during turbulence, it affects me even more.  When we have bad turbulence, I close my eyes.  That way it just feels a bit like being on a bumpy road while driving and it seems to take away the idea that you're thousands of feet up in the air.
Don't look out the window.
If turbulence scares you or makes you nervous, looking out the window at the heigh you're at probably isn't a great idea.  We were flying to Hawaii not long ago when we hit a really turbulent section of air, I then proceeded to look out the window and see a huge lightning storm we were flying through.  For the remainder of the flight, I wasn't only uncomfortable because of the turbulence but I was envisioning us getting struck by lightning the rest of the time.  Don't look out the window if turbulence makes you nervous, it just opens a whole new can of worms.
Watch the cabin crew.
Nine time out of ten if the cabin crew is up and around during turbulence, even if they've asked passengers not to be, it's a good indication that this is totally normal and either normal to the route you're flying or the pilots were aware of it beforehand.  Now if your cabin crew is asked to sit down, that's a good indication that it could get really bumpy so your best bet is to just stay in your seat with your seat belt fastened and do the steps above.
Know that it will be over relatively soon.
I've never been on a flight over 2-3 hours long that it was turbulent the entire flight.  So remember, usually turbulence only lasts a few minutes and if longer than that, hardly ever longer than an hour because your moving at such a fast speed.  And if it's lasting that long, the pilots are for sure trying to find a better path that isn't so bumpy.  So just realize that it will be over soon and that it will smooth out eventually.