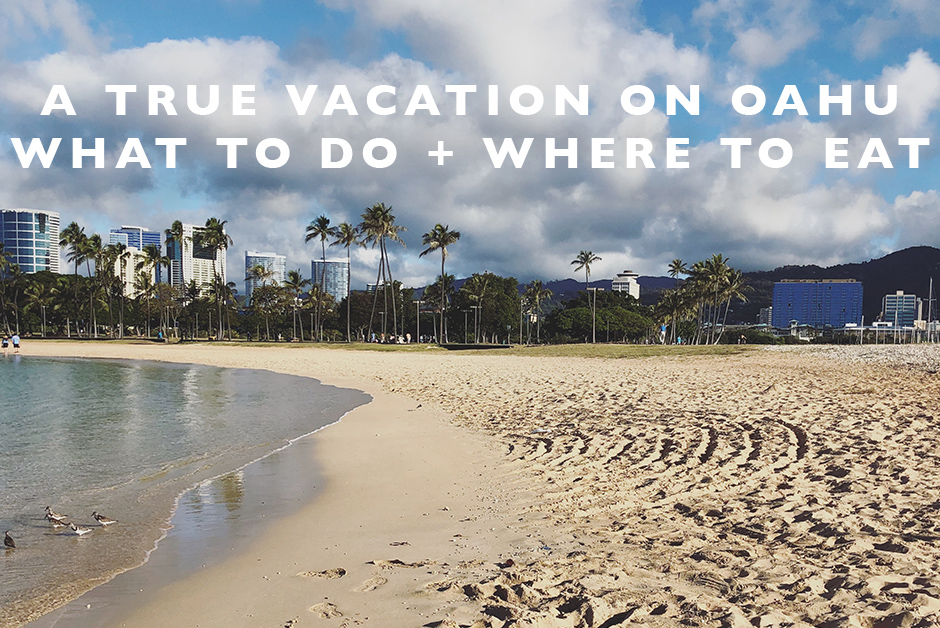 It's not often that I actually go to Hawaii to have a vacation, but this past Christmas, that's exactly what we did.  Considering that most of my trips there are for work and even when I lived in Honolulu, I was a local and not on vacation day in and day out.  So when we spent 8 days there for Christmas, we truly experienced Hawaii like a tourist this time around, well sort of, considering we stayed with my parents who live there and did a little bit of work.  But all in all, it's safe to say we tried a lot of places and things to do that had been on my "tourist Hawaii" list for a while.  So if you're headed to vacation on Oahu, here's some of my favorite things to do and my favorite places to eat!
What to Do
There is no shortage of things to do on Oahu and while there are so many things I could list, these are some of my recent faves!
Hike to Makapu'u Lighthouse – I've driven to the pull out at the Makapu'u lighthouse at the East end of Oahu many times, but I've never actually done the hike back around to the actual lighthouse and seen the views from here.  On this past trip, we took a morning to do it and it was so great.  We spotted a ton of whales and took in the gorgeous coastal views on this hike.  It's a pretty quick and fairly easy hike as it's paved the whole way so pretty much anyone can do it and it's so worth it!
Walk Magic Island – My mom's local spot for her morning walk is at Ala Moana Beach Park or locally known as Magic Island.  Nick and I walked it with her a few times while there and it's such a great spot to take in the oceanside scenery and get a great workout in.
Go Ziplining at Kualoa Ranch – We ziplined the for the first time while in Hawaii and it was seriously so fun!  I was super nervous about it beforehand, but truthfully, I'd do it again in a heartbeat.  We chose to do it at Kualoa Ranch on the Windward Side of Oahu and had the best experience there.
Sunset at Waikiki – There is nothing quite as essential during a trip to Oahu as a sunset at Waikiki.  No matter how crowded the area gets, as the sun sets, it seems to all get still and quiet as everyone is watching the incredible sight.
Shopping at Ala Moana – Honolulu has some world class shopping and no matter what you're looking for, Ala Moana probably has it.  I always make a quick pit stop at Zara while in the Islands but whatever your budget, you'll find something at Ala Moana.
Where to Eat
Honolulu has some incredible food choices and while the list goes on and on, these are some of my favorites all price ranges.
DK Steakhouse – We ate at DK's for the first time this most recent trip and it was a great spot in Waikiki for a steak.  Just be sure to make a reservation.
Hy's – This is an old time steak restaurant in Honolulu and in my opinion, still one of the best.  I had the best filet mignon of my life there this past trip and it's always a treat to go here.  There is a dress code though and you'll want to make a reservation so be sure to confirm both before hand.
Sidestreet Inn – One of the things Nick really wanted on this most recent trip was some great local island food.  Think Mac salad and teriyaki chicken and yakisoba.  And while there are a lot of places to get more of a plate lunch style of local food, Sidestreet Inn is one of my favorites for local food served family style.
Zippy's – There isn't anything else quite as local as Zippy's.  Whether for breakfast, lunch or dinner, Zippy's is a local favorite and you won't see many tourists here.  There are a ton of locations around the island they are open all day long and while it's not the most amazing food you'll ever have, it's a local staple.  As a local recommendation, try the grilled cornbread here!
Asia Manoa – Again, this is a local spot up in Manoa that you won't find tourists in but it's amazing Chinese food.  Their cake noodles and steamed sea bass are some of my favorite dishes.
Agu Ramen – For great authentic Japanese ramen, Agu Ramen is the perfect choice.  With a few locations around Oahu, they are a great spot for your ramen fix.
Magnolia Ice Cream – If you're in Waikiki and looking for a bowl of shave ice, this place in the new International Marketplace has an incredible shave ice offering.  My favorite is a scoop of vanilla ice cream below your favorite shave ice flavor!
Headed to Hawaii?
Check out our Oahu Travel Guide in the Land of Marvels Shop for only $5!