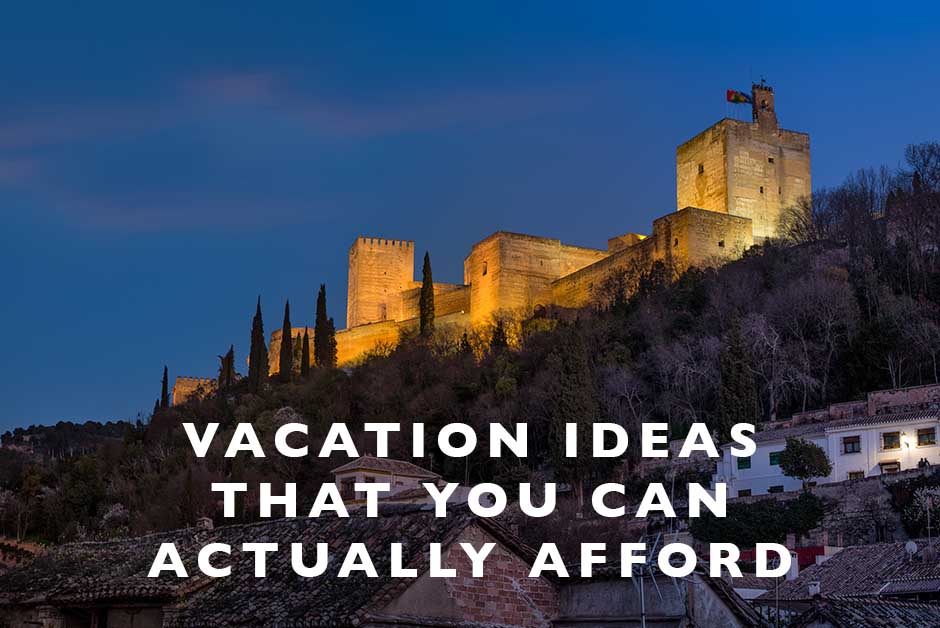 Life is expensive and sometimes, when all you see is everyone else galavanting around the world on vacation, it can get really discouraging.  And look, I get it.  I've got bills just like everyone else.  Expenses can come out of the blue, an old house that has renovation costs, not to mention the costs of regular house upkeep.  I hear you.  That's why today, I'm so excited for this post because I firmly believe that travel can work into your budget and no matter how much money you have to spend for a vacation, whether it be a long weekend or ten days, there is a destination for you that won't break the bank.  I've put together a few spots that I've personally been that will work on all sorts of budgets.  So when money is tight and you only have a specified amount of money to spend on travel, here are some vacation ideas that you can actually afford!

Spain + Portugal
These two European countries are perfect if you still want to explore Europe but you want to do it cheaper than say France or Italy.  Both countries offer amazing local foods and wine for way cheaper than their neighboring countries as well as easy, efficient and inexpensive ways to get around while you're in the countries.

Cambodia
For an exotic destination in South East Asia, Cambodia is a vacation you won't forget and it also won't break the bank.  The most expensive part will be getting there, but once you're there, everything is crazy cheap.  I'm talking like dinner for $10 for two people, maybe even less from street vendors.  Even high end hotels are amazingly inexpensive in Cambodia and the sites to see there are incredible.  Think Lara Croft tomb raider vibes while exploring the Angkor Wat temples in Siem Reap.

Lyon, France
If you want that quintessential French trip but don't want to pay the high prices in Paris (I mean Paris is amazing, but if price is an issue), head to Lyon.  This large French city located in central France is lovely and so much cheaper than Paris in both lodging and food.  Even train transport into and out of Lyon is really inexpensive and it's close to so many amazing parts of France and other places in Europe, all while still feeling relatedly French.

American South West
If you live in the USA and don't want to spend money on long haul flights abroad, the American South West is one of my favorite spots to go for a low cost experience.  We've done trips to New Mexico and Arizona for crazy low prices and both states offer amazing experiences and landscapes.  Some of my favorites are Santa Fe, New Mexico and places in Northern Arizona like Sedona and Antelope Canyon.  Both location offer amazing experiences, many for free and lodging is fairly inexpensive in both states as well.  You'll also have some of the best Mexican food of your life while here… just saying.