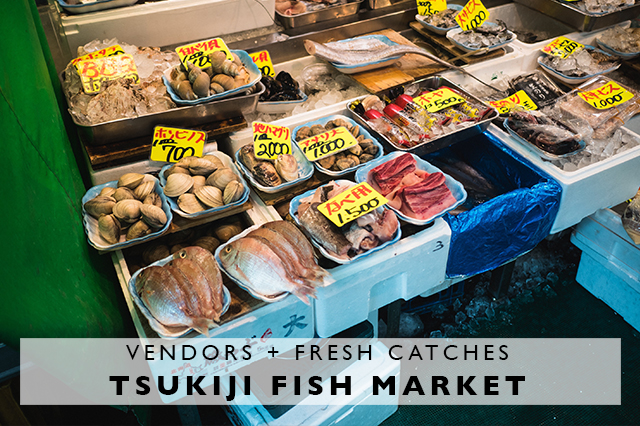 On our first day in Tokyo, we headed out from our hotel at the Tokyo Station on foot, wandering through the Ginza area of the city in the early morning.  Ginza, which is usually colorful and busy, was starkly quiet that early and really interesting to see such a contrast from later in the day.  We wandered slowly, grabbing breakfast on the way with the Tsukiji Fish Market as our final destination.  I had seen photos of this place when I was researching for Tokyo and since we love exploring local markets when we travel, I knew we'd love it.
The market was vibrant and crazy busy even that early, with vendors selling the catch of the day and people grabbing local delicacies as snacks.  I had a fresh scallop cooked on an old Japanese grill with soy sauce and butter and it was incredible – so don't miss a chance to sample some fresh fish if you're wandering through here!
After our morning exploring the market, we meandered back to our hotel in the Chiyoda area of Tokyo for a big bowl of hot Japanese ramen and it was the perfect start to our love affair with Japan!