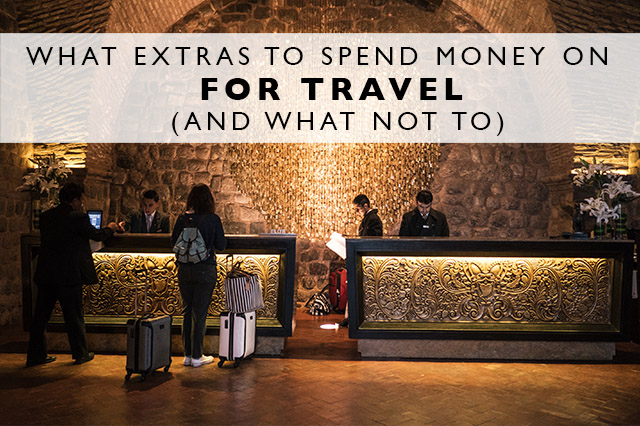 We are home from our amazing trip through China and Japan and while we get our photos and thoughts together, I have a fun week of posts ahead before I launch into Asia posts!  
It seems these days that travel not only costs money for the basic things like flights and hotel, but there are so many extras that add up really fast.  Everywhere you look it's pay extra for this and pay extra for that, so in a world where that could go on forever, it's important to know which ones really are worth it and which are not.  So today, here'w what extras to spend money on for travel and in my experience, the ones that aren't worth paying the extra!
Pay for… a good hotel.
I'm a firm believer in splurging on good hotels.  That doesn't mean you have to spend a fortune, but paying for a good hotel, whatever that means to you, is important.  After you've been out walking and seeing the sights all day, it's important to have someplace to come back to relax and get a good nights sleep.  Travel is exhausting, so if you can make it easier on your body, that's a good thing.
Pay to… pick your seat on a flight.
A lot of airlines now aren't letting you pick flights when you book a ticket, instead they make you pay an additional fee to choose seats, particularly on budget airlines.  For me, this is something I'll spend the money on and save elsewhere.  Especially on long flights, seat choice is really important for a comfortable flight.  I suggest paying the fee to choose where you want to sit as you'll be in that seat for hours on end and you want to get a good one.
Pay for… good luggage.
Investing in good luggage was a game changer for Nick and I.  After years of cheap luggage from TJ Maxx, we finally had had enough of our suitcases arriving with huge holes in them or the plastic broken through.  A few years ago we invested in Tumi luggage for both of us and it's been amazing!  Those suitcases are like tanks and I'm always amazed at how much travel they go through and still look amazing!  Paying the price for good luggage will be a long term investment, even though it might be more than you like up front, it's well worth the life cycle cost of those items.
Pay for… TSA Precheck/Global Entry
I've mentioned these programs multiple times here on the blog because they are travel life-savers. We have Global Entry which includes TSA Precheck, but you can also just apply for precheck as well.  Both save us so much time in airports whether it's going through specific security lines or when coming into the country from abroad, we have saved hours and hours of time in airport due to these programs and I can't recommend them highly enough!
Don't pay for… checked luggage.
I'm a firm believer in carry-on only luggage when you can.  The prices the airlines are charging now for checked luggage is beyond ridiculous plus you run the risk of your luggage getting lost.  I've traveled carry-on only for up to 2 weeks of travel and it's well worth the extra work to get to your destination and not have to go grab luggage that you paid and arm and a leg for.
Don't pay for… fancy travel pillows.
It amazes me what people pay for, especially when it comes to travel.  I see time and time again people getting on flights with brand new (as they've bought them in the airport and they are already 10 times what you'd pay outside the airport) travel pillows with all sorts of bells and whistles.  If you're using a pillow, it's probably to sleep and travel pillows are pretty much all the same.  Buy one before you get to the airport to save money and it will be good to use for years, even the cheapest version.