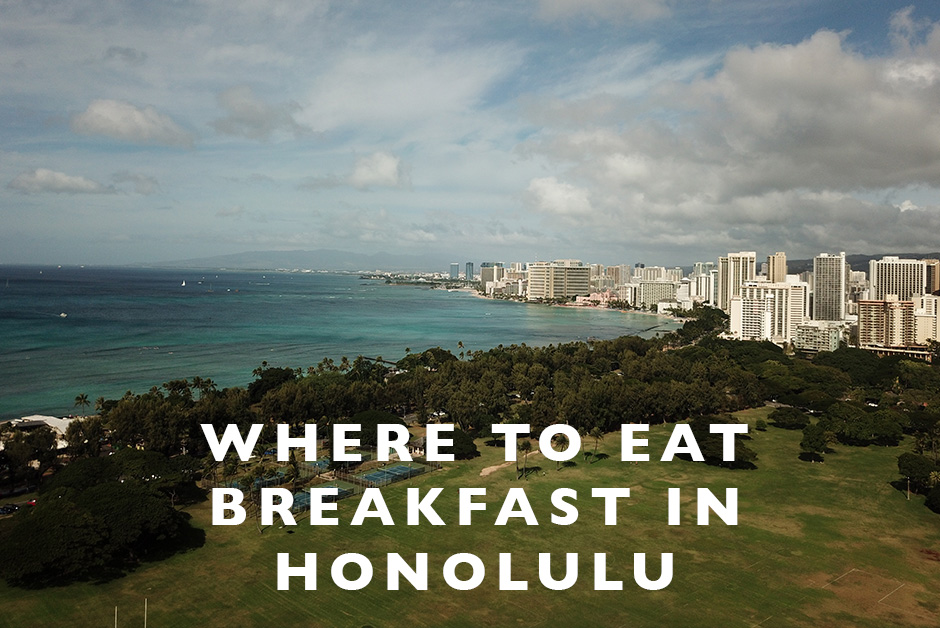 Honolulu is a big city and a tourist hot spot so naturally, there are more than enough restaurants to go around.  But over the years of visiting (and living in) Honolulu, I've come up with a favorites list for breakfast specifically depending on what type of morning meal I'm looking for.  Here are my favorites spots for where to eat breakfast in Honolulu on your next trip to the Islands!
This spot has been on my list forever and I finally tried it on my trip to Hawaii in December and it is well worth the hype it gets.  It's out of the tourist area so you'll have to drive or Uber here if you're staying in Wakiki, but the food is so incredible you'll definitely want to make the trek.  Their Cornflake French toast is perhaps the best thing I've ever eaten for breakfast… ever.  You'll probably have a wait here, but it's worth it.
When you want a gorgeous Waikiki view for breakfast, this is your spot.  Located in the Outrigger Hotel, this spot is your go to for Macademia Nut Iced Coffee and Acai bowls as well as full breakfasts like omelets.  It also boasts one of the most beautiful views in Waikiki of the hotel pools and the ocean.  Go early or make a reservation here though as it gets crowded!
This is a local spot where you won't get a lot of tourists but if you're in the mood for pancakes, this is the place.  I'm partial to their crepes and thin Swedish pancakes here but whatever you get, you'll be impressed.  You might have a short wait here but they move through pretty fast so it's worth it to hang out and be patient.
Want a does of Aloha with your morning coffee and pastry? Then this is your spot.  There are a few locations around Honolulu but the Honolulu Coffee Company is perfect for a light breakfast in true Hawaiian style.
And if you really want to eat where the locals eat in Hawaii, Zippy's is your spot.  Basically the Hawaiian version of Denny's, Zippy's is the local spot for breakfast that everyone visits. Their grilled cornbread is pretty great so don't miss that.