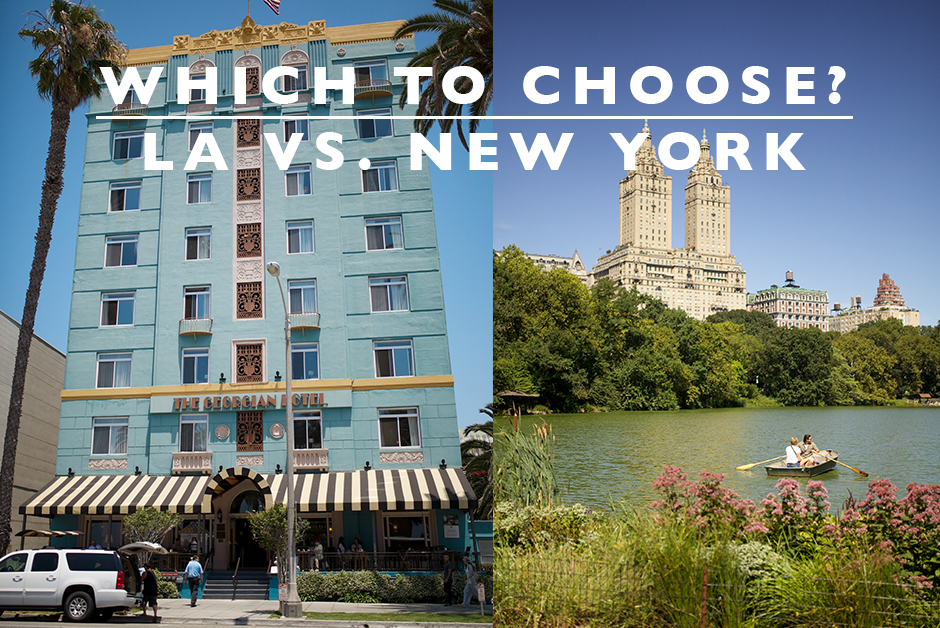 I often get the question, if you had the choice to travel to place A or B, which would you choose?  Or do you think I'd like place A or B better?  And to answer that question, it really depends on the destinations you're looking at choosing between.  There are some cities that many people try to choose between if you only have one opportunity to head somewhere so if you end up having to make that choice, here's how I'll best help you decide in this Land of Marvels series.
So, you're headed to one of the USA's most famous cities and you're wondering if LA or New York would be a better choice for you to explore and base yourself?
Well… both are incredible cities but if you can only pick one, here's my best information to help you choose!
Choose LA if you…
Love the Ocean – LA is famous for it's beautiful coastline and beaches!
Want a more laid back vibe – you won't get more laid back than SoCal.
Want to rent a car and drive around – LA is a huge suburb basically so if you want to rent a car and drive around to different neighborhoods, the City of Angels if the place for you.
Want scenery – The area around LA has some incredible scenery, from the ocean to mountains to national parks.
Want to take day trips to other areas of California – Within a few hours of LA there are endless places to explore California from Malibu and Santa Barbara to Death Valley National Park or Joshua Tree.
Want warm weather year round – No matter the time of year you visit Los Angeles, you'll probably have decent weather as it stays sunny and fairy warm year round.
Choose New York if you…
Want a true big city feel – There is not city quite like NYC and if you want that environment, New York is the place to be.
Want a foodie experience – With literally thousands of choices for incredible food, NYC is a foodie town on steroids.
Don't mind spending more money – You'll definitely need a large budget for NYC than LA but it's worth it!
Want a multi-cultural experience – You'll get a look at a ton of different cultures in NY and people from all over the world converging on America's first melting pot.
Want to walk or take public transit to explore – If you don't want to rent a car and instead walk everywhere or jump on the Subway, then NYC is perfect to explore.
Want Seasons – For very unique seasons, New York will offer whatever you are looking for in each one.