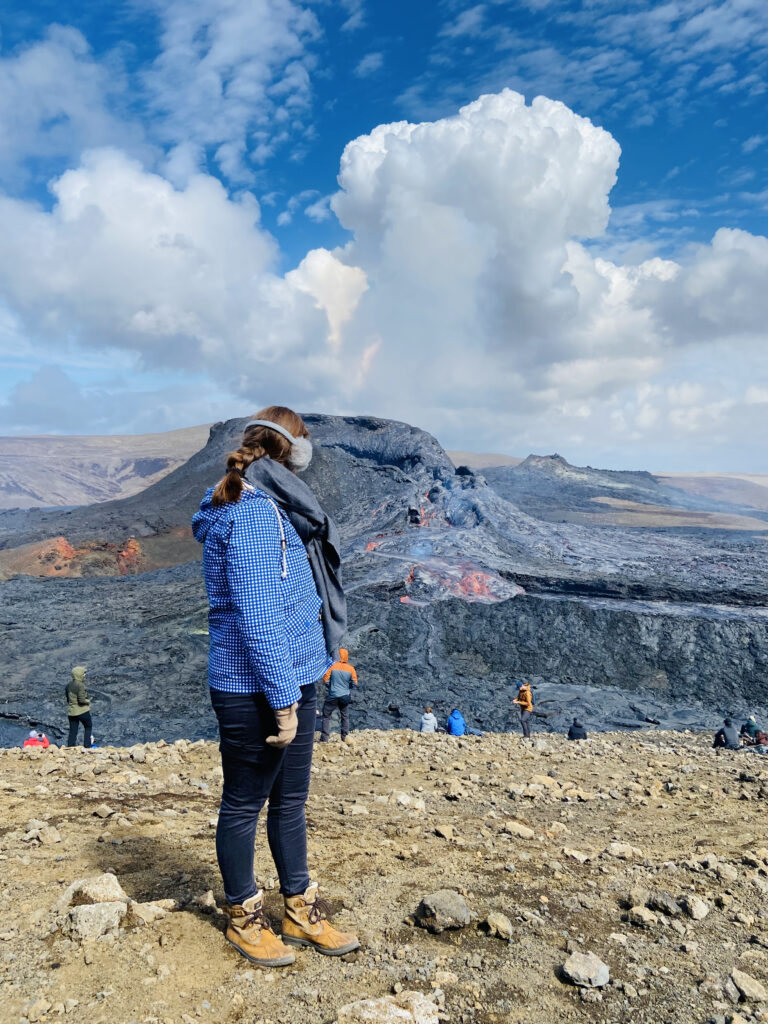 Outfit Details:
Boden Checkered Rain Coat (sold out) | Gap Navy Blue Cargo Pants (similar)
Gray Ear Muffs | Black Anello Backpack | Tan Insulated Hiking Foots (similar)
While in Iceland at the end of May, we trekked up the mountain to witness the Fagradalsfjall volcanic eruption that's happening right now about an hour outside of Reykjavik.  And while I'll be putting together an entire guide for how to see it and what you'll need to know to visit, for now, I just wanted to put down in words what seeing it was like.  I'll start with this: witnessing the volcanic eruption in Iceland was hands down one of the most incredible experiences of my life.
I know I've been incredibly fortunate to see a lot of incredible places in my life so far and many times people say to me that they are "once in a lifetime" experiences.  When we went to Machu Picchu that term was on everyone's lips, when we saw the Taj Mahal or walked the Great Wall of China and truly, I've never felt like any of my travel experiences were really "once in a lifetime."  I've always thought to myself, "I'd come back and see this again."  The volcanic eruption in Iceland though, it really was a "once in a lifetime" event that I probably will never get the chance to experience again.
We planned our visit during a 3 hour window on the day before we flew home when the wind was going to be at it's lowest gust levels (after 70 mph winds the night before) and when the weather was supposed to be clear before a storm blew in that afternoon.  We set off for the volcano mid-morning and arrived around 9:30am to the gravel parking lot that has been built for people to visit.  After parking our car and getting all of our stuff together, we headed off on the trail that has been created by the many people that have visited the volcano site so far since it's been erupting.  Nick and I each had a backpack and were wearing several layers of clothing because Iceland's weather is notoriously unpredictable.  We were prepared for anything, anything except what it really felt like to witness the volcano itself.
It took 90 minutes to, literally, climb the mountain trail up to the summit where the viewpoint is and it was a hard climb.  Several spots were straight uphill and many were climbing over rocks and debris.  One area you literally walk within feet of dried lava that's still smoldering.  Luckily we got great weather on the climb up and it was blue skies, hardly any wind and views for days.  We were actually taking off our scarves and gloves because we got so warm on the way up even though we definitely needed them again at the summit but it was really nice to do the hike in good weather.
Now I'll say that I really had no idea what we were in for on this excursion.  I knew the volcano was erupting but I really hadn't done much reading on it or seen much other than a couple photos from people I know in Iceland from the very beginning of it's eruption weeks ago.  I literally did not know that it was still erupting with lava.  I fully expected it to just be steaming or something and we'd maybe see the lava that had dried from its first eruption.  So with that in mind, you can imagine how blown away I was when we finally arrived at the summit of a literal mountain, 90 minutes later, to witness the first eruption that we would see.  We had barely made it to the summit, we were out of breath and exhausted, and then it happened.  The gasps from the small crowd around us were audible.  Suddenly, out of the volcano came a huge show of lava, blowing hundreds of feet into the air, spewing out and flowing down the side of the mountain like a river.  And the color, I still can't even quite grasp the color of the lava.  It was the brightest neon orange you've ever seen, a color that I can't even believe exists in nature.  A huge gust of heat erupted toward us as we stood there in awe, a furnace right in front of us coming from the the Earth's deepest core.
For five minutes we stood there spellbound, watching something that we never expected to see, something that was so strange and scary and incredible.  A lot of people have asked me if we felt safe and honestly, I made a quip to Nick later that yea, I thought about if for a second, like are we safe here?  But we were so in awe of what we were witnessing that it kind of escaped our minds quickly.  And yes, we were safe way up on that summit looking down at the volcano but it was such an almost spiritual experience that I couldn't take my eyes off of that volcano exploding lava all around us.
We stayed at the top of that mountain for at least 90 minutes and were lucky enough to witness 8-9 eruptions in that time period with the volcano going off every 10-15 minutes.  Some eruptions were smaller, some were huge and the way the lava flowed was different every time.  For the first 40 minutes or so, there was just a small crowd with us up there and it was pretty incredible seeing it with hardly anyone else.  The second half of our time at the summit, it got really crowded and it definitely made the experience less special as people were yelling and talking stupid photos, so I would highly suggest going earlier in the day when it's quieter and easier to really take it all in.
I'll never forget that morning though and witnessing something so surreal in nature.  I'll never forget the color of that lava, shooting hundreds of feet into the air or the way the heat rushed towards us as it exploded.  I'll never forget just picking a rock to sit on and staring at the volcano in complete awe or how the crowd gasped in unison when it started erupting.  I'll never forget listening to the first reactions of people who had just arrived to the summit when it first went off, the rest of us sitting there having had that reaction just minutes before.  I'll never forget the way it felt to witness something so visceral, so out of our control as humanity.  I'll never forget that morning at the Fagradalsfjall volcano in Iceland, witnessing the natural world in all its glory.  It truly was a once in a lifetime experience and I'll never take that for granted.
Headed to Iceland?