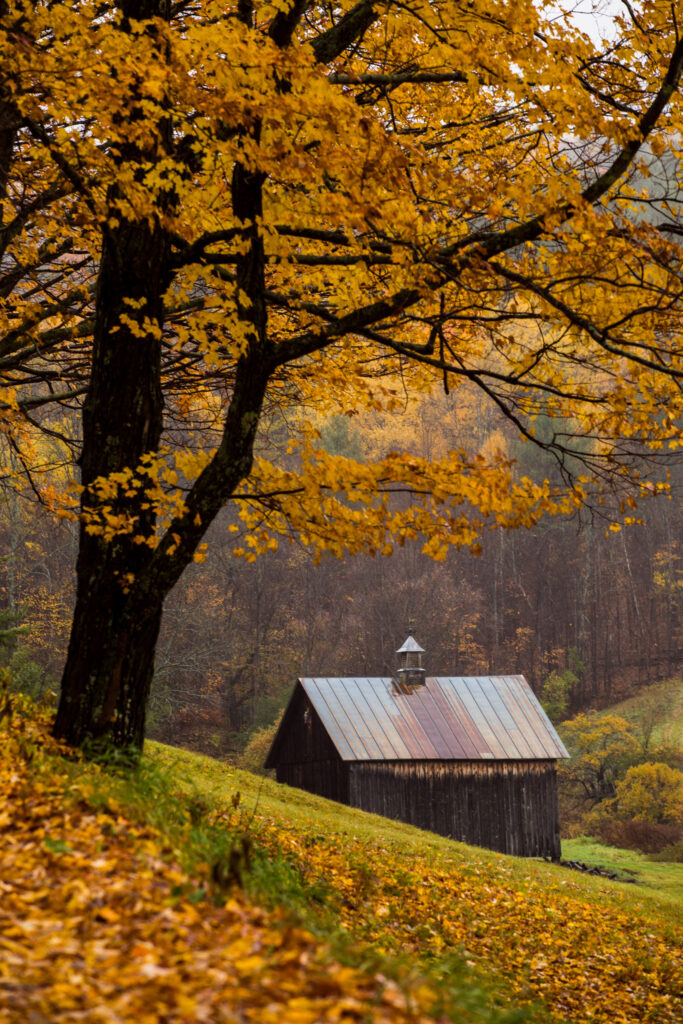 You know how people always talk about SAD (Seasonal Affective Disorder) and how they can't barely get through months and months of cold, gray weather?  Well I totally have that but in the Summer.  I've always had a really hard time getting through the hot months of the Summer and relish in the cool, gray weather that is finally coming back this time of year.  I wait all year long for the Fall and as that person that starts wearing Fall clothes on September 1st (luckily in Portland, most of the time the weather warrants it), I also love Fall travel.  Actually, it's my favorite time of the year to travel as most of the world is so beautiful as the leaves change and the weather cools.  It can also be a really cheap time to travel as kids are back in school and the crowds have subsided.  So if you're looking for a truly amazing Fall escape, here is your ultimate Fall travel list for some incredible spots around the world!

Vermont, USA
I have a soft spot in my heart for this tiny state in the USA ever since visiting Vermont a few years ago.  I'm headed back in a few weeks and I can honestly say, you've never seen Fall color if you haven't been to Vermont.  The trees were truly like jewels in this part of the world and a New England Fall trip is a must see if you love Autumn.
See more of my posts from Vermont here.

Tokyo, Japan
Tokyo is one of my favorite cities at any time of the year, but coming from someone who has been there for peak Cherry Blossom season in the Spring and in the Fall, I've got to say, I was more blown away by the gorgeous Fall colors than the pink cherry blossoms.  I find Tokyo is much less crowded in the Fall and oh so beautiful.  The many parks around the city just erupt in color and it's truly an incredible sight to behold.
See more of my posts from Tokyo here.

Vancouver, Canada
I'm headed back to Vancouver later this Fall and I can't wait to explore deeper, but I've been up to the Canadian city a few different times during the months of October and November and it really is spectacular.  The rain and fog often make the Fall colors pop that much more here in the Pacific Northwest and that is definitely the case in Vancouver too.
See more of my posts from Vancouver here.

New York City, USA
There really is nothing like walking through Central Park in NYC during the Fall and it really is a trip to make specifically during this time of the year.  Everything slows a little as the weather cools and it's easier to get around the city without the hoards of people.  Find a bench in the park and just sit and watch everyone going about their day, as the wind blows through the trees and the leaves fall to the ground.  It's pure magic.
See more of my posts from New York City here.

Amsterdam, Netherlands
Amsterdam is one of those cities that is truly magical all year round but my very favorite time there is September and October.  It's cool and rainy and the canals are lined with trees that turn orange and yellow and brown.  Grab a raincoat and a stroopwafel and just wander for hours… truly one of my favorite experiences in the world.
See more of my posts from Amsterdam here.

Dublin, Ireland
If you want to see old buildings with vines climbing the rock walls, turning red in the Autumnal crisp air, then head to Dublin.  The city comes alive this time of the year as the ivy turns orange and the trees drop leaves on the old cobblestone streets.
See more of my posts from Dublin here.
If you love Fall and want more advice for places to go, I previously wrote about
5 of the Best Places to See Amazing Fall Color and When to Go.