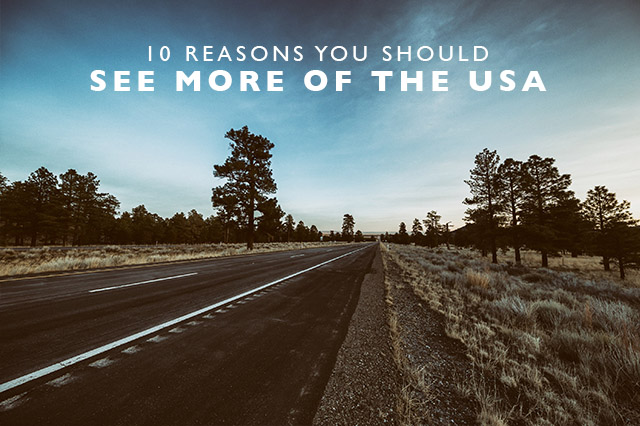 Right off the bat, I should mention that this post is mostly geared toward my American followers, but if you're not, that's ok too.  As an American, I'm learning more and more as I travel that while the rest of the world is amazing, we have some pretty incredible places right here at home in the USA as well.  Just this year Nick and I have explored the gorgeous Antelope Canyon, taken in the vast Grand Canyon, watched the sunrise over the beaches of Hawaii, stared in awe at the landscapes of Alaska, and chased Fall foliage in Vermont.  And while those were the highlights, next year we're hoping to explore even more of the USA.  So if you had any doubts on how amazing America is, here are 10 reasons you should see more of the USA!
1. The USA has some of the most unique landscapes in the world.
From the evergreen forest of the Pacific North West to the prairies of Middle America to the swamps of Florida to the deserts of Nevada and the fjords of Alaska, the USA is home to some of most unique and incredible landscapes in the world.
2. It's close to home.
If you're an American, it can often times be easier to just travel within your own country.
3. It can be cheaper than traveling overseas.
Without having to go long distances, you can find great deals exploring your own backyard!
4. You can see more in shorter distances.
Wherever you head in the USA, there is a lot around every area.  It's easy to base yourself in one section of the country and see a lot in short distances in your surrounding area.
5. There are so many diverse cultures within one country.
The USA is really like many smaller countries all in one.  By exploring the USA, you're opening yourself up to seeing so many different diverse cultures but all within the borders of one country.
6. For whatever type of trip you want, you can find somewhere in the USA that has it.
If you want beaches, we've got it.  If you want desert, we've got it.  If you want evergreen forests, we've got it.  If you want to party, we've got it.  If you want to escape, we've got it.  If you want huge sprawling cities or wide open country, we've got it.  We pretty much have a place for whatever you want in any sort of trip.
7. No need to get the passports out.
While I love traveling abroad, sometimes it really is just easier to not deal with getting out passports, dealing with visas or making sure your cell phone has a foreign data plan.
8. There is no need to take so many vacation days.
While you might need a full travel day on each end of a trip abroad, if you stay closer to home you won't need to burn so many vacation days!
9. It's fairly easy to get around.
The USA is pretty easy to get around, whether by car, train or plane so a trip to any place in the US is going to be decently accessible.
10. It's important to know and see your own country.
While it seems so fun and exotic to travel abroad, it's so important to see more of our own country and see how amazing it really is!