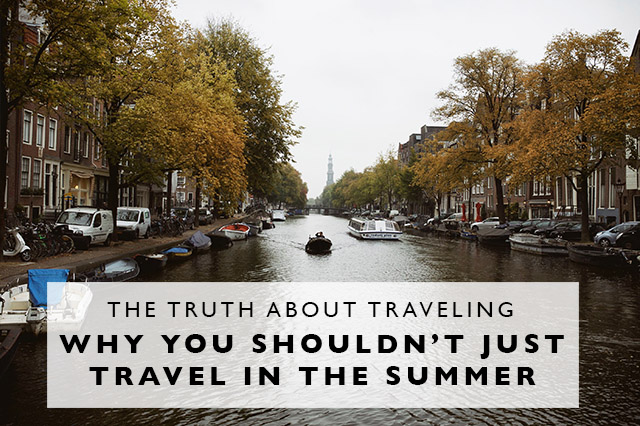 Ever notice that during the Summer our social media feeds are filled with people on vacation?  It's really no secret that Summer travel is peak season travel, when everyone heads somewhere for a break.  It's the hot weather, the kids are out of school and it just seems like the time everyone thinks is the best time to travel somewhere and get away.  And while I've said many times here on Land of Marvels, that's not my favorite time to travel, today I'll tell you exactly why you shouldn't just travel in the Summer and explain why you might want to start going against the Summer travel trend.
Personally, my reasons for not traveling in the Summer and peak season range from not liking the heat, trying to save money and traveling in off season at off season prices, and not loving huge crowds at tourist spots.  But perhaps the most important reason in my opinion, why you shouldn't just travel in the Summer is this – destinations are more real in the off season.  
I really believe that travel opens you up to all sorts of things you would never learn had you stayed at home and that travel has the ability to really change you, to see the world in a different light and to expand our horizons, opening us up to new ideas and interesting people.  And a lot of that gets severed when you travel in peak season, when there are so many people there, everything becomes a tourist attraction.  When you are distracted by the insane traffic or the loud tourists yelling or the locals are agitated because of the Summer craziness.  When you travel in the off seasons, when you see places quieter, you can really take it all in, you can really see the locals for who they are, you can explore without the hordes of people and you can really understand a destination.
A perfect example of this is Paris.  I've been to Paris in all the seasons and the one year I went in July, I was blown away by what a different experience it was to all my other experiences in the City of Light.  The crowds took away from exploring my favorite city, the loudness of the traffic and people everywhere was overwhelming.  And while I am not discouraging people by any means of traveling in any way – it's always amazing to travel no matter when you can.  But if you're looking for something more genuine, if you want to see a place for what it really is when the crowds are gone, if you want quiet and introspection, if you're looking for authenticity when you travel – my best advice to you is this: don't just travel in the Summer!
The off season can be a time to travel that will evoke all sorts of new emotions in you as a traveler. And instead of looking forward to things you do with Summer travel like the weather and availability, start relishing in things like snowy weekends in the dead of Winter or falling leaves in the rain or early Spring blooms.  Those things are beautiful too and well worth the experiences, and on top of that, you may just find that everything about off season travel appeals to you!