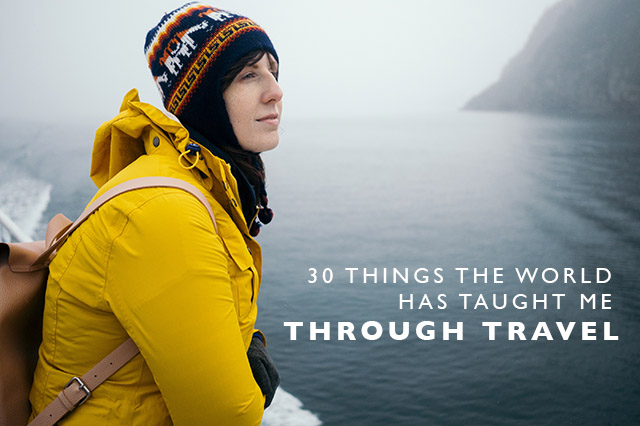 As I gear up to my 30th birthday this Saturday, I've spent a lot of time lately contemplating what turning 30 actually means to me.  And part of that means thinking about everything I've learned, everything I've seen and everything I've done.  A big part of my life is travel and as I get older, I truly believe that travel teaches us more than anything else ever could.  And so in honor of my milestone birthday this weekend, here are the best 30 things the world has taught me through travel.
1. As much as we constantly hear how different we all are, we are actually all the same on the things that really matter.
2. The world is huge and tiny at the same time.
3. Don't burn bridges – we are all interconnected.
4. Seeing something with your own eyes is infinitely better than the photos.
5. There are moments when time truly stops – when you are in a moment that seems to last a lifetime.
6. And yet at the same time, the world flies by us in seconds.  Appreciate the moments while they are there.
7.  No adventure is too big or too small – they are all worthwhile.
8. At the core, 99% of the human race are good people.  Don't let anyone tell you otherwise.
9.  The best feeling in the world is traveling the world with someone you love by your side.
10. Half of the journey of travel is enjoying the actual journey getting there.
11. No matter how many places you travel, there is always more to see.
12.  And seeing is just part of traveling – the other half, and perhaps the most important half – is actually feeling a place.
13.  No matter what color our skin, what we wear or what God we pray to, we all want the same things out of life: to be happy, to fall in love, and to be loved.
14.  No matter how hard you think your life might be at any given moment, there is always someone else that has it harder.
15.  While we have overcome so much in our world, we still have a long way to go to make sure everyone is safe and has the rights they deserve.
16. Travel is the best education money can buy.
17.  If you want to travel, there is always a way.  It's up to you to figure out what that way is, but it's always possible.
18.  While travel is incredible, it's also important to know where "home" always is.
19.  When you're having a bad travel day, the cure is to laugh when you really want to cry.
20.  The actual act of traveling can be really stressful, exhausting and draining.  But the moments when you step off the plane at your destination outweigh the negatives every time.
21. Even when you don't love a destination, you can always learn from it.
22.  Sometimes the places or things you have no expectations for in your life, end up being the places or things that make the most difference in your life.
23.  Never stop exploring.
24.  Let yourself be drawn out of your comfort zone – you'll grow from it.
25.  The world is not nearly as dangerous or terrible as people would like you to think.
26.  Travel lets you walk through history with your very own eyes.
27.  The things we think are important in the West, are the things that people around the world in hardships know aren't important at all.
28.  At the heart of everything, no matter where we go, remember we're all just imperfect people trying to do our best.
29.  Never stop dreaming.
30.  Travel, beyond a doubt, will be one of the very best things you ever do for yourself in your life.  So book that ticket, head out on that airplane and see the world – you won't regret it.