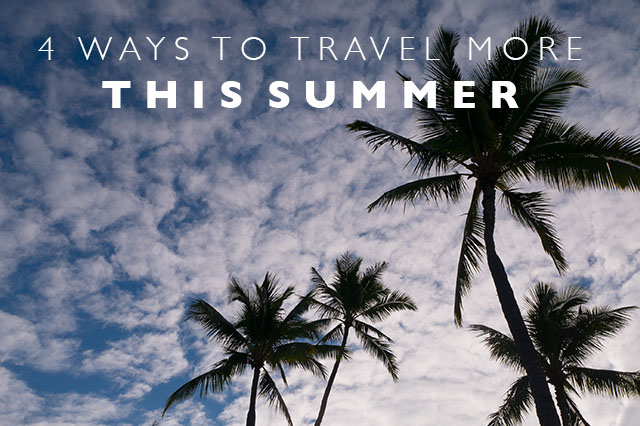 Summer is perhaps the busiest travel season of the year.  Everyone wants to use the nice weather and kids being out of school to travel, but it can also cause a lot of stress to travel this time of year with crowds and high costs.  Luckily, there are still ways to get around the "cons" of traveling in the Summer and still have fantastic trips, so if you're looking to travel in the next few months, here are 4 ways to travel more this Summer!
1.  Take advantage of holidays.
Summer is littered with holidays that create great 3-4 day weekends which work perfectly for a little escape.  In the States, both the 4th of July and Labor Day are coming up, so plan ahead and make use of the longer weekends to escape somewhere fun, even if it's close by where you live!
2.  Explore your own backyard.
So many people that want to travel totally write off their own area as a place to explore.  But it's actually such a great place to start!  It's cheaper than buying an expensive plane fare somewhere exotic and it's easier to do in a smaller period of time.  Check out Pinterest for cool spots in your area or google things like "best spots to explore in _________" and I guarantee you'll find some amazing spots really close to where you live.  We have an endless list of spots in the Pacific NW to explore and it's always fun to explore where you live.
3.  Travel to lesser-known or off season spots.
If you do want to jet off somewhere fun for your Summer travels, pick spots that are either off-season in the Summer (i.e. Southern Hemisphere where it's colder or rainy season in SE Asia) or places that haven't really taken off yet as tourist hubs like Croatia or Iceland.  Often traveling to spots that aren't as famous as London or Paris in the Summer can help cut back on cost and crowds.
4.  Use points and miles to cut cost.
Flights and hotels in the peak Summer time can be really expensive.  A great way to cut this cost is to use your points and miles saved up for travel during this season.  That way you'll be able to go where you want without the huge price tags of peak fares.