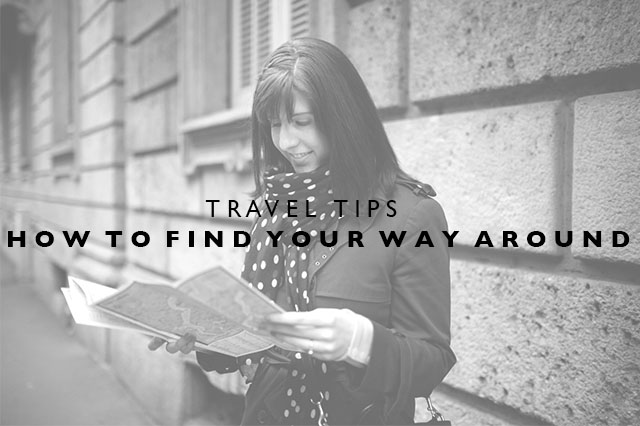 One of the hardest parts of traveling is finding your way around a place you don't know or have never been to before.  It can be a daunting part of your trip when you're lost or unsure of where you are headed, and believe me, I've been there, but there are also a lot of great ways to keep this at a minimum while you travel.  Over the years of traveling, I've found out the hard way what the best options are for how to find your way around as you're on your adventure wherever you are in the world!
Use GPS on Your Phone
We always get international data packages on our iPhones when we travel (they are actually pretty reasonable these days) and it's always worth it.  Whether we are driving around the wilderness of Iceland or wandering the streets of Spain, using our phones for directions works really well for us.  We tend to use one phone first until we meet the data minimum and then switch to the other person's phone.  Make sure to turn your data off if you don't want to get charged though!
Also, you can still use GPS without data as long as you let it load before you leave an internet connection.  Let your map load before you leave Wifi and you should still be able to follow your GPS marker even without data being turned on.  We used this option a ton in Marrakech a few years ago, when we got completely lost in the souk and had no idea which direction to go!
Buy Streetwise Maps for your Destination
I still always travel with hard copy maps as well as my phone and any other digital versions I may have.  Sometimes it's easier and sometimes you don't want to be flashing your new iPhone 6+ around.  I also love having the option of marking up a map with places to go and where our hotel is and such.  My personal favorites are Streetwise maps.  I stock up on all the destinations we are visiting for a particular trip.  I love the size and layout of these maps and they are really well laminated which really helps in rain or other weather.
Just Wander
One of the best ways to get where you need to go is really just to wander.  Especially if you know the general direction you should be heading, sometimes you'll stumble across amazing spots in your destination when you aren't sure where you're going.  But be safe, don't wander into areas that you shouldn't be in or feel uncomfortable.
Ask Directions when Needed
I still ask locals for directions all the time when we travel.  Most of the time people are really nice and will help you out.  It's a good idea for this to work to know a little bit of the local language too.  I also get asked for directions all the time whether at home in Portland or while traveling, so obviously a lot of people opt for this option.  Don't be afraid to approach someone and just ask nicely.  Even if you don't know the language, point to the spot on your map you're headed and they can point you in the right direction!