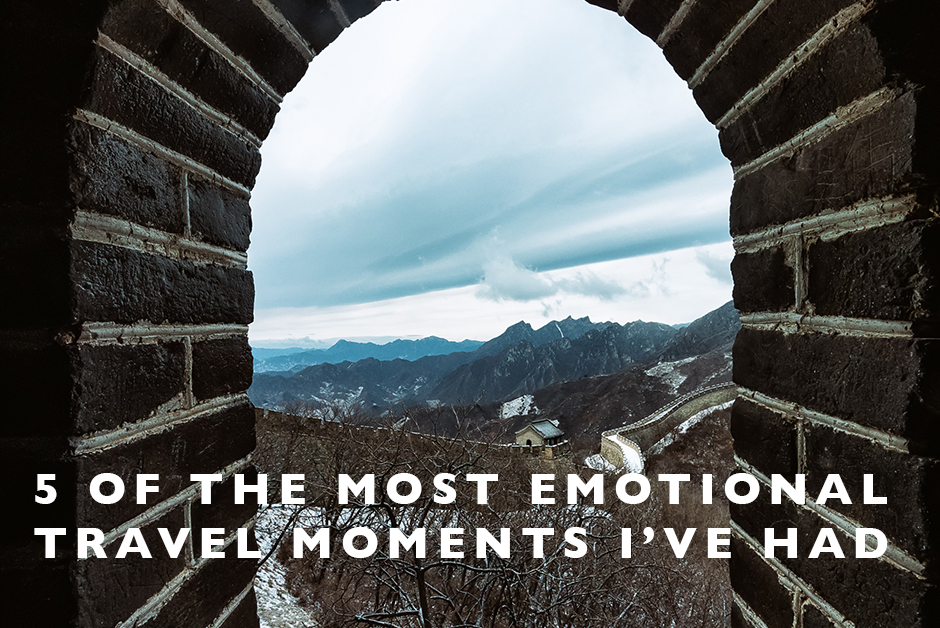 In the time of COVID-19, the world has watched slowly as the travel industry has almost completely disappeared for the time being.  Planes aren't flying, people aren't moving freely, monuments are left empty around the world.  I've had so many emotions over the loss of travel, so many emotions about how this pandemic has changed so much, so quickly.  One thing though remains, my memories at incredible places around the globe.  I keep coming back to the places I've seen, the moments I've experienced and those are memories that I cherish more now than ever.  So I would advise you to look back on those memories right now during the hardest part of this.  Remember those moments that touched you.  And if you haven't gotten to experience moments like that around the world yet, then make a list of the places you want to experience and when this all over, once we've recovered and moved forward, get out and go explore and experience moments like these for yourself.
As I've traveled the world over the years, some moments have stood out more than other for a variety of reasons.  Certain destinations, certain experiences end up being the most emotional travel moments that make a mark on our memories.  Travel in general is always emotional for me, seeing new places and meeting new people is moving and inspirational for me.  But even within the overarching category of travel, certain moments have moved me in a way that I've never felt in any other way, certain places have touched me more deeply than I ever could have foreseen or predicted.  These are 5 of the most emotional travel moments I've had and how it made me feel, what I saw and what emotions they provoked and looking back on them now is in some way, a little bit of comfort to know someday, we'll get these moments again.  Travel is supposed to move us, supposed to make us vulnerable. When we can get back there, when we can fill planes again and see far off lands, let's make the most of it.  For now though, here are some of the moments that have completely changed me and touched me deeply.
My first morning in Myanmar wandering the streets of Yangon alone.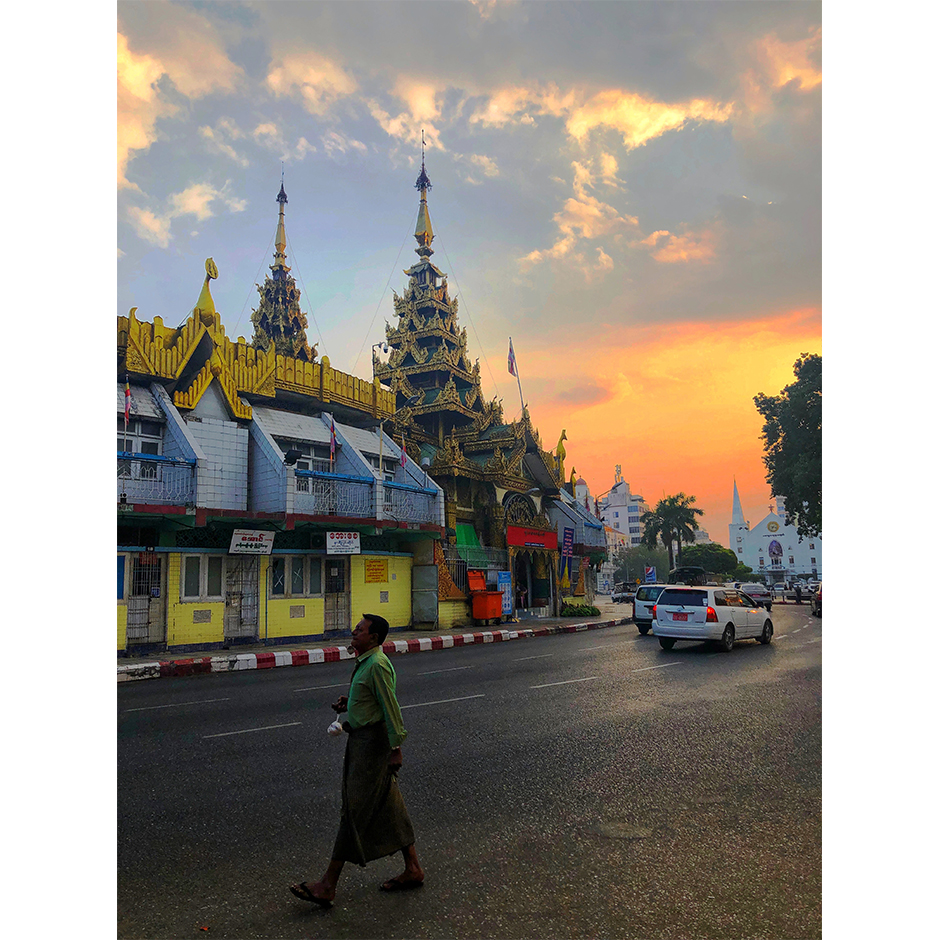 Most recent of these emotional travel moments, this one happened in Yangon, Myanmar, my first morning in the country.  I flew to Myanmar with my parents who had to be there for some work events before they left the city and headed off our their work itinerary leaving me for 2 days alone in Yangon.  That first morning in Myanmar, all by myself in this foreign place, so excited for the adventure ahead, so overwhelmed with seeing a new place in the best way possible.  I was on 3 hours of sleep, totally jet-lagged, but I also being so full of adrenaline, so excited to get out and see everything in a new country that I didn't know very much about. I headed out of my hotel at sunrise that morning, grabbed a taxi and headed downtown Yangon.  I remember that morning so vividly, the sun was painting the sky orange across the polluted sky creating this foggy haze that looked completely surreal.  The taxi had all the windows down and as we flew through the early dawn streets, no traffic to be seen, the wind blowing through my hair and my eyes taking in everything around me.  A lot of people have asked me since that trip, "weren't you scared to be there and out exploring the city on your own?" And my response is just that no, I wasn't scared in the least.  I was excited, I was ready, I was enthralled.  And those were the feelings I had that first morning.  I had my taxi driver drop me at the Sule Pagoda downtown Yangon and I spent the next few hours just wandering around the city, throughs sidewalk markets and golden temples, from run down falling apart buildings to beautiful restored colonial architecture.  I'll never forget the feeling of exploring on my own felt like that morning, the way the orange sun hung in the sky and how the wind felt on my skin and hair flying through the streets of Yangon in the back of a rickety old taxi.
Standing over Godafoss at 2am under the midnight sun in the North of Iceland.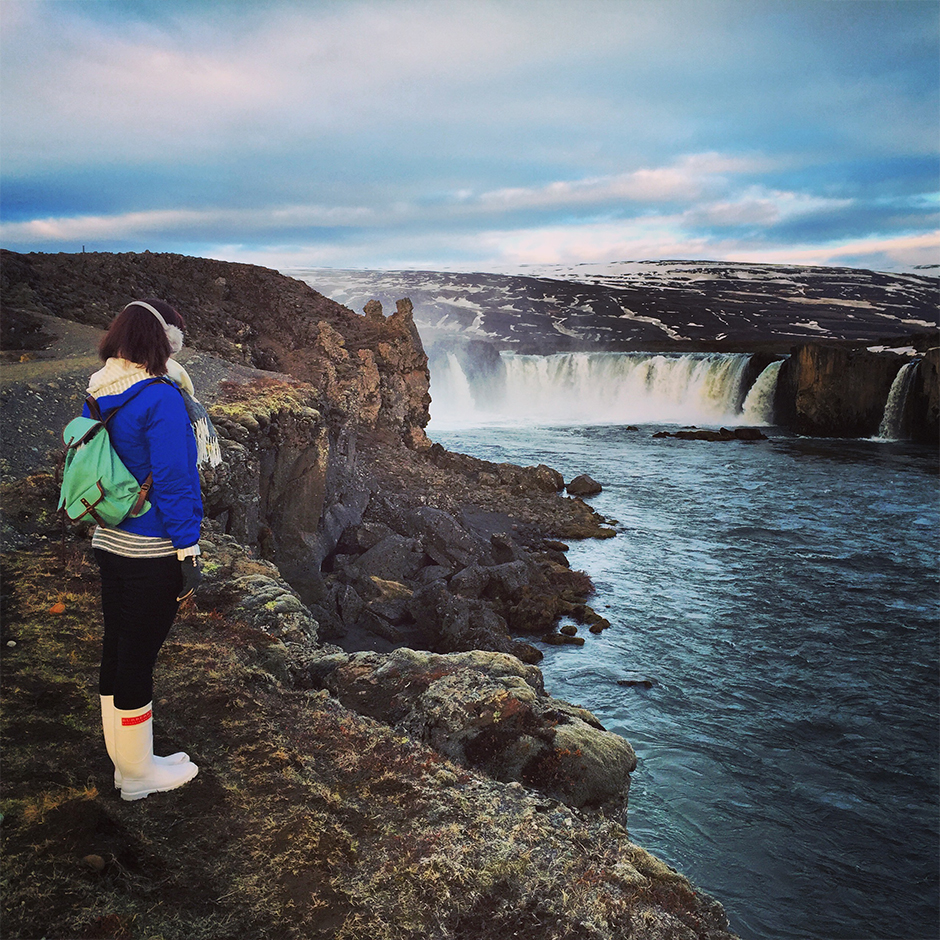 I've never been shy about how much Iceland means to me, how much our trips to the country have blown me away and truthfully, when I have a particularly lousy few days in my life, I remark to people that know me, if I ever just have had enough and disappear, you'll probably find me in the middle of Iceland on a little horse farm in the middle of nowhere.  I love Iceland, unequivocally.  But perhaps the most emotional moment I've had in the country happened a few years back when we decided to embark on a journey to the North of Iceland and see a part of the country that you can only get to in the warmer Summer months, an area that is very much off the beaten tourist path of the South near Reykjavik.  We made the journey North in our rental car, driving for hours.  We stayed in Akureyri for a few days while we explored the area but one morning was truly different than the rest.  This trip was in late May, meaning that the Midnight Sun was coming alive during that time of the year and the sun really never truly set at night.  We decided to take full advantage of that and drive out to the famous Godafoss Waterfall in the middle of the night.  We ended up there around 2am, under a twilight sort of lighting that felt completely unreal.  We stood above that waterfall under the Midnight Sun, the only other humans for miles, all bundled up against the chill and I remember thinking, wow.  I remember thinking, we're completely alone with this incredible force of nature, out here under the Midnight Sun, giving off this surreal environment.  I remember thinking, I'll never forget this.  And I never have.
Walking the Great Wall of China in the Snow almost entirely alone.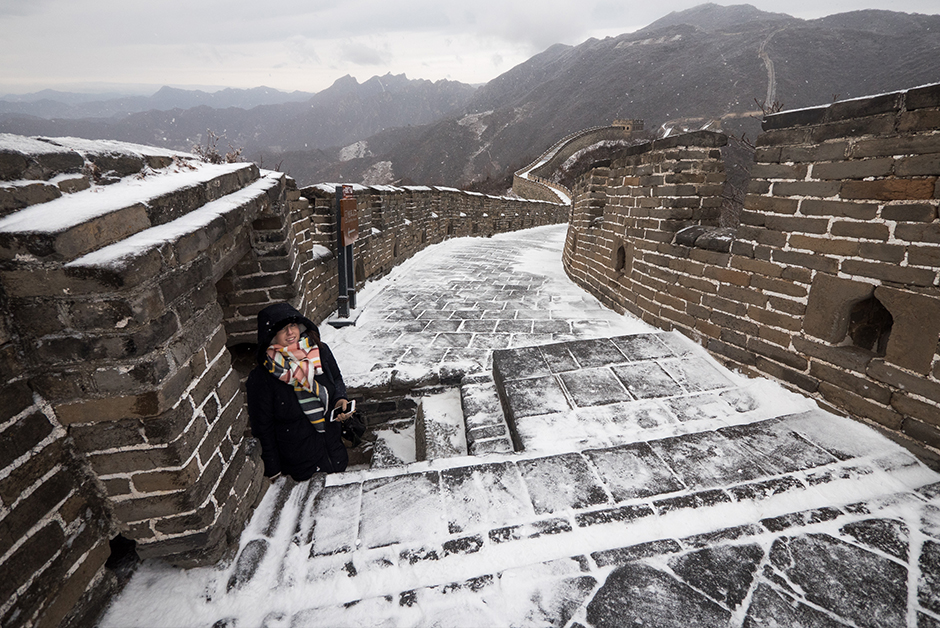 I've talked before about how magical and emotional our morning on the Great Wall of China was but to this day, it's still one of the most remarkable travel moments I've ever had and I think that I ever will.  It was one of those moments when you know you'll never be able to replicate it, that even if I went back, I'd never be able to make it what it was and that's the beauty in the memory, in how incredible it was.  We had a driver take us up to the Great Wall of China early in the morning one day in late November while we were in Beijing.  As we ate breakfast at our hotel that morning, I remember watching snow begin to fall outside, a pretty rare early snowfall for the area.  After breakfast, we got in our car and headed out of the city.  It was still dark for most of the drive but when we arrived at the Great Wall, bought our tickets and boarded the bus that would take us up most of the way to the Wall, the sun began to rise.  The snow was still falling, a soft dry blanket of white falling around us.  The bus was freezing as we were the first group of the day to go up and I remember being really cold.  We got to the place the bus dropped us off, got on a gondola that would take us the rest of the way up to the wall.  That first group up the Great Wall that day was Nick and I, and 2 other people.  Upon exiting the gondola, we climbed some stairs and made a turn.  Nick went up before me and I vividly remember making that run to the right after the stair, looking at him already up there on the Great Wall of China with only 2 other people and I literally gasped out loud "wow."  We were standing on the Great Wall of China almost completely alone, standing on a monument built thousands of years ago, a place so many had been before us, as the snow was falling and blanketed the whole landscape.  I suddenly wasn't cold anymore, not that it had warmed up at all, but the overwhelming emotion of that moment, as cliche as it sounds, completely changed me.
Driving windy roads through Fall Jewel-toned Colors in Vermont.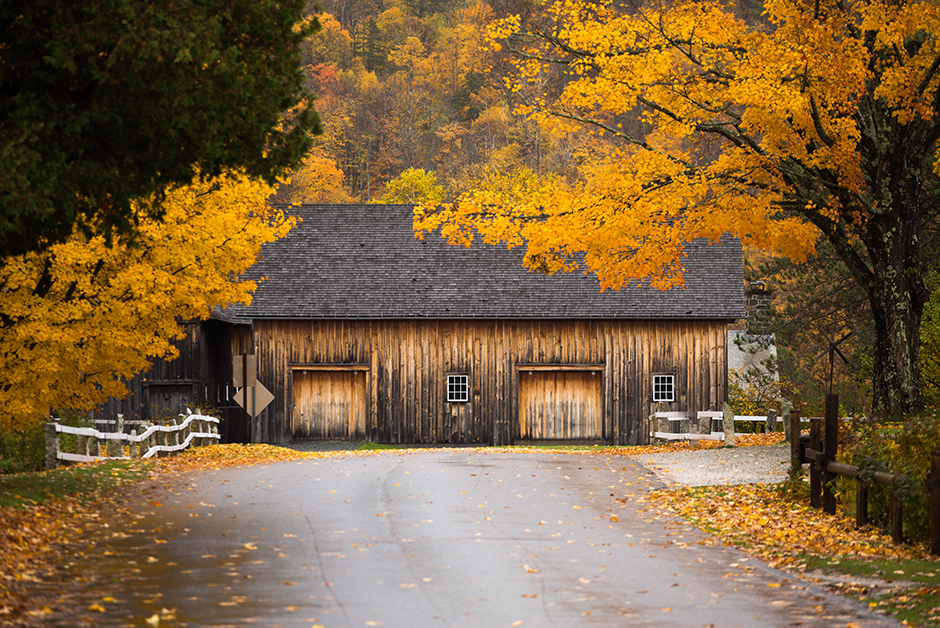 A few years back, we made a trip to Vermont in October so that I could see one of my top travel destinations, Fall in Vermont.  I knew before going that I would love it in all honesty.  I love the whole New England area of the USA and I love Fall, so that was never going to be an issue.  What I didn't expect to happen was how much Vermont would touch me deeply, how the state would become a place that just spoke to me, a place that I wouldn't count out as us calling home at some point in our lives.  Our first trip to Vermont in the Fall was so emotional for me as someone who loved Fall color and relishes the Autumn more than any other season.  I'll say with no exaggeration, you've never seen Fall colors like you'll see in Vermont.  The Pacific Northwest has a beautiful Fall but it's nothing like Vermont.  I've never seen color like in the nature with my own eyes.  The Autumn colors there are jewel-toned, like millions of tiny jewels hanging from tree branches, as deep and dark as could be but so vibrant with color.  Seeing the landscape in Vermont, driving windy roads through little Vermont towns, the scenes are literally like looking at the most beautiful oil painting you've ever seen.  I fell in love with Vermont for so many reasons, but Fall in Vermont, it will literally bring tears to your eyes, it's so beautiful.
Leaving Provence and Discovering Lyon.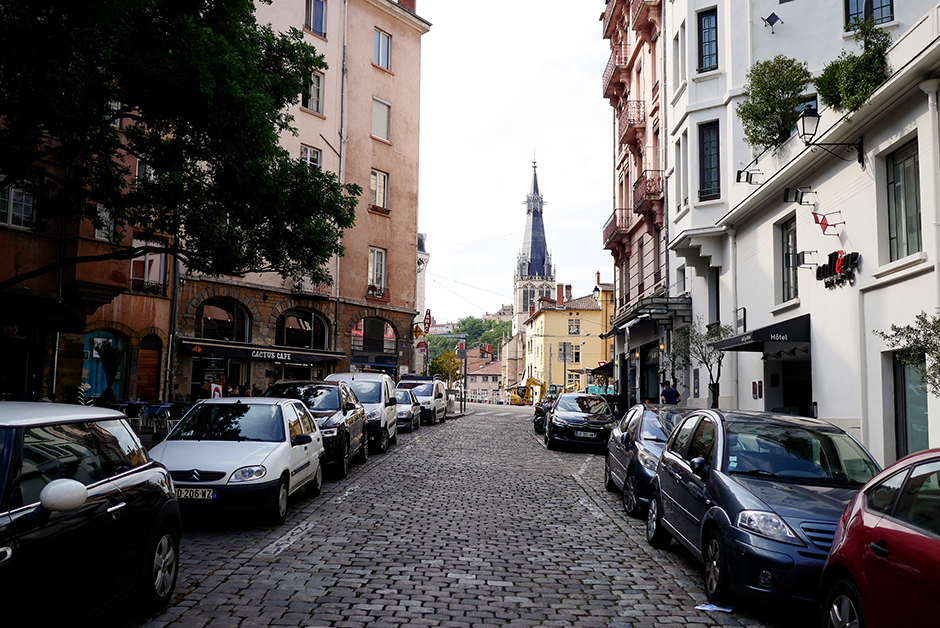 While the other emotional moments I have listed here are more like life-changing, eye-opening moments, this particular memory is a little bit humor, a little bit sleep deprivation and a little bit heat exhaustion, but it was definitely one of my most emotional travel moments nonetheless.  Last Summer, we had planned a trip back to Provence in July after having to cancel a Europe trip that previous Spring and decided to take advantage of Summer travel to see the lavender in bloom in Provence again after falling in love with that area a few years back.  I had booked us an AirBnB in the little town of L'Isle sur la Sourge in Provence and it specifically said it had air conditioning as I was booking it.  Knowing that Provence gets warm in the Summer, that was a must-have for me to book.  Anyways, fast forward to arriving in Provence in our rental car and we checked into our little apartment, immediately knowing that Provence happened to be on day 5 of an intense European heatwave with no end in site and temperatures soaring well over 100 degrees.  Upon entering the apartment, it was hot, like really hot.  I knew immediately, this would not be good.
Now for reference, I get really physically sick when it's really hot.  I have never been able to handle intense heat, especially really hot uncirculated air.  I feel dizzy, physically like I might faint and I get a really upset stomach when I feel a heat stroke coming on.  That apartment had a tiny little floor unit AC that they were calling air conditioning and man, that first night there was horrible.  I got really sick and was in the bathroom pretty much all night.  I was drenched with sweat and couldn't sleep so I laid in that bed all night, just thinking, I can't do this again with another night.  We were supposed to have three nights there I think and I knew I couldn't physically bare it for those next two.  So when Nick woke up that next morning, I had maybe slept about 45 minutes.  I looked at him and he knew how sick I was.  Paler than normal, hair soaking wet from sweat, dark circles under my eyes from no sleep.  We decided to leave Provence early and head back to Lyon, booking a last minute hotel with air conditioning and vowed to explore a new city we'd never been to in France before.
Before packing up, we explored the little town a bit in the morning before the heat became too overbearing and then got in our rental car to head back to Lyon.  Now this is where the humorous part of this story comes into play.  Upon leaving the town and getting on the highway, most places in France have toll roads.  You usually go through a line and grab a ticket, then get on the highway and then whenever you exit the highway again, you insert your ticket into the machine and pay your toll.  Well the entrance to the highway where we were only had a couple lanes at the kiosks to get tickets.  Driving, I followed the car in front of us through the line.  The man driving that car pulled up to the kiosk and didn't take a ticket, then the median opened up for him and he drove through.  I followed behind him, but seeing as he hadn't taken a ticket, I thought maybe that I didn't need to either at this particular kiosk so I kept driving and drove straight through the median as it came down and hit us on the top of our car.  There was no damage to the median or to our car so we kept going, unsure of what to do.  Now keep in mind, I'm driving in a foreign country on about 45 minutes of sleep and I'd just gone through the kiosk and median without taking a ticket.  Finally we arrived at the toll booth to get off the highway for Lyon and as we lined up, I knew we were in for it without a ticket here.  Getting to the front of the line, I hit the Help button as I didn't have a ticket to insert.  I basically got yelled at in French for a solid 10 minutes before they finally just gave me a price to pay and we got on our way.  To say the least, it was such an emotional day that by this point I had no energy left.  We laugh about this story now because in retrospect it's hilarious that I would drive through a median and keep going… but you live, you learn.
Long story short, we fell in love with Lyon and spent the next few days wandering around and discovering the amazing city of Lyon.  The lesson here was that trips aren't always going to go the way you think they are, things will arise and you might be emotional in some travels for other reasons than it changing your life.  Sometimes trips are emotional for reasons completely out of our control but they still make some pretty incredible memories.
What are some of your most emotional travel memories?