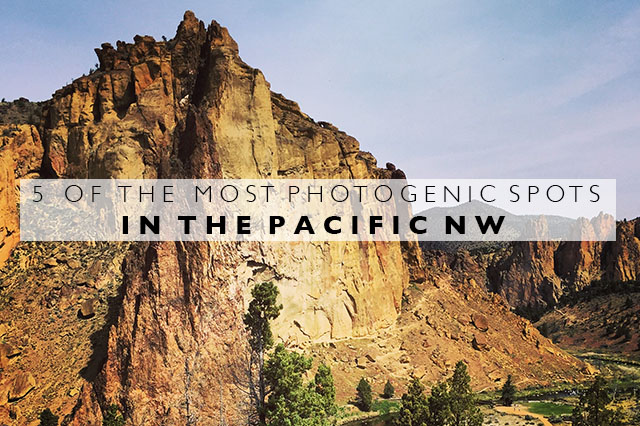 Since it's high tourist season in my home city, we're calling this Pacific North West week here on Land of Marvels!  We'll be posting all about my home city of Portland as well as other great spots around the Pacific North West all week long!
The Pacific North West is a pretty beautiful place and in my opinion, one of the prettiest spots in the whole of the US.  It's often overlooked due to weather or lesser known spots, but it's for sure to be one of the most photogenic areas you'll encounter.  And because there are so many amazing spots to see and photograph in this area of the world, when you head out this way, here's a list of 5 of the most photogenic spots in the Pacific NW to be sure to witness with your very own eyes (and camera of course)!

This natural spot outside of Bend, Oregon is pretty spectacular.  The color of the rock is a golden hue and as you wander around the viewpoint from above, you'll see the water snaking around the mountains, rock climbers scaling the sides of it and a high desert landscape that is pretty incredible.  (Photo at the top of Smith Rock)

In my opinion, the most beautiful spot on the Oregon Coast, Bandon is remarkable.  From long stretches of rocky beach, to cliffs overlooking the roaring ocean, Bandon is simply stunning and incredibly photogenic, whether rain or shine.

A stunning Columbia River running through the gorge walls in Northern Oregon and Southern Washington, just 45 minutes outside of Portland, the Columbia River Gorge is a breathtaking site.  Your best views are from driving the I-84 or stopping at the many viewpoints along the old highway that parallels the freeway.  You'll also find a ton of waterfalls along the old highway in this area such as the famous Multnomah Falls.

I think the most stunning part of Washington State, the San Juan Islands which are as far North as Victoria, Canada are incredibly photogenic and stunning in their own right.  With orcas swimming past, crystal clear blue water and ferries that weave in and out of one stunning island after another, the San Juans are best during the Summer but are gorgeous all year round.

This famous spot in Southern Oregon is not only beautiful but perfect for photos.  Drive the road around the lake to get an angle on each side and take photos of the crater and the little island that floats in the middle of the lake. The water is incredibly blue and surrounded by lush Oregon forests, it's perfectly photogenic.