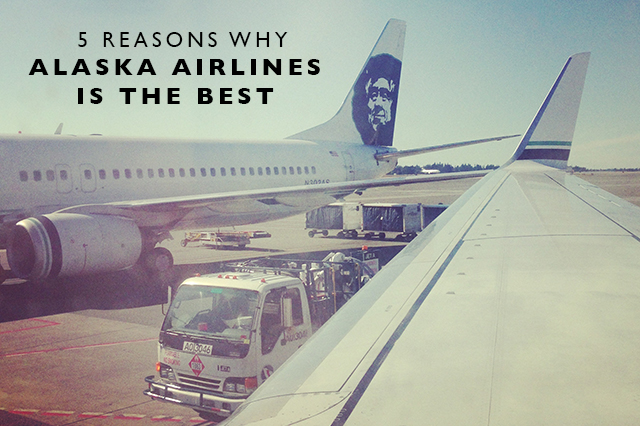 With so much lately coming out in the news about horrific situations on airlines, like people being bloodied and forcibly removed from planes, brawls starting over seats reclining… sometimes I wonder what the heck happens to people when we get in the air.  But the way most airlines treat their customers, it's not hard to see how all of this starts.  One airline though, in my experience, totally sets itself apart from the pack and raise the bar for everyone else. I've long been a fan of Alaska Airlines for a number of reasons, but a couple weeks ago when we headed to Reno, the airline topped even their own standards and I felt like it was high time here on Land of Marvels that my favorite airline got their own post.  I've been flying Alaska Airlines as my main airline loyalty for years now and earn their MVP Gold status each year due to how much I fly with them and their partners around the world.  I've flown a lot of airlines over the years and I find, consistently, Alaska blows them all out of the water and so while there are a ton of ways they are fantastic, here's my top 5 reasons why Alaska Airlines is the best out there and why you should start flying them…. now!
1. Their customer service blows every other airline out of the water.
When I need to call Alaska Airlines, I've never waited longer than 30 seconds to speak to a person.  Literally, never.  Someone always answers, is kind and helpful and always thanks me for a being an MVP gold elite with the airline.  And at airports, we've had major travel fiascos in the past (like when our Alaska airlines flight was going to be late to LA, which was going to make us miss our flight to Europe) and the gate agents are almost always amazing to work with and help us get where we need to be, waiving fees immediately if changes are needed.  Over all my experiences with Alaska Airlines customer service agents, on the phone or at the airport, 98% of the time they are amazing.
2. They are almost always on time.
I've had very few delays on my Alaska flights and with the amount I fly them, that's pretty amazing.  Like I think I can count on one hand the times I've been majorly delayed flying Alaska…. and considering I'm on at least 2 flights per months usually, that's pretty amazing.  Alaska wins awards every year for being so on time compared to other airlines and it really is true that they do an amazing job and minimizing delays and making sure everything gets out on time.
3. And when they're not… they make up for it.
And the times when they haven't been on time….they have more than made up for it.  Take for example, a couple weekends ago heading to Reno which is the story that made me want to write this post in the first place.  Our flight to Reno was delayed when we arrived at the gate by about an hour.  We thought, ok, not ideal but fine.  Then it got delayed again, but another hour and then again and so on.  It ended up taking off about 2.5 hours late due to an aircraft issue.  The gate staff was apologetic as was the staff on the plane and we finally got on the plane and headed off toward Reno.  This kind of delay is super rare for Alaska so while it was annoying, I wrote it off as "these things happen."  Now, by the time we had landed I think everyone had kind of moved on so when we all turned on our phones upon landing, everyone's text message beeps were going off.  I looked at mine and saw that Alaska had texted me and apologized for the delay and said that we'd be getting an email shortly with a discount code for our next flight.  As I looked around, everyone got that text and were talking about how nice that was.  I was expecting like $25 off of something…. but when the email came later that night, they gave everyone on that flight $75 of their next flight!  I mean, what other airline does that without anyone complaining or throwing a temper tantrum!  Yet one of the many reasons I'll continue flying Alaska!
4. They really value their elites.
I make Alaska's MVP Gold status each year as I fly so much and one thing I love about Alaska is how they value their elite members.  I'm always called by name in the gate area when boarding and on the plane.  On almost every flight, a flight attendant comes by at some point in the flight and tells me thank you for being an elite member with Alaska and offers me a free chocolate.  I also get upgraded a ton to first class on flights, which makes me feel like they really value me for flying with them.  Being elite with Alaska, is always a pleasure and they do a great job really valuing those of use that fly with them a lot.
5. Their planes are comfortable and the food is good.
While Alaska is in the midst of a big fleet update for their planes, they already have some of the most modern and comfortable airplanes out there in my opinion.  Their seats are comfortable and the cabins are clean and modern.  I never see frayed seats or tray tables falling off the hinges like I have on other US airlines.  And the food is surprisingly good on Alaska!  In economy cabins, we love their fruit and cheese plate and their hot item is usually good to.  In truth, I actually find the food in economy better than the first class food most of the time, but both are really good for most airplane food.
So if that hasn't convinced you to fly Alaska on your next adventure, I don't know what will!