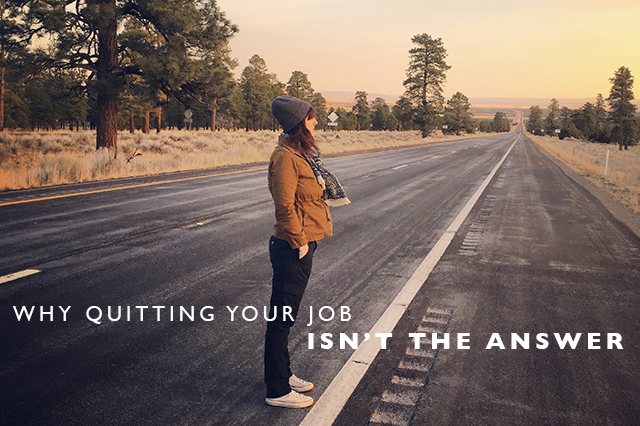 As a travel blogger, it feels like everywhere I look people are quitting their jobs to travel the world, leaving behind their homes, their material stuff and selling everything for a grand adventure to travel and see the world.  And if you want to do that, that's totally fine.  The problem is, that only really works for a very small percentage of people.  The problem is, that often in the travel and blogging industries, that's offered as a "one size fits all" option and it's just not.  I would also argue, it's not the answer to your longing to travel the world either or a great long term solution and here's why.
If you're already in a professional career, you can't always take a year or however long off.
I often see people giving everything up and moving overseas or traveling the world for a year and that's wonderful, if you're in a position to do it.  Most of us in professional careers can't just do that without major set backs in our careers.  For me personally, I would lose a lot of clients if I did that which would hurt me down the road.  It's not always feasible if you've already started building your career to take a year or however long off.
Not all businesses, even small businesses that you own yourself, can move anywhere.
I own a small business myself and I work on my own time from home, but I'm not in a position to move or go anywhere at the present time.  I still need to be based somewhere to be able to get my work done and need to be traveling to clients' locations to do my work.  So while yes, some small businesses can be packed up and the work done anywhere, others are more stationary and that's ok.  Owning your own business is wonderful but there are drawbacks too, something that I don't often see shown on some of these people that preach your own business can go anywhere mantras.
Having a home and routine life are worthwhile too.
For me, I really enjoy having the balance of traveling and coming home to my townhouse and my daily routine.  And while sometimes the daily grind can become wearing, it's still really important in life to have a life set up somewhere, wherever that might be.  All the things that come with a life, a house, a job, errands, those things are important too… just as important as seeing the world and often just as worthwhile to know you've built a home and a life somewhere fairly stationary.
Not everyone is meant for long term travel or living overseas.
As much as bloggers can say you must live overseas or you must sell everything and go travel… in truth that's just not meant for everyone.  I'm a huge proponent of living overseas and did as a child and it changed my life.  I would love to live overseas again.  But right now in my life isn't the time and I can truthfully acknowledge it's not for everyone.  Nor is long term travel.  I wouldn't give up everything to travel long term, it's just not for me.  So if those are for you, great.  If not, you don't have to feel bad if that isn't the path for you.  You can still travel and see the world without having to do it long term or living overseas.
Travel is wonderful, but so are other things.
I'm a huge proponent for travel, but if you want other things out of your life, that doesn't make you any less of a person.  Travel is amazing and I could go on and on about what it's meant to me in my life to be able to travel, but other things are great too whatever that means for you.  For some people it means starting a family, for some it means focusing on your career.  Whatever that means for you, do what works for you and don't worry about trying to keep up with everyone else!