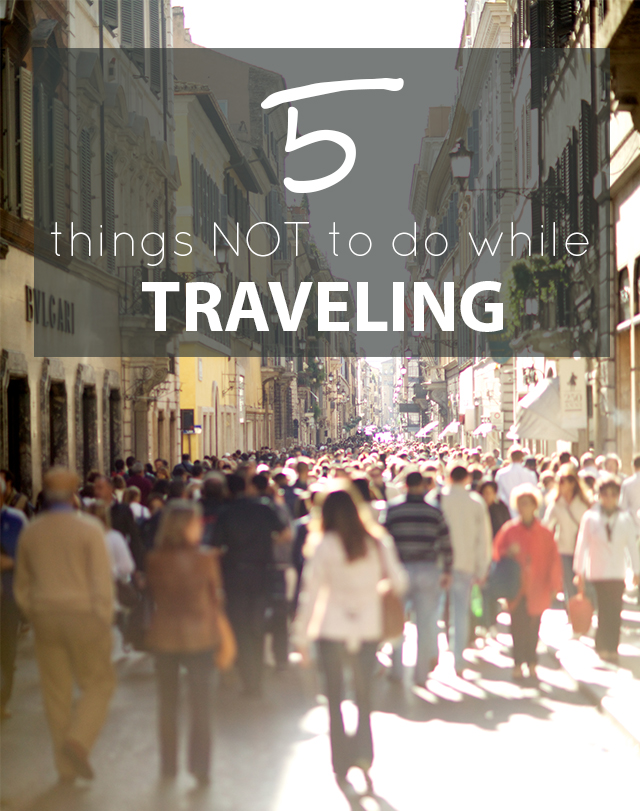 When I travel I often note all of the things tourists do abroad that stick out, things that the locals look at and get annoyed with and things that are sometimes all too easy to fall in the habit of doing. But it's really important to remember when traveling abroad that there are certain things you really just shouldn't do, for your own sake and the sake of the locals. So here are some of the things NOT to do while traveling around the world!
Don't believe stereotypes.
Perhaps one of the most important things you learn as you start to travel often is that stereotypes are often misguided. Not all the French are rude, not all Asian cities are dirty, and the list goes on of all the things we've heard over the years. Stereotypes don't often help when traveling, instead they usually will make you realize quickly that you really can't generalize huge groups of people. Make up your own mind on a country or a group of people and don't rely on or believe the stereotypes you hear before you travel.
Don't compare it to your native country.
One of the things I come across most with tourists abroad is that they are constantly comparing their new experiences in a foreign country to their native home. There is no point in comparing Paris to small town America or the food in Seoul with your Korean BBQ place back home, they just aren't the same, nor should they be. Be open to experiencing new things and don't compare it to what you think it should be or like it is back home.
Don't expect everyone to speak English.
I'll admit when I first started traveling internationally again as an adult with my regular trips to Seoul and South Korea for work, I fully expected to be able to get along in English during my travels. I'm not sure why I thought that, I just sort of did and quickly became very aware that there is still much of the world that doesn't speak English, especially in the older generations. It's important to be prepared and know a few words in the local language to help you get around and experience the local ways of life.
Don't see only the tourist spots.
One of the things that so many people miss out on when they travel is that they never see the local spots, instead only staying on the well worn tourist path. So much of embracing travel is to explore like a local, to see the place the way the locals see it, to experience the back roads of Rome, the side street cafés of Paris or the local Korean BBQ spot down the alley. Get off the beaten path a bit and explore!
Don't block the sidewalk or thoroughfare.
There is nothing more annoying than when those people walking down the middle of a sidewalk suddenly just stop to look at their map or figure out where they are! Don't ever block the sidewalks or thoroughfares, move to the side and let everyone pass you. This also goes for things like escalators or public transit, don't block the flow of people, locals especially. It's more than annoying and makes you stand out a lot more than if you move to the side and figure out your way, then move back into the flow of traffic.