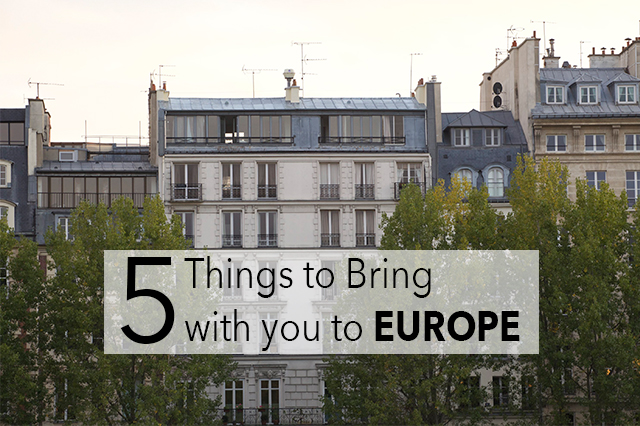 Europe is wonderful.  It's a continent full of culture, amazing places to explore, so many different countries close to each other, each with their own unique charms.  It's easy to get around and easy to travel to, but it's also a place that might be different in certain ways than our home countries (particularly if you're from the States).  So it's important to remember to adapt and to bring things with you when traveling to Europe that will help you have a better trip there all around.  Here's my top 5 items that will help you have a successful trip to Europe!
Credit Card with Chip
One of the biggest differences with how to pay for things in Europe versus the US is that they use the chip method on their credit cards.  Honestly I don't know why the US hasn't switched to this yet (they are supposed to in the next couple years) because it's way safer and easier.  Make sure you have a credit card with a chip in it before heading to Europe.  All you have to do is call your credit card companies and ask them to send you the chip version of the cards you already have.  It will make a big difference, particularly when using kiosks in Europe, which many of them will reject a standard credit card.
Reusable Bag
Europe is wonderful for markets and amazing shopping in smaller situations than large malls and many of these smaller shops or markets don't offer bags, you have to bring your own.  So be sure to pack an easy to fold up reusable bag on your trip.  I use mine all the time when in Europe for random things to carry around and it makes it that much easier.
Camera
You really can't forget your camera on your trip to Europe!  There are so many gorgeous sites to see and commemorate, you'll want to be snapping away you're entire trip.  Whether it's just your phone with a camera or a big DSLR, don't forget it!
Data plan or a City Map
Many of Europe's cities are well known for being maze-like and without a lot of street signs, so to find your way around, it's important to either have a physical city map with you at all times (I recommend Streetwise maps which are laminated and easy to read) or an international data plan on your cell phone so that you can get on and look at where you are on Google maps on there.  We usually do a combination of both of these methods.  We try to use the physical map, but if we get really lost or turned around, we'll turn the data on our phone and use the GPS to see where we are.
Cash
I never carry cash at home in the States mostly because I don't have a need to, everywhere takes card.  But in Europe, this is often not the case and many places, particularly smaller towns or smaller shops or restaurants may only take cash or prefer it.  We always make sure we have cash when we travel in the local currency, it makes things so much easier when you end up eating at that little adorable restaurant and find out they only take cash.