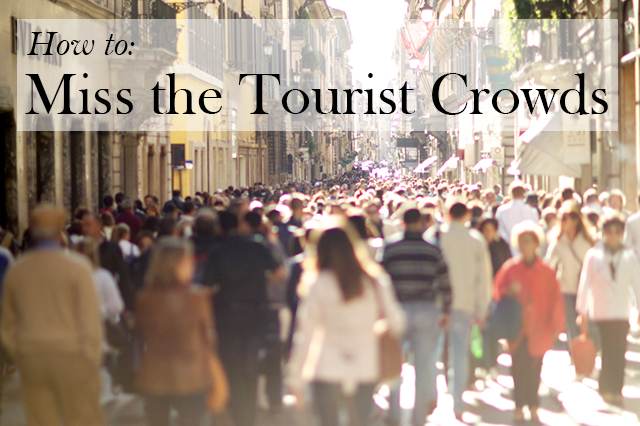 Seeing amazing places in this world of ours while traveling is one of the greatest feelings; there is nothing like witnessing the Taj Mahal with your own eyes or taking in the Eiffel Tower for the first time.  But one of the greatest downfalls of these amazing tourist draws, is the amount of people there at all times.  I've had lots of amazing places totally ruined because of the amount of people there (my experience at the Vatican was like this and totally ruined it for me, among other spots).  Over the years of traveling though, Nick and I have figured out ways to beat the crowds, to see places and really take them in without being pushed and shoved.  And with these tips today, you're next adventure can be free of the massive tourist crowds so you can just experience the place you're in and enjoy it to the fullest!
Go at Sunrise or Early Morning
While it can be hard to want to get out of bed to go explore while on a trip, this is a technique we often employ when there are particularly amazing spots where we are.  Many major monuments often sunrise visits and it can often be one of the most beautiful and quiet times of the day to experience a place.
Great spots to see at sunrise: The Taj Mahal (India), The Eiffel Tower (Paris), Thingvellir (Iceland)
Visit in the Off Season
One of the major reasons Nick and I travel in the off season every year is to experience places more as they are everyday, when there aren't hords of crowds.  Many popular tourist spots are completely different in the off season than they are in the Summer time when most people are visiting.  Try to stay away from local holidays or times when most people are off work and school.
Cities that are completely different in the Off Season: Paris, London, India
Do a Private Tour
Sometimes it's well worth the extra money to hire a private tour guide for certain places, in order to see a spot alone instead of with massive tour groups.  This is a great way to see some amazing spots (many which the large tour groups might not hit) as well as to get more insider information about the destination.
Do a Private Tour in Iceland and to see works of art like DaVinci's Last Supper in Milan
Go on a Rainy Day (or when the weather isn't great)
Often times when we're traveling, we use days when the weather isn't great to see major spots in our destination.  Most people will look out the window at pouring rain or bad weather and won't venture out, use those days (or even a few hours) to see certain places that the weather might not necessarily affect like exploring insides of churches or places under cover.  You'll miss the crowds at least for a while.
Places that are great to explore on a rainy day: London, Italy, Dublin
Stay Nearby
Another great thing we've started doing that helps a lot when figuring out when a lot of tourists are going to be around or not, is to stay nearby a certain landmark you want to see.  That way you gain both amazing views usually of that monument, plus you can look out your window and see if it's crowded at a particular time or not.  Often times, we've found that just having the views are well worth it and we might not even need to really see it up close.
Stay here to get incredible views of landmarks: Le Notre Dame Hotel in Paris, The Oberoi Hotel in Agra, The Oberoi Hotel in Udaipur
Buy Tickets Ahead of Time & Book the First Appointment of the Day
Many tourist attractions will let you buy tickets online ahead of time and then you're able to show up and skip the long line.  I always do this for major attractions if we can before leaving for a trip.  Many places make you schedule a specific time now too and if you have to do that, pick a time early in the day.  You'll beat all those people who want that mid-morning spot once they are up and about and you'll already have been and gone by the time the crowds get there.
Places to pre-buy tickets: The Anne Frank House in Amsterdam, DaVinci's Last Supper in Milan, The Empire State Building in New York