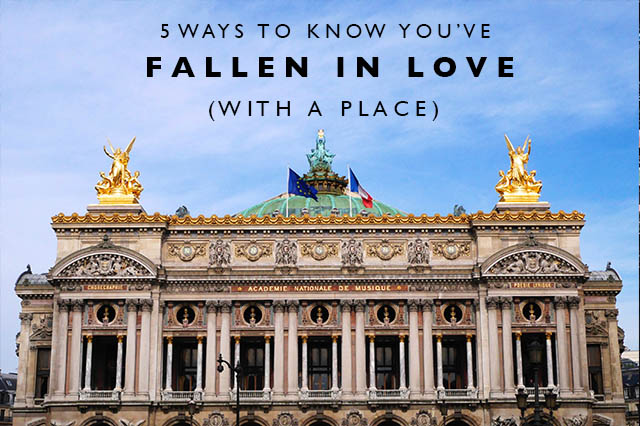 In all my years of traveling, I've found that I have a tendency to fall in love with places fairly easily.  Some destinations are grand love affairs, with a deep spiritual bond to a place.  Others are comfortable relationships, places that I really enjoy or feel comfortable in.  And every once in a while there are those that I just don't mesh well with, but in general, I love or like most places I travel to.  So when you travel to destinations of your own, here's the top 5 ways you know you've fallen in love with a destination!
1. You're smitten.
As always in a relationship, a good way to know if you're falling for something (or someone) is when you're completely smitten!  When you smile thinking about it, when you get giddy at the thought of it.
2. You feel complete.
There are certain places in this world that make me full entirely complete, like I'm the best possible version of myself there.  Paris is such a place for me, a place that just brings everything together in a unique way.  This is a great indication that you're totally falling for a destination.
3. You could move there.
There are places I travel to that I really like, but I know I couldn't live there.  The places that I visit that I think to myself "I could move here," those are the really special ones!  London, Paris, Amsterdam, Udaipur, some cities just bring up that feeling of comfort, of peace, of a feeling of belonging.
4. You want to go back.
Do you have places that you have visited that you dream about?  That you can't wait to get back to?  That's a good indication that you've fallen hard for a place!  It's something about certain places that seems to just stick with us over time.
5. You think about it often.
There are destinations I think of often.  It might be daily or when something reminds of it, or when a photo comes up or a thought pops in my head.  Those are the places that you have fallen hard for, that you can't quite seem to shake.