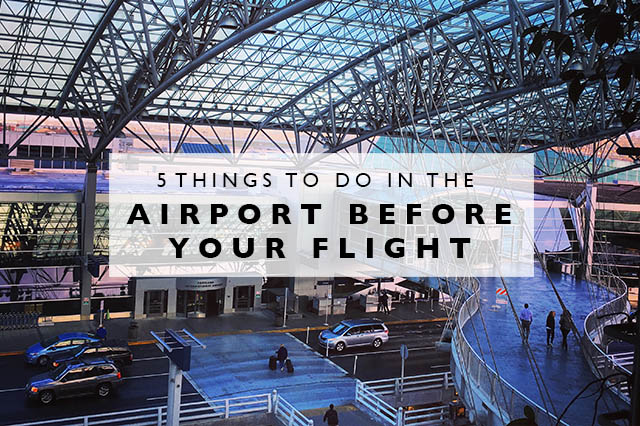 Before flying, I have a fairly similar routine every time I arrive at the airport.  After years of flying, I've realized what I will need before I get on the plane, but if it's your first time traveling or you're unsure of what you'll need on that long flight, here's 5 things to do in the airport before your flight that will help keep you comfortable and calm.
1. Buy water and food.
I almost always buy a bottle of water, usually sparkling, before I fly, to keep hydrated on the flight.  It's also sometimes a while before they come around with the first beverage service, so have your own water while you wait.  I almost always grab something small to eat as well.  Whether it's just a snack or a full on meal before hand, depending on the time of day, I don't rely on the airplane food to sustain me when traveling.
2. Use the restroom.
Whether your going to be crammed into a middle seat or you'll have a bumpy first hour of your flight, it's always great to use the restroom before you board your plane.
3. Check all your messages and respond as needed.
Since you'll probably be in the air for a while and might not have access to emails and phone calls, be sure to answer and respond to any messages that might need attention before you board the plane.
4. Check your flight status.
I use FlightTrack, an app that has up to date airline information to track the status of flights.  But take a moment and look at the status and the airtime.  You'll get a good idea of how long the flight is supposed to be the day of, as well as seeing any delays that you might encounter.
5. Stay close to the gate or go to a lounge.
If your flight is leaving soon, it's always a good idea to stay close to the gate in case there are any announcements or upgrades options.  But if you have time, head to the nearest lounge and wait until your flight is called.  I am a member of Priority Pass (a yearly membership), which allows me access into thousands of lounges around the world in airports.  If you travel a lot, it's well worth paying the membership fee to gain access to these lounges to wait it out for your flight.