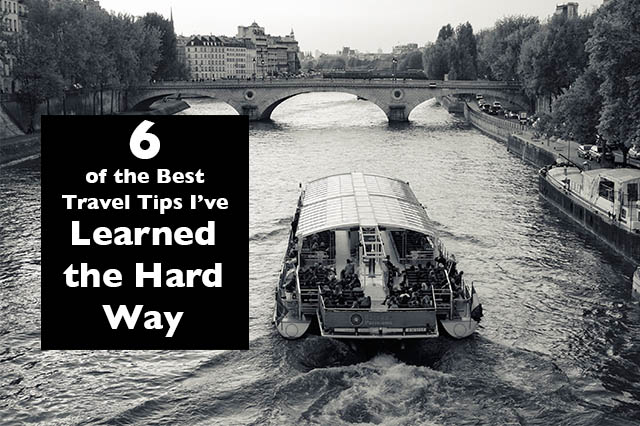 I could write an entire book for all the lessons we've learned through traveling over the years; there is always a lesson to be learned, but in particular when plans go wrong or bookings disappear or flights seem to never take off from the runway and you're sitting on there for hours on end.  We've had our fair share of travel issues over the years and when I stop and think about booking new trips, I always go through my collective memory and run through my list of tried and true lessons to make sure we're booking the best options and to make our travels less stressful in the long run.  So out of all the lessons I've learned over the years through mishaps and mistakes, I'm letting you in on my little secrets today… the lessons below are ones I've learned the hard way so that you don't have to!
Have a backup plan for tight connections.
When you're traveling with connections (which I try not to do if I can) it's important to have a good or decent backup plan in your back pocket for when things go wrong.  Check the schedules for flights from where you're going to where you need to be so you already know when the next flight will be if your flight gets canceled or seriously delayed.  If you have that information, rebooking will be that much easier.
Example: In October when we were heading to Copenhagen from Portland via LAX, our flight from Portland to LA was majorly delayed causing us to miss our connection to Copenhagen (which didn't have another flight for 3 days after that).  If I had done my research, we could have arrived at the Portland airport with enough time to make the previous flight to LA and the whole thing could have been diverted.  Now I check each flight options before and after our scheduled one to confirm before we leave.
Book a few days to relax.
I often have a problem overbooking on vacation.  I have so much planned out for us to see and do that I end up totally overwhelmed, tired and often sick.  I have learned over the years it's well worth carving out at least a few days of your trip just to rest and relax, whether that means a beach somewhere or a little apartment in Paris, spend a few days soaking everything in.
Example: One of the first times we've really done this and carved out time to relax was in Udaipur, India in February of last year and in the middle of our trip, to have 3 days at a gorgeous hotel with a private patio and pool made all the difference on our trip.
Be healthy (Don't Push Yourself).
We've all been there, when you get sick on vacation or a trip and it takes over the whole thing.  It's seriously the worst and I've been there numerous times myself.  Keep yourself healthy before the trip (one of my favorite things are the chewable Airborne tablets to boost your immune system), travel safely and healthy and then eat healthy and rest while at your destination.  In the case that you do get sick, know the difference between just not feeling good and really having something wrong and adjust your schedule as needed to recover.
Example: This past Summer when we headed up to the San Juan Islands of Washington State, I didn't feel good at all the whole time.  And actually toward the end of our trip, starting realizing that what I had was Strep Throat which is really not fun at all and went home early to make sure I could get in to my doctor.  Realizing the difference between just not feeling good and something serious (and contagious) like Strep is a really important distinction to realize.
Always keep a stock pile of miles for emergencies.
There are always things in life that come up unexpectedly when you need to travel somewhere last minute.  Whether it's a family emergency, a work situation or just a last minute crazy trip you decide to plan, keeping a stock pile of miles in one of your accounts is always a worthy decision.  It can help relieve the stress of having to shell out a bunch of cash unexpectedly.
Example: This past Fall when my Mom was diagnosed with Cancer, I made 2 last minute trips over to Hawaii where my parents live.  Tickets at that time were going for $500-$600 round trip so I dipped into my Chase Sapphire mileage account and was able to snag some amazing mileage deals even though I was booking super last minute.  It saved me easily over $1,000 for both trips by using miles I had saved up.
Plan out MVP status mileage at the beginning of the year.
I usually make MVP status with Alaska (our primary loyalty program) every year just because of how many trips I make back and forth to Hawaii for work, but Nick comes just short every year it seems unless we really budget and plan out our partner trips for miles each year.  At the beginning of the year, sit down and map out what trips you anticipate taking in the year ahead and try to fly those trips on partner airlines to make your elite statuses.
Example: Last year Nick was just barely under the MVP requirements for Alaska, so this year we're planning our flights on partner airlines to make sure he can make it for the next year.
Don't overbook yourself.
I always have a couple months of the year where random trips come up for work that mixed with our personal plans, I always end up with back to back to back travel plans.  Leave yourself some space in between trips to not overbook yourself as plans start to fill up through the year.
Example: This happened to me last April and September when work plans ended up coming up last minute and I had trips back to back all month.  By the end of it, I was exhausted, so this year, I'm leaving at least 2-3 weeks in between each trip to make sure that when things do come up, I'm prepared.