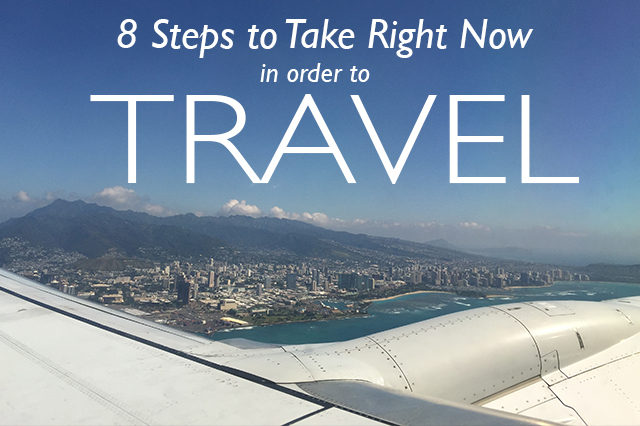 One of the most common things I hear from people is that even though they might want to, they can't travel as much as I do for whatever reason.  I always hear all the reasons why they can't, but the truth is, I hardly ever hear the ways people are making a lifestyle with lots of travel work if they want to.  We tend to look at traveling in the States like it's something we'd like to do, but not something that is very attainable.  But here's the thing, it totally is if you do it right.  Whether it's international travel or domestic, adding more travel to your life is all about making it work and examining your priorities.  If you want to travel more, here's what you can do right now to work toward it!
PS… I also want to add that a lifestyle with lots of travel definitely doesn't come easy and it takes a lot of hard work, but it's oh so worth it!
1.  Determine Your Priorities.  The single most important part of being able to add more travel to your life are your priorities.  Many people don't want to give up other things in their lives to be able to travel and that's totally fine, but if you really want to travel, it's important to note that will have to sacrifice other things.  Determining what your priorities are, how they affect your daily lives and what you're actually willing to sacrifice is a great first step.
2.  Start a Savings Account.  Travel costs money, there just really is no way around that.  You can definitely learn ways to cut costs while traveling but you can help yourself out first by starting a savings account.  I have multiple savings accounts going all the time, named for specific trips or specific upcoming events and I add to them as I can.  This can really help focus your saving and make you want to put more money away.
3.  Set up Automatic Transfers.  It's also helpful to set up auto transfers from your paychecks, even if it's a small amount, it can really help you to save for your travels.  Another great option is that most large banks now have systems you can sign up for that rounds your purchases up to the nearest dollar and adds whatever that amount is into your savings account.  I personally use the Way2Save program with Wells Fargo that adds a dollar to every purchase made with your debit card and transfers it into your savings account and I'm always amazed at how much it adds up to.
4.  Set Up Loyalty Accounts.  Loyalty accounts with hotels and airlines are a great way to help save on cost when traveling.  Take a few minutes and set up loyalty accounts on your most frequented travel brands so you don't miss out on points and such while you travel.
5.  Apply for Travel Credit Cards.  While I always caution using credit cards for obvious reasons, if you can control your spending, travel credit cards can be an incredible help in letting you travel more.  Sign up bonus, mileage bonuses and added perks like free checked bags and such, travel credit cards have a lot to offer!
6.  Cut out Miscellaneous Costs.  Look around at your daily life and see where you can cut cost.  Do you often order multiple drinks at a restaurant?  Do you spend money on a gym membership that you don't use?  Do you have a closet full of clothes you don't wear anymore?  How many Starbucks coffees do you have per week?  All of these questions and more that apply to your daily life can often show you where you can cut back on cost and put that toward travel.  What people don't often realize with Nick and I is that we don't drink very often, we sell anything we don't use and we don't spend a lot on our daily costs at home.  That money is then set aside for travel.
7.  Plan Ahead.  It's amazing how much more travel you can do both with days off and financially if you plan ahead.  We plan our year out at the beginning of the year, so we can do lots of research and find good deals as well as plan for our time off of work.  Look ahead and you'll be able to travel a lot more!
8.  Find a Second Income.  Finding a second income source is super helpful when it comes to adding more travel to your life.  Nick and I both work multiple jobs (at companies and on our own as well) to cover our travel expenses and putting your skills to use can also be a great fulfilling experience.