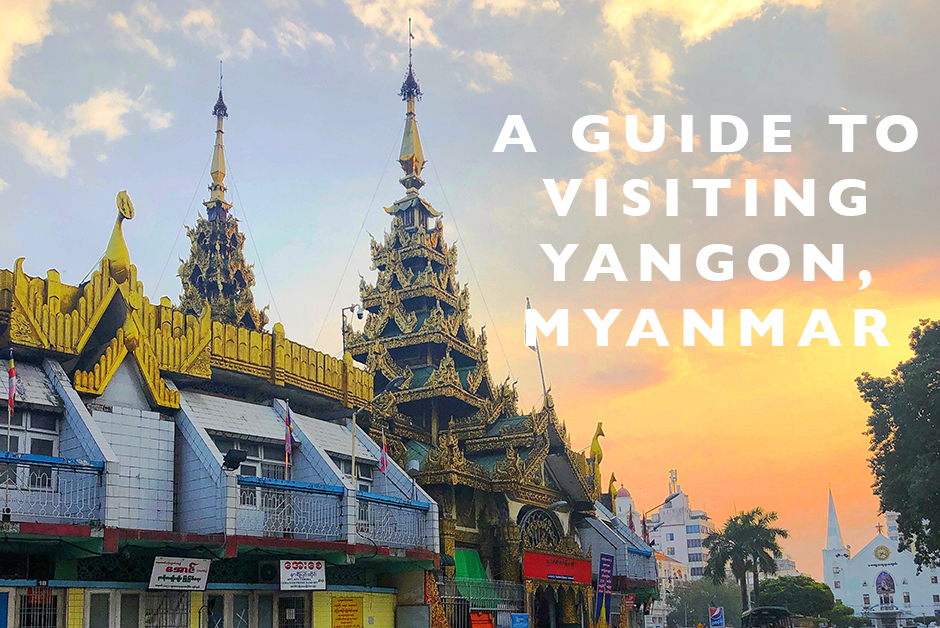 My visit to Yangon was sort of last minute so I didn't have a ton of time to research places to see before I went.  I ended up sticking with the ones that were on everybody's lists online that had visited the city and then ended up finding some hidden gems while I was out and about exploring on my own.  The city is pretty big, holding 7 million people, but it didn't feel like a massive place and seeing it is pretty easy actually in a couple of days.  Most of the areas you'll want to see are in a couple distinct areas of the city.
I spent two days covering most of the city and then went back to some favorite areas on the third day.  In terms of getting around, I chose to take taxis the majority of the time, as it gets too hot to walk long distances. Take a look at my recent blog posts for more info on taking taxis – you'll want to be prepared to know how much they should cost as taxis in Yangon don't use meters.  I was even in Myanmar during the coolest month of the year in December and by Noon, it was too hot to do much of anything outside.  So plan your trip accordingly to know how you'll be getting around, especially in the afternoon heat.  Taxis, I found, were super easy and cheap and available everywhere, which is why they became my primary mode of transportation.
I would also recommend, however, to go out exploring early in the morning and take advantage of the early morning hours to explore a little on foot before it gets too hot.  Taxis are great to get around Yangon in the afternoons, but I loved my mornings exploring on foot while it was still cool to really see more of the city and take in the atmosphere.  I left my hotel most mornings about 6am and spent the first few hours exploring on foot, which allowed me to see some really cool areas that I wouldn't have seen just going to and from a destination in taxis.
All in all, I loved Yangon and it easily became one my favorite SE Asian cities.  It's a really unique blend of different Asian cultures and the history of Burma is a really fascinating one to learn more about.  The city is also rapidly changing and much of the information that I had read before I went to Myanmar, was already out of date.  The city is equal parts brand new and extremely old, run down and shiny and gold.  It's an interesting mix of cultures, of people, of Asia in general.  The British colonial shadow that still hangs over Myanmar is visible almost everywhere, from the colonial buildings to the locals still speaking English.  It's entirely different than any place I've been in Asia so far and while it felt like little pieces of different places I've been all put together, I found the aura of Yangon to be really incredible.  Overall, after three days there, here is my guide to visiting Yangon, Myanmar and everything I would recommend you see while in the city!
Sule Pagoda
This golden pagoda temple in the middle of a roundabout in the old town part of the city was one of my favorites.  It's fairly small but it rises out of modern buildings in the center of the city as a sort of landmark, surrounded by large modern roads and high rises.  The best views of the pagoda are actually from the sidewalks on the opposite sides of the street and from the large public park on one side of it.  My advice: go in the early morning while the sun has just risen, especially on a hazy day, the early morning light seems to glow around the golden pagoda and make it that much more magical.
*A note here on crossing the streets in this area (and all areas of the city) – there aren't really many crosswalks so you'll just have to gauge when is the right time and go lane by lane to cross the street.  This was another reason I liked exploring more early in the morning as there was less traffic!
Colonial Downtown
This was actually my favorite part of the city and an area that I returned to on my third day. This area encompasses the 5th and 6th wards and basically creates a large circle of an area around the Sule Pagoda. The Colonial downtown of Yangon still holds a lot of old British colonial buildings from when Burma was part of the England's territory.  While many of them are run down, some are being renovated and updated.  Whether updated or not though, the buildings themselves are beautiful and hold so much history that they are well worth seeing.  My advice for this area is to just wander.  I started at the Sule Pagoda, wandered down to Strand Road and then made a big loop back to Sule Pagoda on foot.  This area is full of locals, setting up markets and going to work and it really gave me a true sense of the city.
Most of this area also has great free public wifi which is pretty incredible considering the history of internet in the country.  I called Nick on FaceTime from the park across the street from the Sule Pagoda and had an amazing connection.
Rangoon Tea House
I was taken to this spot by a local on my third day and after reading about it previously, I was so excited to try it out.  This updated, very hip teahouse is a must visit in Yangon.  It feels like a hip restaurant out of New York City and the food was really incredible.  The idea is taking Burmese street food and updating it, making it more modern and enjoying a meal with shared plates.  We ordered a bunch of items but the potato samosas and the butterfish were two of my favorites.  Also try the Burmese milk tea here, ranging from really sweet to more bitter, I much preferred the more bitter end of the spectrum but order a few different types and try them all!
The Secretariat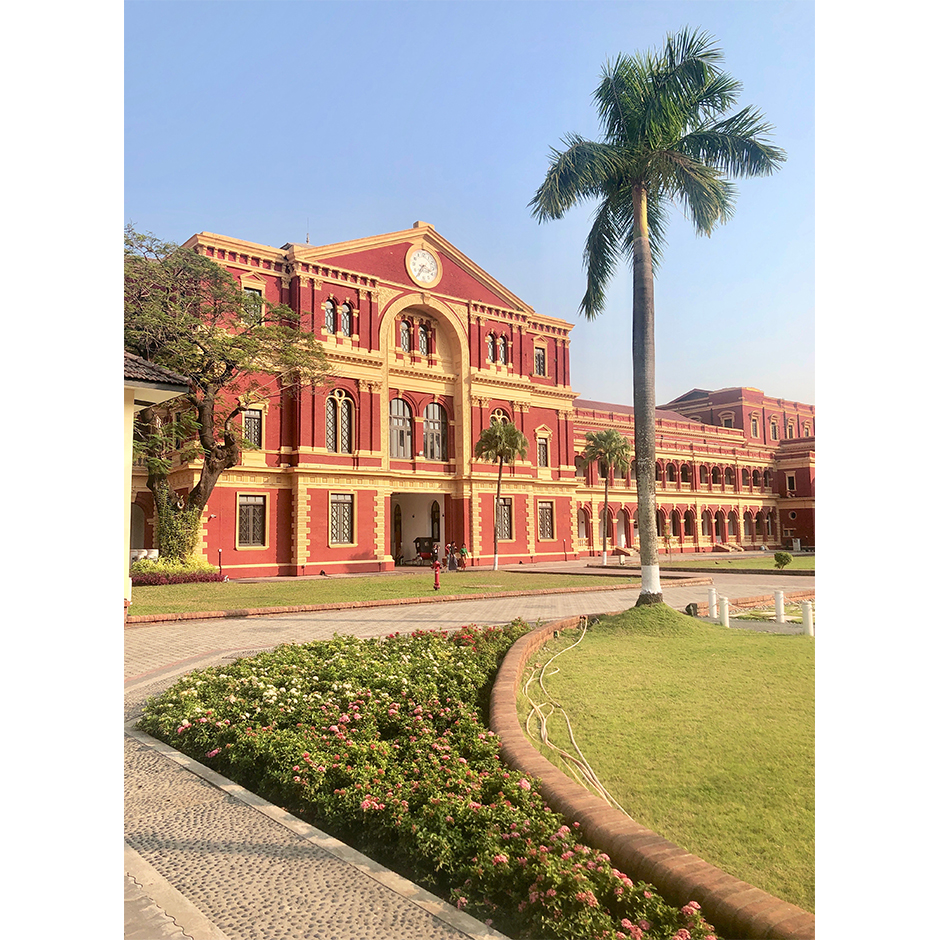 This old colonial building that used to house the Burmese government and parliament is a must see.  Do the 45 minute tour here and you'll learn so much about Burmese history.  I'm not usually a tour person, so I don't say this lightly, but it was well worth the experience for me to learn more about a country that I didn't know all that much about.  This building is undergoing a massive USD $50 million renovation at the moment, so only part of it is finished, but our tour guide took us through the sections that are still yet to be renovated and the details in the building, even before renovation, are simply stunning.  I'd love to go back in 2024, when it's slated to be finished and see the final renovation because I think it's going to be incredible.
Shwedagon Pagoda complex
I went to the Shwedagon Pagoda complex twice, once by myself and the second time with my parents (who met me in Yangon on the third day) and our local hosts.  I went by myself shortly after sunrise and with my parents around sunset and I will say, I much preferred earlier in the morning versus later in the day.  It was much quieter in the morning and there were way less people which made it more enjoyable to really take in everything.  This Pagoda is enormous and honestly, even visiting twice, I didn't see even close to the whole thing.  My favorite part though, just wandering, taking it in.  Hearing the monks chanting early in the morning, watching people praying… those are the moments I live for when traveling.
A note on this complex – you'll have to visit through the Foreigners entrances, which you can get to at any of the four entrances.  You'll need to have your shoulders and ankles covered also.  I wore long maxi dresses both times I went and didn't have an issue.  You'll also have to take your shoes and socks off and leave them at the entrances or put them in your purse and go barefoot inside the temple.  It costs 10,000 kyat to enter and you'll then go up (either stairs, escalator or elevator depending on which entrance you take) to the pagoda itself.  I went in the South and the West entrances on my visits and the West was way easier as it has escalators all the way up.  A final note as well, I was basically the only foreigner inside the complex when I went in the morning and when I returned in the evening the next day, there were lots of foreigners there at the end of the day.  So if you don't feel comfortable being the only non-local there, go later in the day versus in the morning or vice versa.
Inya Lake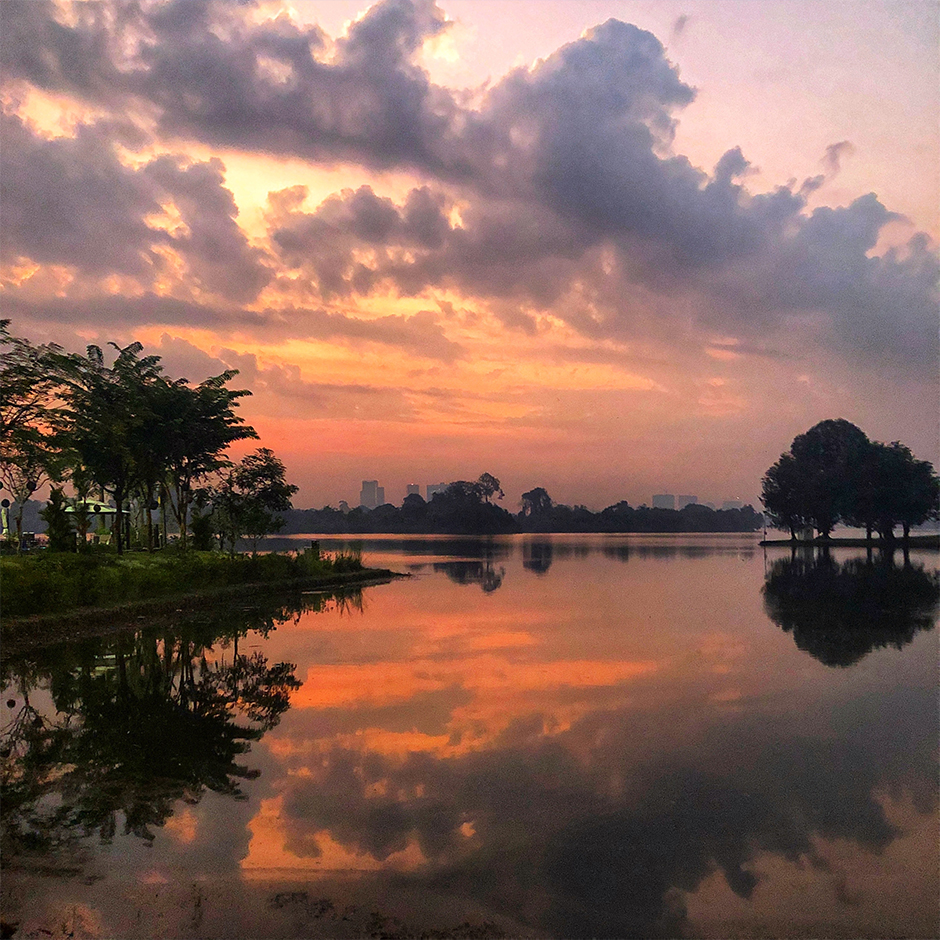 Inya Lake is a huge lake in the center of Yangon and offers beautiful views.  I stayed right on the Lake at the Lotte Hotel on the West side of the lake but I also explored the East side of the lake where high rises dot the sky as well.  Both sides are beautiful and it's well worth a visit to each side just to see it. There are beautiful parks and walkways on both sides to take in the views.  Go at sunrise or sunset for spectacular color in the sky reflecting in the still water.
Parks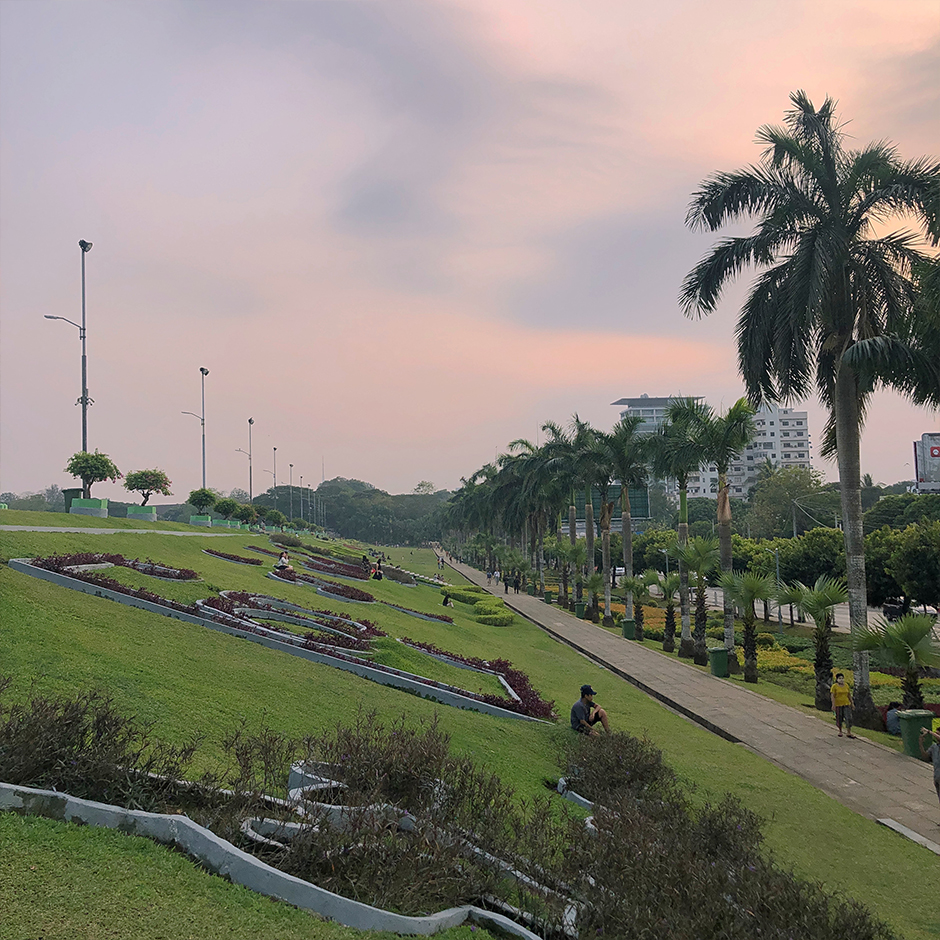 All around the city, there are a ton of parks and green spaces and it really was one of the first things I noted during my time in Yangon.  From the Mahabandula Park across the street from Sule Pagoda to the huge People's Park and the General Aung Song Park on Kandawgyi Lake, the green spaces in Yangon are beautiful!
Looking for more information on Myanmar?
Read all of my posts on the country.