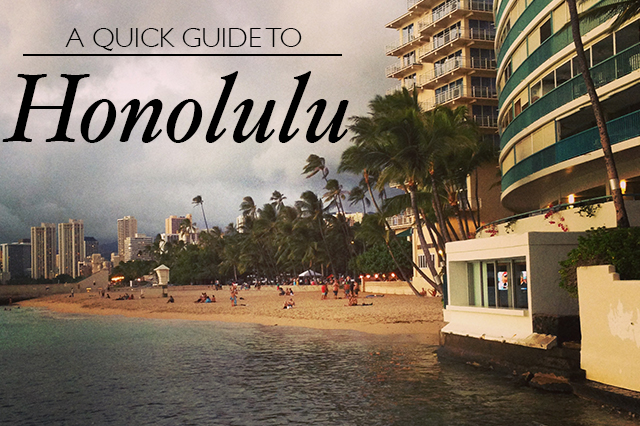 I spend a lot of time in Honolulu and lived there for a couple years as well, so when I head to Hawaii, I'm spending most of my time in the local areas of this well known city.  While Waikiki and North Shore are great to see and experience, the lesser known spots in Honolulu are some of my favorites.  If you're headed to Hawaii in the near future, don't miss out on some of my favorite spots!
How to Get Around: Car is the easiest form of transportation in the city as it does sprawl a pretty great distance in every direction.  I would recommend renting a car for your time in the city, unless all you plan to do is sticking in one of the tourist areas on the beach, then you can walk everywhere.
Where to Go for What: Honolulu is both a big city and a small town at the same time.  Everyone knowns everyone, everyone seems to be related to everyone and while there is lots to do and see, it is a small island after all.  Waikiki is where you're going to find the nice hotels and all the tourists.  Ala Moana Mall is where all the great shopping is.  Ward Center is where the locals go for food and entertainment.  Downtown is really only alive during the weekdays when everyone is at work.  Manoa is where many locals live and heads up into the mountains.  The University of Hawaii  sprawls through the center of town with its campus and the H1 freeway dissects Honolulu running East and West.
Where to Eat: Over the years I've come up with some of my favorite spots around the city, some local spots, some chains, and some in the tourist areas.  For a great steak dinner, Hy's is old school and always spot on.  For awesome Chinese food, go to Asia Manoa.  For a special lunch or dinner, I love Mariposa at Neimen Marcus.  Longhi's is famous for being an old time Hawaiian spot.  For a good spot in Waikiki, The Cheesecake Factory there is one of the best of the chain (but be prepared for a long wait).  For a little Irish charm in the heart of the city, Murphy's has great pub style food.
The Best Beaches: I'm not a big beach person but over the years I've found some favorites of mine.  I like to go early in the morning before they get crowded with tourists but here are some of my favorites.  Waikiki Beach towards the Ala Moana Surfrider hotel and Diamond Head can get really crowded during the day, but go at sunrise and it's lovely.  The beach at the Hilton Hawaiian Village is a great spot towards the Eastern end of Waikiki and is usually not nearly as crowded as the other spots in the tourist areas.  For a quiet local view of the water, Ala Moana Beach Park and Magic Island offer some nice stretches of beach and are filled with more locals than tourists.  And while not in Honolulu, but on the other side of the island, I have to say one of my favorite beaches on Oahu is at Lanikai Beach, which is worth mentioning in Kailua.  Go here at sunrise and you won't be disappointed!