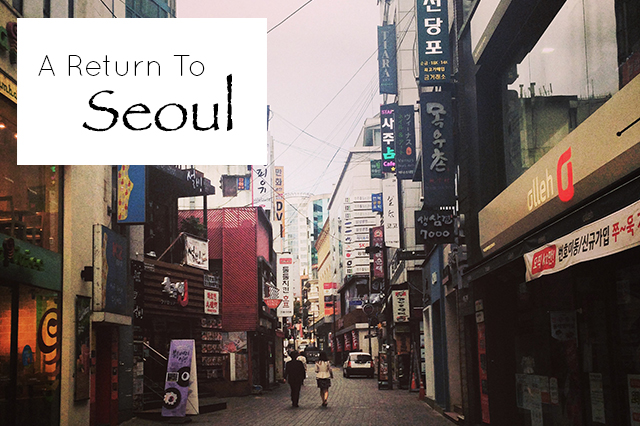 I returned from Korea this past weekend after five days in the country for work (the majority of the time in Seoul) and after four years since my last visit, I was anxious to see how I felt about my return trip.  While I was living in Hawaii a few years ago, I went back and forth regularly to Korea.  In that time, I got very familiar with the country and in particular with the city of Seoul, finding places I enjoyed, restaurants I liked, coffee shops, shopping, everything I needed, I came to find places in Seoul that became my "regular" spots.  I spent a great deal of time wandering the streets, enjoying the culture, and finding myself growing very much in love with the country.  Yet during that time as well, Seoul provided something for me I couldn't get elsewhere in my life at that time.  It was a constant, a place that offered me much time for soul searching, a place that gave me the space I needed from an otherwise difficult few years.  Seoul (and Korea in general) will always be the place I credit for many of my life decisions that have gotten me to this point today, a place that I would sit in a coffee shop writing or looking out my hotel room window at night and planning my next steps, learning what was important in my life and what wasn't.  Korea was also my first taste of international travel again after a many year absence and with that, it will always stay close to my heart for the reason that it ignited my passion for the world again.
And so after four years between my last and this most recent visit to Seoul, I was anxious to see how I felt about returning.  Would I still love it?  Would I feel the same way I did about it as I did before?  And the answer I realized is more complicated than that.  The last time I was in Korea (before this trip) I was only 24 years old, not yet married and Nick and I had been doing long distance for a while.  I was at a point in my life where I was sort of drifting, a point where I hadn't quite realized what I wanted or who I was fully.  This trip made that all the more clear and as I look around me now, I'm almost 28 years old, in a completely different phase of life, happy with my choices, with what I've built.  And yet this trip still proved my love affair with Korea will always be strong, I still love the chaotic streets, the delicious food, the landscape, the people.  Yet I also realized that Seoul doesn't necessarily hold the same meaning to me that it used to.  It will always be a place I credit much to in my life, a place I will always hold dear, but I realized on this trip that while some places mean something to you in specific phases of your life, over time, that significance changes.  It doesn't mean it's any less significant, but it brings out different things in you, it changes you in different ways.
My return to Seoul was eye opening and helped me really grasp how much I've changed in the past four years.  I felt a different sort of pull this trip, a different kind of emotion, much more sure of who I am and how the city was significant in my life.  My return to Seoul proved that places can mean different things at different times in our lives, that they can teach us more than we might think and that those places that fall into our lives (often by random circumstances) are there for a reason.  My return to Seoul made me realize that Korea will always be a place that teaches me, that allows me to pull from it the emotions I need at whatever point in my life and a place I'll be eternally grateful for experiencing.
Traveling to South Korea?
See all of my posts on the country!