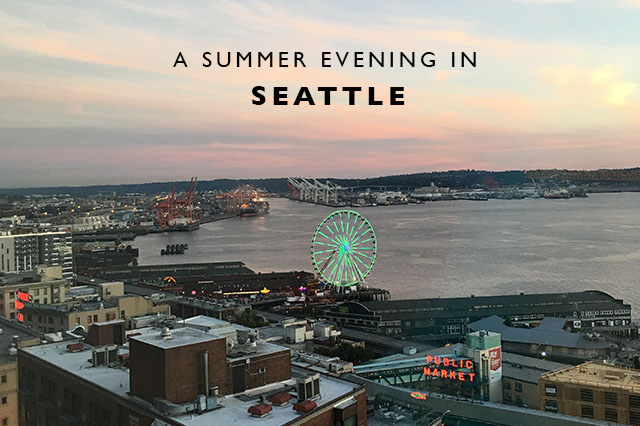 Earlier this year, I got an email from Thompson Hotels letting me know that the new Seattle location was opening this Summer.  Being someone who loves hotels and is in the travel arena with Land of Marvels, I really wanted to check out the new property.  I'm also always up for a little jaunt to Seattle (which is only 2.5 hours from Portland) so we booked a stay at the new hotel for mid-August, thinking it would be a nice escape.  Turns out, when our Alaska plans came up suddenly, the week prior to our stay in Seattle was the only week we could make it up to Alaska in August, so we figured we'd do both and fly back through Seattle instead of direct to Portland.  So after 4 days in Alaska, we hopped on a flight down to Seattle and enjoyed a hot Summer evening in Seattle at the new Thompson Hotel.
Before our stay, the PR rep for the hotel had booked us a complimentary round of drinks on the hotel's rooftop bar, The Nest, to get a sense of the property.  So after some errands in Seattle and grabbing dinner at one of our favorite spots in the city we headed upstairs for breathtaking views of Seattle and a crisp glass of sparkling Rosé.  If you're in Seattle and want amazing views of the city, this is the place to go!  With sweeping panoramic views of Puget Sound and the city, I literally couldn't stop taking pictures and staring at the view.
After our round of drinks, we headed back down to our room where we proceeded to watch the sunset over the water from our floor to ceiling windows as the pastel colors filled the sky and the best part?  Watching it all in our pajamas from a comfy hotel room bed.