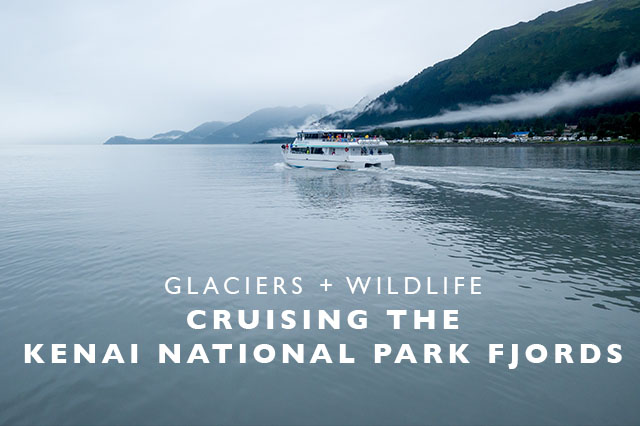 One of the things during our time in Alaska that I was looking forward to most was our glacier and wildlife cruise out of Seward through the Kenai (pronounced "key-nigh") National Park fjords.  I've always wanted to see a glacier, so I was super excited about that.  But on top of that, I love animals, so the prospect of seeing wildlife like whales and otters and puffins blew me away.  We chose the Major Marine 6 hour cruise and were blown away by their service.  To be honest, if we had had more time to plan this trip, I would have probably reached out to see if they would work with me through Land of Marvels for our cruise, but since it was so last minute, we booked and paid for it ourselves.  From start to finish the staff was amazing and the boat was great, I'd highly recommend them for your adventures in Seward.
For the first couple hours, I literally didn't want to go inside the boat cabin.  All I wanted to do was stand out on the top deck, watching the wildlife, seeing us weave through islands up and down fjords and out into the open ocean.  It was cold and rainy (actually toward the end it was so blustery, we couldn't see much further than just in front of the boat) but I was on such a high from the experience that I literally didn't care.  During our time on the cruise, we saw otters, puffins, bald eagles, seals, sea lions and 2 humpback whales – one of them breaching in and out of the water which was amazing!  And on top of the wildlife, we saw an active tide water glacier up close as well as chunks of ice falling from it and making sounds like thunder.  Seeing the glacier up close, witnessing its power, for me was a huge moment, because due to climate change, glaciers might not be around in 20 or 30 years, maybe less.  So to see it with my own eyes, to witness the power of nature, it was truly a remarkable thing!  The whole cruise was amazing and though we were soaking wet and freezing by the end, I'd do it all over again in a heartbeat!
PS – This post is super picture heavy but everything was so beautiful I can't help but share everything!
Tips for Marjor Marine's Glacier Cruise:
-Pay the extra $19 for the Prime Rib and Salmon dinner – it was amazing!
-If you're prone to sea sickness – don't do this cruise or take something to help you.  It got really rough for about an hour of the trip since you're out on the open ocean.
-Wear a ton of layers and make sure everything is waterproof!  I wore leggings under jeans, rubber boots, a sweater, puffy vest and a waterproof jacket and I stayed pretty warm the whole time – but this was also in August.  So no matter when you go, wear a ton of layers.
-Bring a hat that holds you hair in and fits tight on your head.  I brought a beanie for me but at first it kept flying off in the wind, so bring either a tight-fitting hat or I ended up using Nick's "chullo" hat that we brought home from Peru that has string you can tie under your chin to keep it from flying off.
-Make sure you coat is waterproof.  Mine was by Barbour (which I'd highly recommend) and it was amazing because the water never soaked through.  Nick's wasn't and he was soaking wet most of the trip because of it.  It's worth investing in a great waterproof coat for a trip to Alaska.