Loft Apartment in L'Isle Sur la Sorgue
L'Isle sur La Sorge, Provence, France
We don't offer stay in AirBnB's when we travel because we usually prefer a hotel stay but lately, we've been wanting to try staying in AirBnB's more and tried one out when we were in Provence this time around.  One of the reasons I particularly wanted to do this on this trip was that I wanted to be based in a small town and most hotels (other than crazy expensive ones) are outside of the town centers.  All in all, had it been another time of the year, I would have great reviews for this apartment but because it was in Summer and during a heat wave, our stay here wasn't super great overall.
LOVE
Location – I wanted a location in a small town center in Provence and this unit definitely has that.  Its location within L'Isle sur La Sorgue is excellent and easy to walk around the town but also to drive in and out of the town center to explore more of Provence.
Easy Parking – We parked right in front of the building on the street and it was super easy and had a lot of spots available.
Design – The design of the unit was lovely and modern with vintage touches.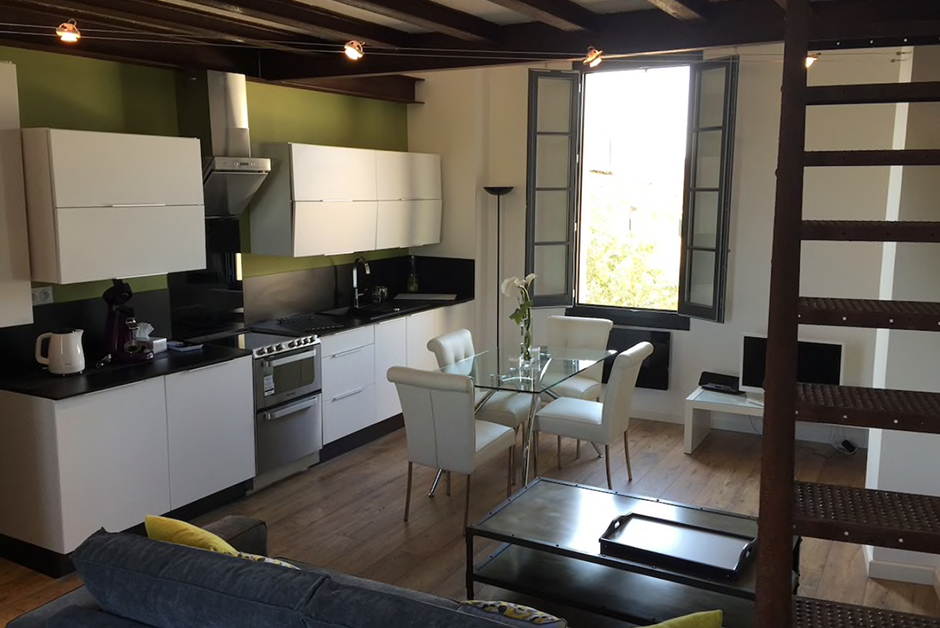 Washing Machine – While it took us a while to figure it out, we ended up doing a few loads of laundry which was really nice in the middle of our trip.
DIDN'T LOVE
AC Issue – Ok so when I was booking this apartment, I knew that Provence could get very hot in the Summer as we've been there before.  I specifically only looked at listings that had Air Conditioning and while this is both an issue I have with AirBnB in general and also the apartment, the apartment lists Air Conditioning on its amenities but what that really means is that it's a tiny floor unit.  When we were there, it was 100 degrees plus outside and that little tiny floor unit did nothing to change the stifling hot air.  I don't do well in intense heat and it makes me physically sick, so we actually ended up only staying one night here (instead of our original three) and headed back to Lyon to a hotel because it was so stifling in the apartment we got little to no sleep and could barely be inside in that heat.  While this wouldn't be an issue at other times of the year, it was definitely an issue for us.
Bathroom got crazy hot– Along the lines of it being so hot inside the unit, the bathroom was tiny and had no ventilation, meaning that even when in there for a minute, I was dripping with sweat which made the whole situation very uncomfortable.
NOTES TO KEEP IN MIND
Park on the Street right in Front of the Building –  The parking is super easy right in front of the building and there is also a parking lot across the street if you can't find it on the street.
Visit During Another Time of Year other than the Summer –  Aside from the heat in the apartment, I think we would have enjoyed our stay here for sure!
Headed to France?