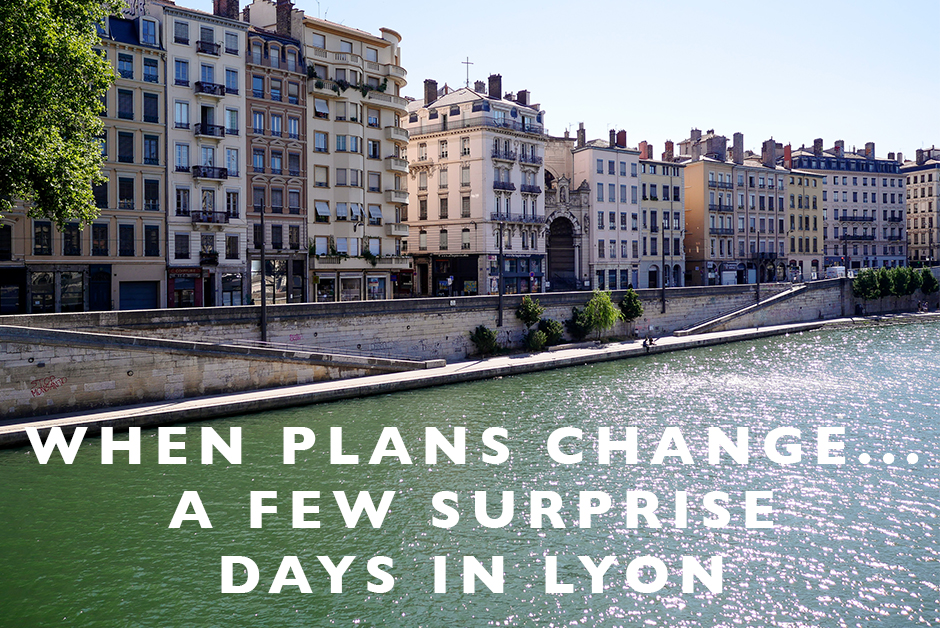 As I mentioned in my post on our time in Provence, we originally we slated for three days in Southern France until we got there and encountered a massive heat wave that left us stifling in our little apartment without AC.  Upon waking (from 2 hours of sleep) after our first night in Provence, Nick and I knew we had to make a change or risk us not enjoying our vacation at all.  We've been to Provence before and so when we talked about options of where to go to get out of the intense heat, we changed our plans and went back to Lyon two days early.  We were already slated to return our rental car there and take the train from there back to Paris so it made sense to base ourselves there to get out of the crazy temperatures.
So we spent a day exploring Provence and then drove back to Lyon in the afternoon and wow, am I so glad we did!  Not only did we end up getting to explore a new spot to us but we fell in love with the city of Lyon and I know we'll be back!
Lyon is only about a 2 hour train ride from Paris and about a 2 hour drive from Provence, so it's situated right in the middle of a lot of popular spots in France.  This beautiful old city was an incredible mix of old and new and had a vibe totally unique unto itself.  It reminded me of a mix of parts of Paris, parts of Barcelona and parts of Rome in all the best possible ways.  It feels Mediterranean in a way without being on the Med, it feels Italian without missing the best parts of feeling French. We also stayed right in Vieux Lyon at the College Hotel and spent our remaining nights of vacation feeling blissful in air conditioning and lower temps than Provence. Ultimately, Lyon blew us a way and we ended up having an amazing time exploring the city during our few days there!
Things to See in Lyon:
Vieux Lyon – The old town area of the city is gorgeous and such a great area to explore.
Place Bellecour – This large open square isn't really that interesting other than it's enormous.  It happens to be one of the largest open squares in Europe and in the center of the city.
Place de Jacobins – This small square in the center of Lyon is beautiful and surrounded by more beautiful buildings.  We went in the middle of the day and it was still pretty but I bet it would be beautiful at sunrise or sunset!
Saône Waterfront – Lyon sits on 2 rivers, the Saône and the Rhône and both rivers boast gorgeous waterfronts to wander and explore.
Lyon Cathedral – This impressive Cathedral in Vieux Lyon is beautiful and the square in front of it is equally gorgeous surrounded by historic buildings.
Headed to France?