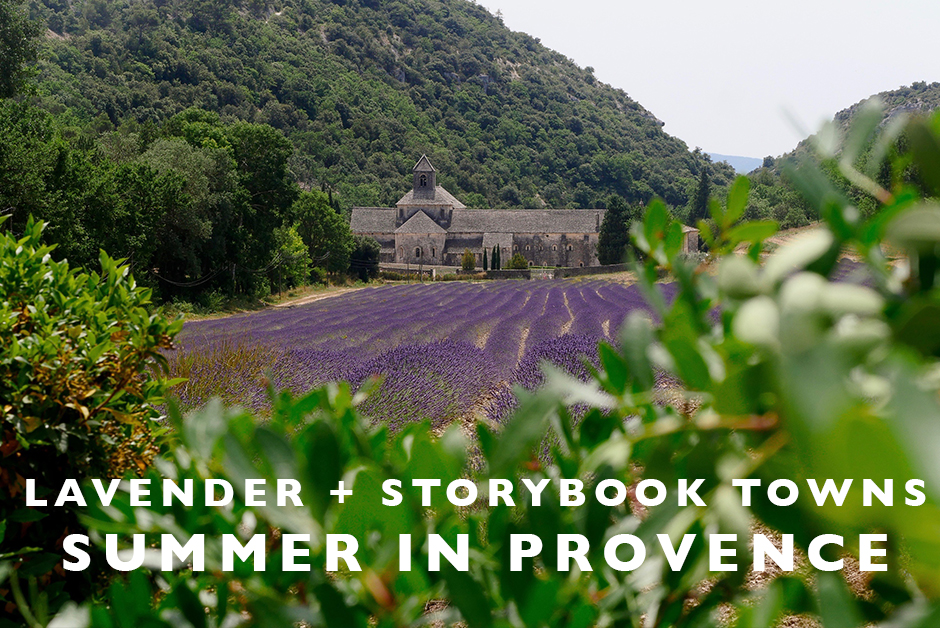 When we rebooked this trip and moved it from the Spring to the Summer, we knew we had to fit some time in Provence in while in France in July as that's peak Lavender bloom and our last visit to Provence was magical.  So we spent a few days in Paris and then headed South on a train to Lyon, then rented a car and drove into Provence.  We drove the 2.5 hours South from Lyon to L'Isle sur la Sorgue, an amazing and beautiful little town situated right in the Provencial countryside.
Originally we had planned 3 days in Provence, but upon arrival we landed smack in the middle of a heat wave, with Provence temps reaching over 100 degrees Farenheit.  Now I preface this with, I am not a heat person.  I don't do well in heat, let alone excess heat and over 100 degrees with not respite makes me feeling really ill.  We checked into our AirBnB, which under normal circumstances would have been lovely, but with that heat, I got quite sick our first evening there and coupled with the fact the apartment had only 1 tiny little floor unit AC which wasn't even touching the temperature inside, we ended up having a pretty miserable night.
When Nick woke up the next morning (he definitely slept more than me that night) we knew we had to change up our plans.  If we had stayed the full 3 days in Provence, we wouldn't have gotten any escape from the heat, no AC and it would have been a miserable vacation.  So we spent the next day exploring the little town and nearby towns in Provence we had missed on our last trip and decided to head back to Lyon a couple days early, which was an amazing idea and ended our trip on a great not.
But, if you haven't been to Provence to see the lavender in July, add it to your list now!  Just try to not be there during a heatwave or make sure you lodging has AC beforehand.  When we were there two years ago, the temps were in the 80's, so this was definitely out of the ordinary.  The whole Provence area is gorgeous though, and the storybook towns throughout the region are amazing to drive through and enjoy!
Towns I Particularly Love in Provence:
-L'Isle Sur la Sorgue
-Gordes
-Sault
-Venasque
Tips for Visiting Provence in the Summer
-Make sure where you're staying has AC and make sure it's real AC.  Our apartment said they had it (which is why I booked it) and then it was just a tiny floor unit.  Confirm it has real AC built in.
-Go see the sights in the morning before the crowds.  The lavender fields and all the tiny little towns are all much more enjoyable in the morning before the craziness ensues later in the day.
-You'll need a car.  Provence is best seen by driving around and stopping as needed, so definitely rent a car!  We rented ours from the airport in Lyon and drove from there.  If you do rent it at the airport in Lyon, realize that you can actually catch the train to Paris or other places directly from the airport, no need to go into the city center if you don't want to.
Headed to France?