Apartment in London
London, Great Britain
When planning our recent week stay in London, I knew that we would want a little more space than a hotel, as we would be staying in London for several days.  Usually for a night or two, we love The Ampersand Hotel in South Kensington but with more days, I wanted to be still be in that same neighborhood and be able to spread out a bit more.  So we landed on an AirBnB in South Kensington.  Overall, I think the stay was pretty good, there were definitely a few things that bothered us but the location and the design of the unit were great.
LOVE
Location – South Kensington has become my favorite area of London to stay in when visiting due to the central location, beautiful neighborhoods and proximity to some of my favorite London spots.  When choosing the apartment, I knew we wanted to be in this area and the location really is fantastic for this apartment.  It's close to the tube, walking distance to Hyde Park and the King's Road.  All in all, the location is perfect.
Design – I'm specific about the design in apartment rentals when we search and this one did not disappoint!  The design in beautiful and really comfortable as well.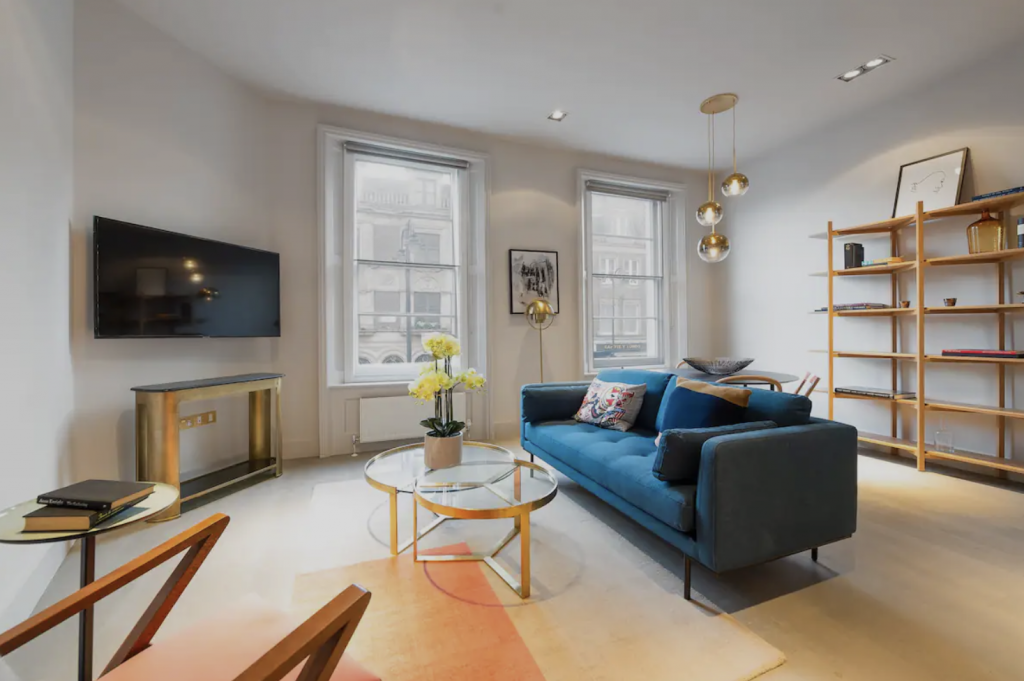 Space– Usually when we stay in hotels in London, the rooms are tiny so having a full one bedroom apartment with a living and dining area was really nice to be able to spread out.  This apartment is small but really comfortable and has a full separate bedrooms, living and dining area and small kitchen.
DIDN'T LOVE
Internet – Nick and I still work while we travel so having a good internet connection is really important and this apartment definitely didn't have one.  The internet was spotty and cut in and out a lot.  We had issue streaming Netflix and Hulu because of it too.  Definitely was a big issue for us during our stay.
Fire Alarm and Response– Our last night, we got woken up by the building fire alarm going off in the middle of the night.  The building is just a small building with 3 rental units and the upstairs tenant had set it off somehow.  We left the apartment and went outside to figure out what was going on and tried for a while to get in touch with the apartment manager to no avail.  There was no emergency contact and they didn't respond to us until the following day which was a little disappointing.
Noisy– While this didn't bother us too much, I do think it's worth noting that you can hear the upstairs tenants very easily.  While we were staying there, the people upstairs had a baby and kids and we could hear everything so just be aware.
NOTES TO KEEP IN MIND
Use Gloucester Tube Station for Transit –  This tube station is a 5 minute walk from the apartment and had great tube connections through London.
Location can't be beat –  While the apartment definitely had drawbacks, the location really can't be beat.  It's in the heart of South Kensington in a very local area, close walking to Chelsea and Hyde Park and really just was super easy to get everywhere we needed during our stay.
Headed to London?