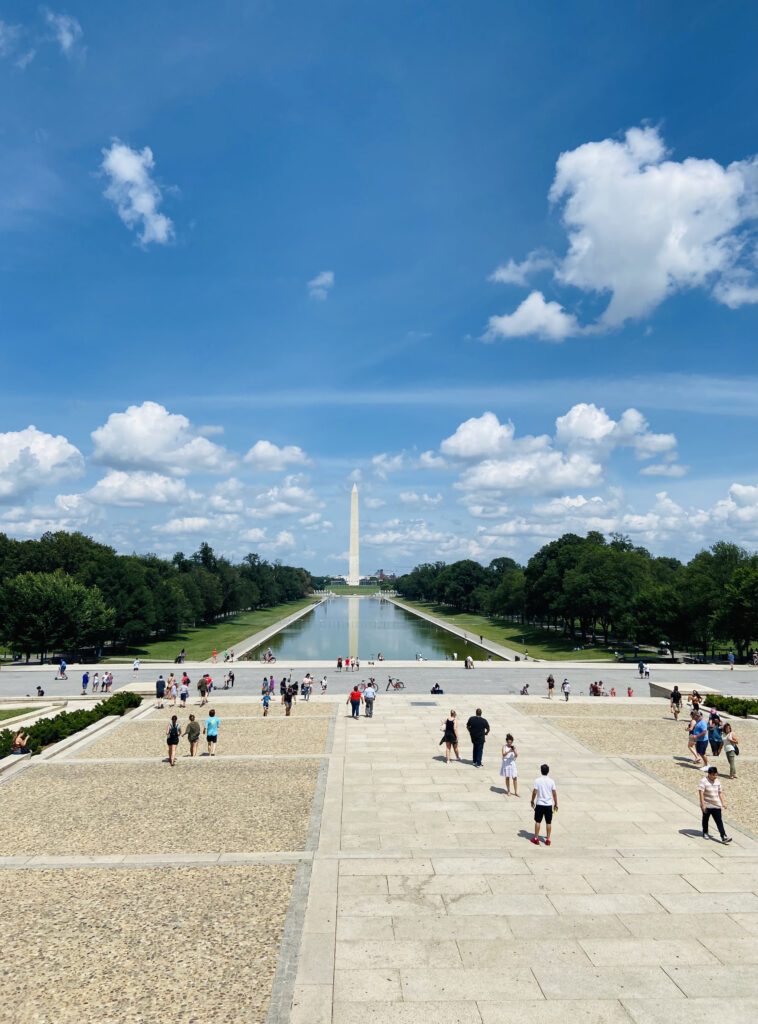 DC is one of those places that, as an American, it's really important that you see and experience.  There are so many places within the city that are so integral to our history as a country and it's vital that we understand and witness that history and learn from it.  DC as a city is also really cool just in and of itself, it's vibrant and cultured and has so many amazing neighborhoods and scenic areas to enjoy nearby.  Here are all the places you should see when visiting DC and the area nearby to really take in everything the area offers.

Logan Circle
This neighborhood was new to us on our most recent trip and it's where we stayed in an apartment recently.  It was such a cool neighborhood to explore full of shops and restaurants and just overall, an amazing vibe.  I would definitely stay in this area again but it's also just a great one to explore while in the city!  The neighborhood is filled with old townhomes and tree lined streets while the main roads are filled to the brim with everything you could need.
Dupont Circle
This neighborhood is an oldy but a goody and still one of the best in DC.  It's also got lots of shops and restaurants and a ton of people live in this area as it's so central to everything in DC.  You can wander around this area and take in all the townhomes and tree lined streets for hours.

One of my all time favorite spots in DC, Georgetown never fails to amaze.  This old area of the city is the perfect spot to spend a beautiful evening wandering through, taking in the townhome-lined streets and the little cobblestone roads.
Arlington Cemetery
A trip to DC wouldn't be complete without seeing the Arlington Cemetery.  This overwhelming site is a must-see in the area and while it feels so overwhelmingly sad to witness it, it's so necessary.  The rows and rows of gravestones represent thousands of men and women who have given their life for this country and being there and seeing it and feeling it is one of the most important parts of a visit to DC.
Across the river from DC lies little Alexandria, Virginia, a historic town full of brick row houses and shops and restaurants that is definitely worthy of a visit when in the DC area.  We've stayed in this area several times as it's so close to DC and right next to Raegan airport… plus it's generally quite a bit cheaper than staying in DC proper.

The National Mall
You obviously have to see the National Mall while in DC, the area that extends from the Lincoln Memorial up to the Capitol.  This huge area of the city is filled with sites and things to see and do like the Washington Memorial, the Smithsonian museums and lots of other museums along the way.  It's a long way to walk from end to end, so wear comfortable shoes!
This area right off the National Mall is where the Jefferson Memorial is and where the famous Cherry Trees bloom in the Spring.  It's a beautiful spot and I've always loved it most in the evening.
National Gallery of Art
Set along the National Mall, the National Gallery of Art houses a beautiful collection of art and sculpture.  From Monet and Renoir to modernists, the National Gallery has something for everyone.

White House
You obviously have to see the White House where our American president lives while in DC and while you can't get up too close to it, there are parks on both sides and you can snap as many pictures there as you want!

Black Lives Matter Plaza
Directly across the park from the White House is the fairly new addition of Black Lives Matter Plaza.  This blocked off road is now a pedestrian only area with huge letters that write out Black Lives Matter along with flags sharing all the names of black men and women in America who's lives have been cut short by police violence.  It's a powerful spot and a necessary thoughtful moment for the country.
Annapolis, Maryland
If you are feeling up for a quick drive, Annapolis, Maryland is a great spot to enjoy that's only about an hour outside of DC.  This cute, historic little town on the Chesapeake Bay is a fun day trip to see something different.
Headed to DC?