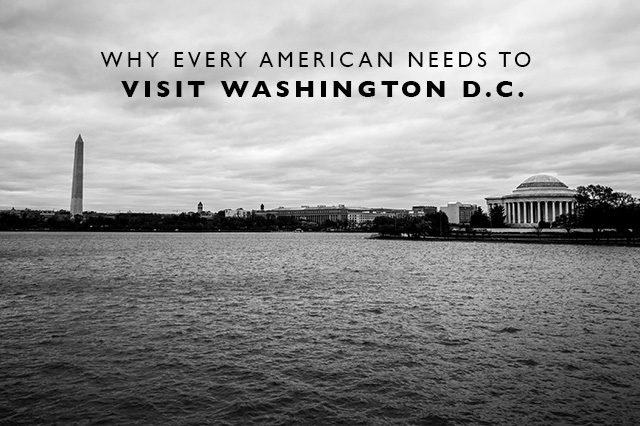 I've been to Washington DC a handful of times now and each time I leave with a feeling very specific to the destination.  The capitol of the United States is one of those places that holds so much history, so much weight and so much hope, all simultaneously.  No matter who might be residing in the White House or what party you might vote for, Washington DC is one of those places that really needs to be experienced by every American, to see where we come from and to see what we've built over the years, together.  So if you haven't visited yet, here's why every American needs to visit Washington DC.
History is everywhere.
Driving or walking around DC, it's incredible how much history is all around you.  Perhaps no other city in the US has so much history.  Whether it's wandering the halls of George Washington's home or standing beside the Washington Monument or looking across the tidal basin at the Jefferson Monument, it's impossible to not be blown away by the history of our nation.  So much all those history lessons we learn in school are somewhat intangible in real life, but to stand there and see these monuments, it brings it all to life.
No matter what your politics, DC is inspiring.
I happen to be in the group of people at the moment not agreeing with much my government is doing or who happens to be in office, but regardless of politics, DC is awe inspiring.  To walk the streets where our nation is governed, where laws are created or abolished, where so much has come about in the history of the US is incredible moving.
We can't move forward until we know where we've been.
I'm a huge believer in learning from mistakes and as a country or as a world, we can't move forward without knowing where we've been and what mistakes we've made along the way.  Seeing places like the Vietnam memorial where endless names are etched into stone or seeing a giant statue of Abraham Lincoln and thinking about what was happening during his lifetime in our country, we have to look back in order to look forward.  Seeing these places with your own eyes is incredible eye opening to how we might be able to move forward in the future.
Heading to Washington DC?