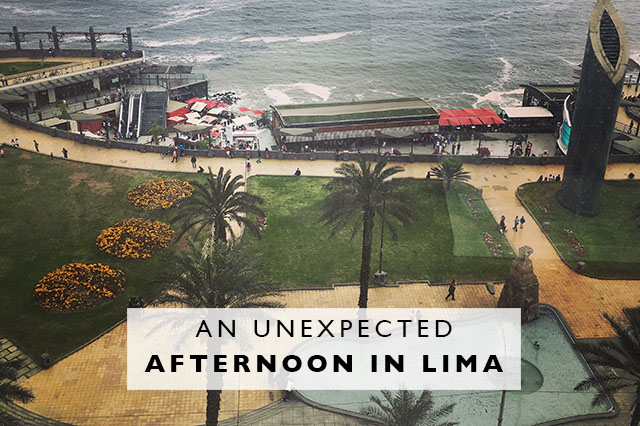 Upon arriving at the airport in Cusco to head back to Lima and then to LAX, we found out that our flight had been canceled and we'd been moved to a flight 3 hours later which meant we missed our connection in Lima to head home.  Annoyed and frustrated, we got our flights changed for the following day and spent the next 2 hours in the airport lounge figuring out all the details of the change.  We had to find a hotel in Lima, get transport from the airport, move our connections from LAX to Portland and move our hotel in LA to the following day.  All in all, it was stressful and a lot of issues caused from that one canceled flight.  But we got it taken care of and headed off for an unexpected afternoon in Lima.
(Side note on the travel issues – we had travel insurance and I actually just received their answer the other day, denying our claim for any help on this.  So just a heads up, always have a little bit of extra money ready if needed for things like this because even travel insurance isn't always helpful).
Upon arrival in Lima, we checked in to the JW Marriott in the Miraflores neighborhood since we'd love the JW Marriott in Cusco and this property was no different – we loved it!  It was the perfect location for a low key afternoon in Lima.  We headed out for lunch and to explore the area a bit before heading back to our room and having an early evening in before leaving the following morning.  And while it was a hassle that we ended up having to stay in Lima, we at least got to see a little bit of the city and enjoy an afternoon there, so in the end, it worked out.
Traveling to Peru?
See all my posts on Peru!