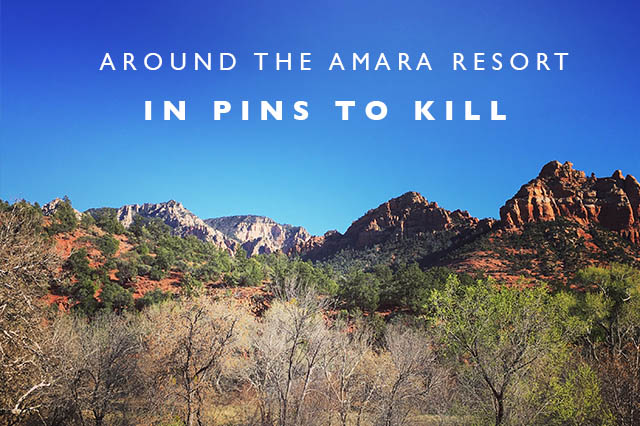 While in Arizona, we spent most of our trip out exploring areas of the Northern part of the State and while we didn't get to explore as much of actual Sedona as I had hoped, we did get to relax a bit our last day around the beautiful Amara Resort.  The weather was chilly enough to require a sweater, but we headed out of our room to grab breakfast at the wonderful Salt Rock restaurant at the Amara.  We enjoyed a quiet and leisurely breakfast with a view out over the incredible Red Rocks of Sedona.
We followed breakfast with a walk around the property, dressed casual in my Pins to Kill leggings, which were so perfect for the weather of Sedona in February.  Checking out the pool and enjoying the sun, we grabbed one of the loungers and spent some time just enjoying the fresh air and snapping some photos.  When it got a little chilly, for my taste (this is the desert after all and it gets cold at night!), we made our way back to our room and to enjoy our lovely deck with views out over the landscape of Sedona.  All in all, our leisurely last morning at the Amara was just what we needed to end our wonderful weekend in Northern Arizona and Sedona.
For more information on Pins to Kill leggings, you can visit their social media channels here:
Land of Marvels was graciously provided with a pair of Pins to Kill Leggings for this review.  If you're interested in the company, you can visit them here!