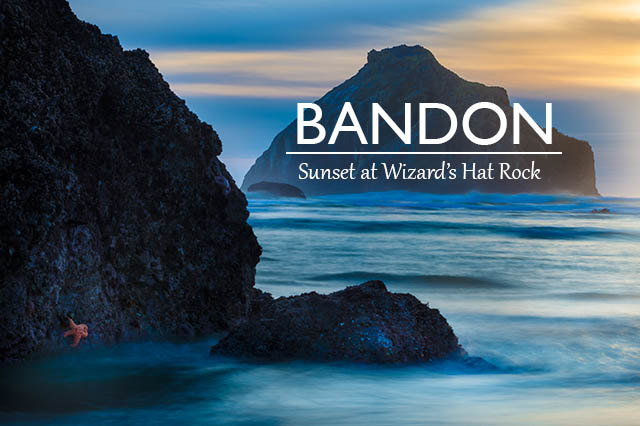 When we started looking into our trip to Bandon on the Southern Oregon Coast, Nick was immediately drawn to one stretch of beach in town which housed some really incredibly shaped large rocks on the beach.  This stretch of beach happens to be where the well known "Face Rock" is located which looks like the silhouette of a human face, but of more interest to us, was the nearby Wizard's Hat Rock.  A large cylinder-shaped rock directly on the beach literally looks just like a wizard's hat straight out of Harry Potter.
We spent the twilight hours wandering the beach as we made our way to Wizard's Hat.  After a gorgeous afternoon, as the sun fell, so did the temperatures, so we bundled up for an evening on the beach while the sun was starting to set.  I was really glad to have Moon Cats Grey Button gloves for the evening (which have special material on the thumb and forefinger so you can still use your phone, as evidenced by my amount of Instagrams that evening!) and as the temperatures dropped and the twilight hours turned into a lovely sunset, we watched colors streak across the sky behind Wizards Hat Rock.  There is nothing quite like winter sunsets on the Oregon Coast and they are one of my favorite things to experience this time of year; a color streaked sky behind one of the most stunning places I've seen.
Photos by Nick Nieto Photography 
I absolutely loved my Moon Cats gloves which the company so generously gifted me and I know I'll wear them often, so if you want to check out some of the other items the company offers like scarves and hats for your own upcoming trips, the company is offering my readers 30% off with code TRUECOLORS30OFF.  So head on over to their website and take a look!