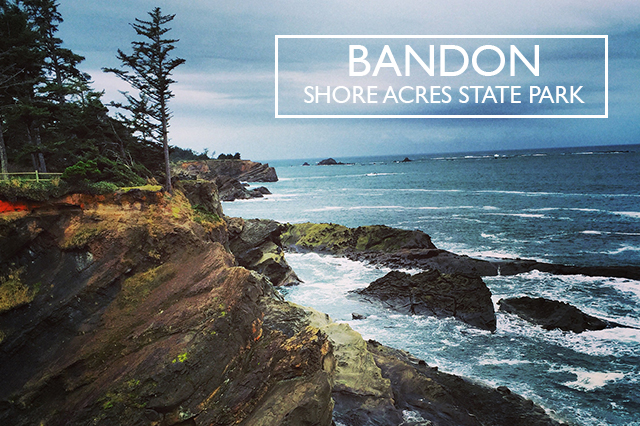 As beautiful as the Oregon Coast is in clear, blue-sky weather, there is also something so rugged and stunning about seeing the cliffsides of the Oregon Coast on a stormy grey morning.  On Sunday a week ago, before we headed back to Portland, we stopped at Shore Acres State Park which is about 40 minutes North of Bandon on windy, back roads through forests, before you finally arrive and find yourself literally on the edge of a cliff with the roaring ocean below.  Shore Acres is a great spot to stop when in the Bandon area and while the area was pretty stormy the day we were there, we've heard the waves we saw were nothing compared to other times when the ocean rises up 70-100 feet against the cliffside at this spot.
Standing above the ocean though, looking out at the stunning coastline in front of me made me so thankful for beauty like this in the world and for the beauty that my own home State has to offer.  I'm not much of a beach person but give me a stunning cliffy coastline and a roaring ocean, with rain falling around me and that is what I find truly breathtaking.
One tip if you head to Shore Acres – there is no cell reception for most of the way there and most of the way back to the 101, so load your maps and directions on your phone for both directions before you go!
Photos by Nick Nieto Photography