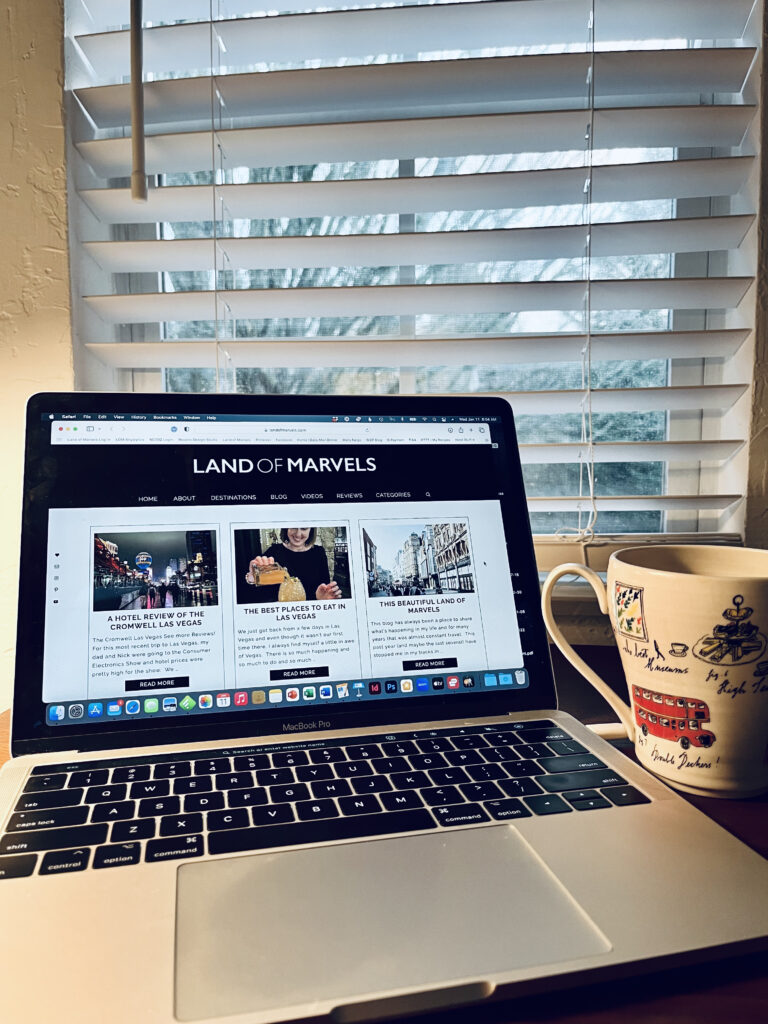 It's been forever since I've done a #BloggingDesk post and I thought it high-time to do one on a topic that's a big of a struggle for me in my life at the moment: when life just gets in the way of blogging.  As most of you know, I don't blog for money and while I do make a few hundred dollars every year off of Land of Marvels, I've never fully pushed LOM into a business mainly because I already have my hands full with my Interior Design business and a full time job I love.  But at the same time, LOM has always been a labor of love for me, something that I cherish, where I can sit back with some music on and write and share my travels around the world, hoping that by sharing the amazing places I see in the world, it will inspire you to see them as well.
Blogging, as many of you know, takes way more time and energy than meets the eye.  And anyone who's been doing it for any number of years will know that it truly is so so much work.  Writing posts, working on your site, planning an editorial calendar, editing images…. the work is endless.  And since myself, and many of you I'm sure, work full time and blog on the side, it's often hard to figure out how to keep doing both, especially in the busy seasons of life.
I am finding as I get older and as I have more and more responsibilities, that time for Land of Marvels is harder to come by.  And as a little life update to help you understand, we're in the midst of selling our townhouse, looking for a new house in a different area of Portland, juggling multiple jobs and responsibilities and just generally trying to figure out how to keep our heads above water.  So when life gets in the way of Land of Marvels, sometimes it's just uncontrollable.  And yet, there are ways to keep up and stay with blogging even when life gets in the way and it seems like everything is flying at your a mile a minute and here are my best tips and ideas for how to do just that.
Schedule, schedule, schedule.
You might not know when my life is craziest since posts still keep coming Monday, Wednesday and Friday, but there are many weeks behind the scenes when I don't even have a spare second to even look at Land of Marvels.  The posts you're seeing are scheduled weeks, sometimes months in advance when I know I have a crazy busy season coming up.  I take advantage of days when I'm really inspired to write and bust out a ton of posts all at once and schedule them out.  I also try to look at ahead at the calendar and when I know I'll have a particularly crazy week, I make sure those times are scheduled and covered.  Others that might be a little slower, I can write those closer to when I post.  Figure out how to schedule ahead and hold yourself to it and it will make everything so much easier!
Don't Stress.
I had a moment about a month ago when I sort of looked at all the plates I was juggling and said to myself "why do I do this to myself?"  In that moment, I immediately made a mental list of all the things I have going on and figured out which weren't a priority.  If that "not priority item" is your blog in your own life, then really don't worry about it.  If it is a priority, then get rid of some of the other things that aren't.  Figuring out how to eliminate other stresses from your life will allow you to blog more or o do those other things in your life that you love.
Be honest.
I still think, all these years later, that blogging should be about truth.  I follow blogs that I feel are genuine, that I feel are giving me an honest look into part of their life.  I have always strived to do that with Land of Marvels and I sincerely hope that as readers you feel that way.  When life gets in the way, be honest.  When you're stressed and have way too much on your plate, be honest.  In that honesty, we can all band together and figure out a way forward and that's the beautiful thing about this community.  Life is going to get crazy and you might not always get blog posts out, just be honest about it and we'll all be totally fine.
Looking for more posts on Blogging?
See our archives here for Blogging posts.