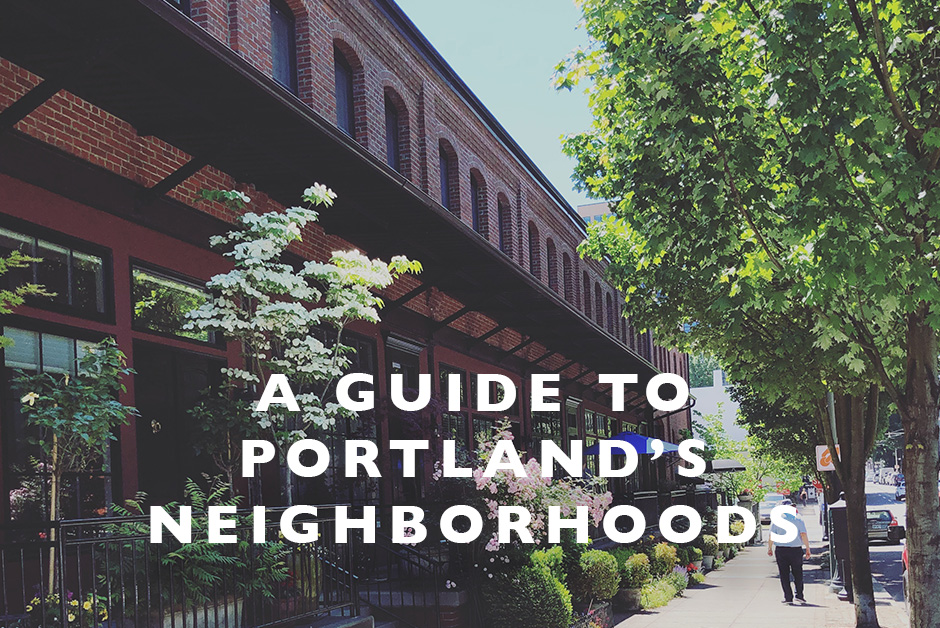 Nick and I are in the process of selling our townhouse in NW Portland and will be moving somewhere on the East side, hopefully in the next several months.  And in the past month or so, we've been asking ourselves where we want to move to within Portland.  We want a little more space, want to take on an old house and fix it all up and as we really started looking into it, we realized that in all our years in Portland, almost 13 to be exact, we've always stayed West of the Willamette River and never really explored a lot of the neighborhoods on the East Side of the city.  But as we've started looking at where we want to move, we've really dived deep into exploring all the different neighborhoods of our home city on both sides of the River and have really enjoyed getting to know a little bit more about each of them and take in the unique vibe of each area.  So I figured while I'm enjoying and getting to know more of the neighborhoods of my own city, visitors to Portland might like to know more about each as well, so here, from my own perspective is a guide to Portland's neighborhoods (most of them anyway), both on the West and East sides of the River.
NW
Where I've lived for the past almost 3 years, NW is basically anything North of Burnside and West of the 405 freeway.  It encompasses a bunch of tiny smaller NW neighborhoods like Nob Hill and Slab Town but overall you'll find old historic homes and small local shops and restaurants in this area.
Don't miss: A wander through the old Victorian houses scattered around Nob Hill.
Goose Hollow
The neighborhood where Nick and I lived for 10 years in SW Portland is hilly and very green with old trees.  Goose Hollow is where the Timbers play, so game days can be hectic up there!
Don't miss: A Timbers game!
Downtown
Downtown really encompasses the main financial and shopping hubs of the cities, as well as Portland State University.  Here you'll find high rises, great views and a city vibe.
Don't miss: The Farmer's Market in the PSU Park Blocks on Saturdays!
South Waterfront
Since OHSU added a bunch of buildings to the South Waterfront, it's really boomed down in this neighborhood.  This area is a little South of downtown but right on the Willamette River and has great public transport to connect you to Downtown.  Here is where to go if you want beautiful glass high rises overlooking the River with a small village type vibe.
Don't miss: A stroll along the Willamette River!
Pearl
The Pearl District is one of Portland's most famed neighborhoods and while once it's claim to fame was that it was mostly renovated old warehouses turned into swanky lofts (a la our version of Brooklyn), now it's morphed just into more high rises unfortunately.  The district is still one of the most expensive to live in Portland but does house some of the best restaurants and shops in the city.
Don't miss: Ice cream from Cool Moon and a stroll through Tanner Springs Park!
Hawthorne/Division
Hawthorne and Division are two main roads on the East Side of Portland that house most of the shops and restaurants in that area of SE Portland.  This neighborhood is one of our favorites in our house search as it feels neighborhood-y without feeling suburban.  You'll find old Portland bungalows here and some of the best food in Portland!
Don't miss: Lunch at a food truck pod!
Williams
This road in North Portland is the new up and coming area of the city.  You'll find a lot of new building going on here, the streets are wider, there are less trees than SE and it's a younger vibe overall.
Don't miss: Dumplings and dim sum at XLB.
Mississippi
The Mississippi area is known as an artsy center of Portland, a long road that stretches North and South, Mississippi is where you'll still find the grungier side of Portland along with some amazing art and shops and restaurants.
Don't miss: A stroll along Mississippi on a warm Summer evening as the neighborhood comes alive.
Alberta
Alberta in North Portland is a road that runs West to East filled with shops and restaurants.  You'll find Alberta is a little cleaner cut than many of its surrounding North Portland neighborhoods.
Don't miss: French goodies at La Petit Provence bakery.
Sellwood
Another of our top choices for neighborhoods in our home search, Sellwood is a gem.  Feeling like a little village but still only 15 minutes from downtown, Sellwood offers an old world charm with amazing selections of shops and restaurants.  It's also a hub for antique stores so you'll find plenty of those in Sellwood too.  Think old tree lined streets with historic homes in this area.
Don't miss: Antique shopping at the many little local antique stores!
Headed to my home town of Portland?
Check out our Portland Travel Guide in the Land of Marvels Shop for only $5!