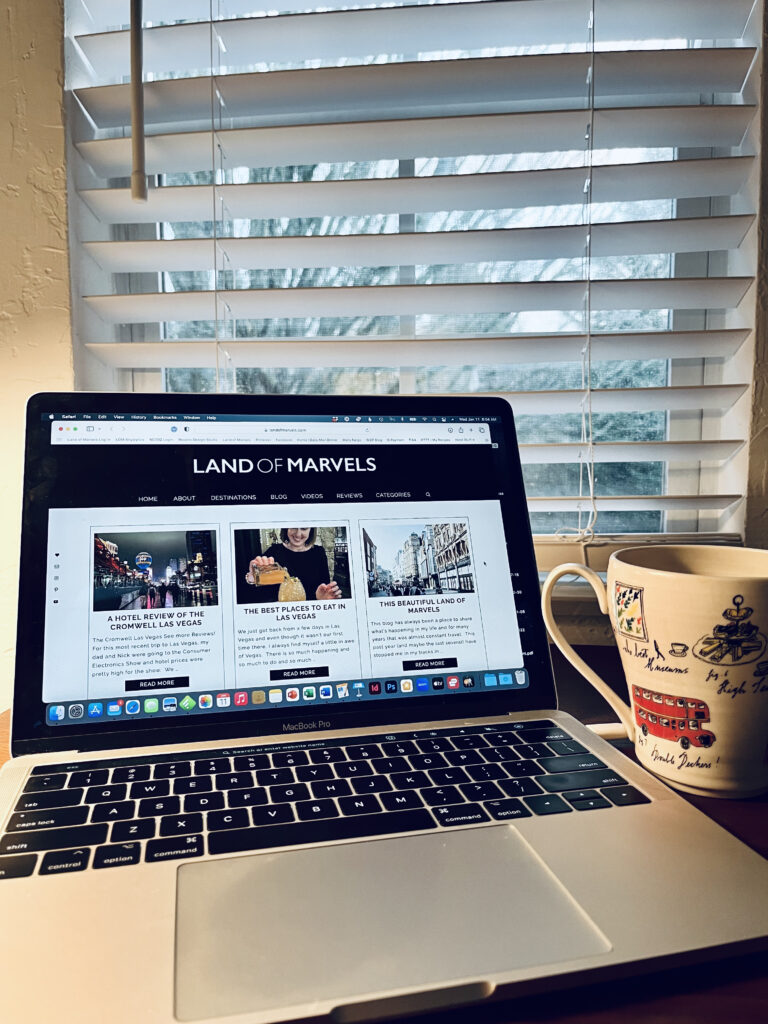 As a long time blogger, I think it's important to touch base on the topic of blogging every now and then and to communicate in our community about where this internet forum is headed.  Blogging has changed a lot in the past years, and as someone who started blogging on and off nearly 10 years ago, I can tell you with certainty, this game is a completely different beast than it was a decade ago.  In today's installment of #BloggingDesk, I wanted to touch on what happens when your blog is great and has a following and a direction and everything is great, except one thing.  Today we're talking about what happens when your blog doesn't go viral.
So take my blog, Land of Marvels, for example (but there are lots of other great examples too!) – I have been blogging on Land of Marvels as a serious travel blog for about 2-ish years.  Before that, I had True Colours, which many of you followed, but it wasn't taken nearly as seriously and it wasn't all travel-related, so I'm not counting that period of my blogging career for this discussion. In the 2-ish years since Land of Marvels was born, I have grown a large following across many different platforms, thousands of people that follow this blog and that read, comment and play a part in this community I've built.  I get a lot back from Land of Marvels in terms of working with travel brands across the world and I have had some amazing opportunities come my way through this little blog of mine.  So without a doubt, it's been successful in lots of ways.  I love the community here, a place that like-minded travelers can come together and discuss our world.  All in all, I wouldn't trade all of this from Land of Marvels for anything… except that my blog has never "gone viral" if you will.  I don't have millions of followers or insane page views.  I couldn't make this a full time job as of now and my blog hasn't blown up on the internet and become a success overnight.
And while that hasn't happened (nor am I sure I really would want it to, but that's a story for another day), I think it's worth discussing.  Some bloggers become mega-hits, but the moral of the story is that if your blog doesn't go viral, if your content isn't seen by millions of people and your Instagram account doesn't have as many followers as some small countries, that doesn't mean your content and what you're doing in the blog world is any less valuable.  We need blogs of all sizes, the personal ones we can still relate to that haven't become a world-renowned business.  We need the blogs that capture small audiences, the ones that we connect to and that we value the relationship we can build with the writer.  We need the blogs that we know are still really written by the author, not endless writers hired to fill content.  We need the blogs that are like small local businesses, ones that we can still enjoy in the quiet that doesn't have tourists lining up out front – if you'll go with that analogy.
"Going Viral" is a whole monster in itself.  And even at my level, I've had my fair share of hateful rhetoric pointed toward me, forums discussing whether or not I'm lying about my childhood in the Middle East (I'm not by the way), telling me I have no idea what I'm talking about, or attacking my character.  And I learned early on that I just couldn't get into it with these people – in short, I couldn't let myself be reeled in by the haters.  So if that's happening to bloggers in my arena and size, what comes with "going viral," with having millions of people follow your every move?  That's something I'm not sure I'd even want to deal with to be honest.
So the moral of the story today is this, don't let "going viral" become your version of success.  If your blog blows up, great.  If it doesn't, great.  Either way, blogging should still be about connecting to readers, to being confident in what you're producing and how you're cultivating an online community.  Blogging should always first and and foremost be about you, about who we are as creatives, as travelers, as humans.  Don't let not "going viral" make you feel any less important in this online community, because we need everyone and each blog is just as important as the last for a multitude of reasons.
Looking for more posts on Blogging?
See our archives here for Blogging posts.