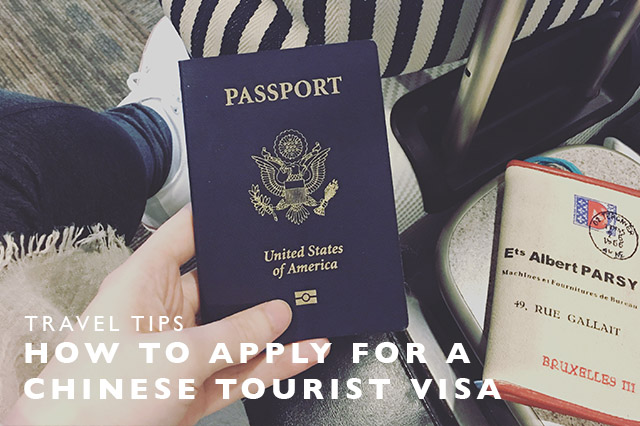 If you follow me on social media, you might remember I had to fly down to San Francisco for a couple days in the past couple weeks to get our visas for our visit to China upcoming in November.  As I went through the visa process, I wrote this post sitting in the San Francisco airport on my way back to Portland a few weeks ago so I could make sure and keep all the details straight. We'll be headed to Beijing and the Great Wall in November and if anyone reading this is thinking about heading to China as an American – just be aware you have to get a visa before your visit and you have to actually do it at a consulate.  So without further ado, here are my best tips for how to apply for Chinese Tourist Visa.
1. Find out which consulate general you need to apply though.
The first step in your Chinese visa journey is to figure out which consulate covers your home region.  For me in Oregon, the consulate I had to go through was in San Francisco.  So visit their website to find out where the consulate general is located you'll have to apply through.
2. Figure out if you want to go yourself to the consulate to apply or if you'll use a 3rd party agent.
For us, since San Francisco was the closest consulate for us to apply for our visas, we had a choice.  I could go down and do it myself (having to go down once to drop them off and then go back about a week later to pick them up).  Or you can hire a 3rd party travel agent to go for you.  However, when we looked, it was about $250 for us to use a 3rd party person plus we'd have to send our passports off through the mail to them, which makes me nervous.  So we chose to just have me fly down 2 days to take care of it myself.  Anyone can drop off and pick up your visas, so I had no problem doing Nick's and mine, even through Nick wasn't present.
3. Be sure to have all the paperwork in order before you arrive at the consulate.
I sat with 2 other American women while I waited at the consulate and both of them were on their return trip to the consulate because they had forgotten vital paperwork the first time around.  Be sure you read the Chinese Consulate's website all the way through and confirm you have everything.  To be sure, here's a quick run down of what I made sure to have:
-Valid Passport (signed)
-Copy of passport document page (separate from your passport itself)
-Flight itinerary showing your arriving and leaving from China
-Hotel reservation information in China
-Passport photo (just 1)
4.  Arrive early in the day and leave lots of time for your consulate visit.
I arrived at 10:20am at the Consulate General in San Francisco to drop off our visa request.  When you arrive you'll go through a metal detector and be given a number.  I waited for a full hour and a half before my number was called.  Once I was called, it literally took about 2 minutes with the agent and then I was on my way.  I think the trick is to get there early as it's really busy!  But plan multiple hours for your wait time just to be safe.  And don't go on Friday – when I returned to pick up our visas on a Friday, the consulate was twice as crowded as my first visit on a Tuesday.
5.  Do not lose the pick up slip they give you at the consulate.
After you hand over your application and passport, you'll be given a small white slip showing your pick up information.  Do not lose this slip!  I was talking to the woman next to me at the Consulate who does this often and she said she's heard horror stories when you lose the slip.  So be sure to keep it safe.  Typically, normal tourist visas for China take about 4 business days.  My slip was scheduled for 3 but be sure to look at the date on your slip to be sure.  They will also hold your passport and visa for 90 days, so even if you can't get back right on the pick up date, no worries.
6. Go back after the date on the pickup slip to pick up your passports with visas.
I flew back down to San Francisco a little over a week after I had dropped off my visas; just confirm you go back after the date they give you on the pick up slip.  Once there, head to the "Pick Up" line – no need to take a number.  Once in line, it goes pretty quick.  To pick up and pay for our visas only took me about 20 minutes, even though the consulate was even more crowded than it was the first day I had been there.
And while we had only applied for a 90 day tourist visa, we were given a 10 year multiple entry visa which is a huge bonus to not have to do this again in the future if we want to revisit China!  Long story short, give yourself time to do this process but in the end, it wasn't too bad!