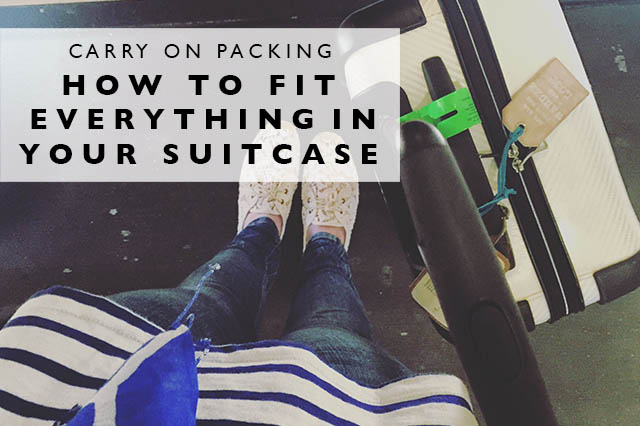 As we're preparing to head to Europe next week and we're busy getting everything ready to go, I thought it was time to do a whole series on packing for travel!  So all this week, we'll be talking about how to travel for 10 days all in carry on luggage.  So stay tuned for tips, tricks and tried and tested solutions for carry on packing!  
So you've done the organization and prepared all of your outfits for a trip, now to get all those clothes into your suitcase!  It's often the most arduous task of packing, but when done right, it's really amazing how much you can fit into a carry on.  Here's my best tips for how to fit everything in your suitcase.
First, get the right luggage.
We travel a lot, so investing in good luggage became a necessity.  A couple years ago when we desperately needed new luggage, we went with Tumi as our primary luggage source.  We opted for the Tegra Lite line without the expandable option which they have now.  Mine is white, Nick's is gray and they are both the best  luggage we've ever traveled with.  I can't recommend them high enough not only for ease while traveling but also with how much they hold!
Next, confirm what you're taking.
The trick to being able to fit everything in your carry on luggage is confirming what you actually need and what you don't.  So be sure to follow my guide for what you should take for a 10 day trip to Europe from yesterday so that you don't waste space packing items that you don't really need.
Pack shoes in the side with the grooves (for the handle) and flat clothes on the other side.
In roller bags, there is always a side with grooves since behind there is where the collapsable handle is.  In that side of your bag, pack shoes in those grooves (but remember to wear your heaviest pair while traveling so not to take up more space) and use the other flat side to pack all of your clothes.  There are various ways to do this and everybody has their favorite, I still find just folding everything as flat as it can be and stacking them works best for me.  But some people say rolling is better or folding everything together… to each their own. Figure out which way works best for you and your luggage, and then go with that.
Pack clothes, shoes + miscellaneous items in your roller bag and toiletries, electronics + your purse in a carry on shoulder bag.
When we travel for 10 days with carry on only, I take my Tumi hard side (roller bag) and another large tote or shoulder bag for my second personal item carry on.  In your roller bag, pack all your clothes, hairdryer, and other miscellaneous items that you won't need in-flight.  In the shoulder bag, I pack my camera and other electronics like laptops, iPads, etc. as well as my purse and any in-flight necessities like food or water.  Combined, these equal your standard 2 carry on item limits for most airlines and you should have everything you need while traveling!