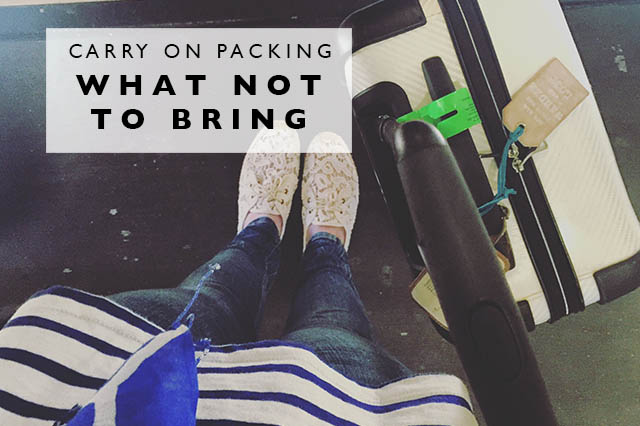 As we're preparing to head to Europe next week and we're busy getting everything ready to go, I thought it was time to do a whole series on packing for travel!  So all this week, we'll be talking about how to travel for 10 days all in carry on luggage.  So stay tuned for tips, tricks and tried and tested solutions for carry on packing!  
So all week we've been talking about what to pack and how to pack it for a carry-on only trip to Europe for 10 days, but… what about what NOT to bring on your trip?  Well here is a tailored list of the items that I hear people packing for travel and what you can take out to make your packing more efficient and easier to do carry on only for 10 days worth of travel!
Don't pack all of your makeup/beauty products.
When at home, you might be accustomed to using a bunch of different makeup or beauty products on a regular basics.  When packing for a trip (particularly with carry on only), be sure to only bring the items that you actually NEED.  One mascara, one foundation, one whatever… but you get the idea.  Generally I bring 1 foundation, 1 concealer, 1 mascara, 1 powder and 1 blush for my makeup routine.  If you need anything else, you can always buy there or go without.  All that stuff takes up a lot of space so be sure to eliminate any unnecessary items.
Don't pack large shampoos/conditioners.
Even if you were to check bags, never bring large shampoos and conditioners when you travel!  They are super heavy and a pain to lug around.  Plus they will always get pulled out of your carry on bags which is even more of a hassle.  I buy 3-4 of the small travel shampoos and conditioners before leaving and they as you use them, you can throw them away and on the way home, ideally they'll be all gone and you'll have more space in your bag.
Don't pack a lot of jewelry.
I don't travel with very much jewelry for a couple reasons.  First, it's easy for stuff to get lost in the shuffle of traveling, so any expensive jewelry should stay at home.  As to other jewelry, I don't wear a lot in my daily life, but when traveling, I'll only take what I can wear on the plane.  Jewelry is also really hard to pack in luggage properly, so wear what you need on the plane or keep it in your purse and that way it's less hassle to keep tabs on it while traveling.
Don't pack guidebooks – instead do LUXE guides or light small books.
I NEVER pack guidebooks.  They are usually too heavy and take up a lot of valuable space and we aren't the type of travelers to pull them out on the go and use them anyways.  Instead though, I always being LUXE guides for destiantions as well as any Streetwise maps that I have for wherever we are in the world.  Both the LUXE guides and Streetwise maps are light, small and effective for pulling out on the go to look something up.
Don't pack traveler's cheques/special travel credit cards, etc.
Back in the day, everyone used to use traveler's cheques instead of cash when traveling.  Now I hear all the time from my bank about special credit cards or debit cards to use when traveling.  In all honesty, these are all just ploys to make money.  There really is no need to purchase extra items like this before a trip.  We travel with cash (we're just careful with it) and we also use our standard credit cards (just make sure you have 1 with a chip for international travel – I recommend the Sapphire Preferred card) and you'll be fine.  There are ATM and banks everywhere you'll be, so that's not so much of a worry as it used to be.  The key with this is, just be careful with your money and your belongings and you'll have nothing to worry about.